Managing an IT ecosystem is often deemed as a challenge only for large pharmaceuticals and biotech organizations. But, our experience in working with life-sciences organizations over the years indicates that IT challenges start at a nascent stage itself. In fact, young pharmaceuticals face unique IT challenges as they move through a rapid growth cycle. In our view these organizations are akin to pediatric patients, where their bodies have the complexity of a mature adult, but with greater sensitivity. Thus, the right foundation sets the baseline for growth in the future.
6 Challenges faced by young life-sciences organizations
As a CIO, you are likely to encounter six unique challenges while setting-up a foundation in place for your organization.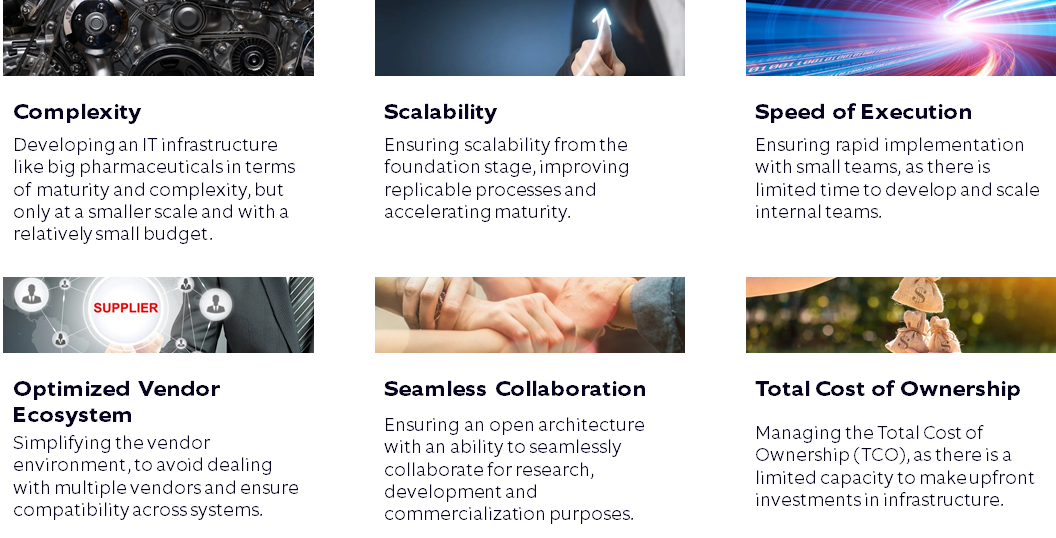 Even at a smaller scale, the number of touch-points with scientific, manufacturing and supply chain vendors is large. For example, the Research & Development department must manage a network of scientists and epidemiologists either internally or externally (or sometimes both), interface with a network of contract research organizations, manage the data and evidence that is flowing in from various internal and external sources, and then ensure an appropriate support system for developing materials for submission to the regulators. In parallel, a process needs to evolve to ensure launch readiness for the product in terms of launch planning, sales force readiness, customer relationship management systems, etc.
Key elements to ensure fundamental readiness at a small scale
At an early stage, we have seen that life-sciences organizations are limited by budgets that can be allocated towards IT initiatives, as well as bandwidth in terms of getting involved in designing architecture and processes. However, even with constraints, it is critical for IT to ensure fundamental readiness of the company for eventual rapid growth:
Information Management
Data, evidence and insights are the biggest assets and need to be managed in a careful manner so that it can be used overtime.
Traceability
Systems need to be traceable from a regulatory as well as management standpoint.
Scalability & Replicability
While initial data and other IT requirements are less intensive, Life Sciences organizations need to scale very quickly after approvals; hence requiring scalability & replicability.
Collaboration
Ability to share information internally across stakeholders, as well as externally with vendors and collaborators will define agility and speed of how a company scales.
Security
While all above principles help differentiation, security is of paramount importance at each stage.
Organizations need to transform and adapt in order to survive and manage eventual rapid growth. They need the right expertise to become future-ready by leveraging technology and innovation. Read about our capabilities across the life-sciences and healthcare value chain.
IT requirements evolve through a maturity curve
Our research into life-sciences organizations journey has revealed that IT requirements evolve through a maturity curve as the organization grows rapidly. Usually Baseline IT including communication (e.g., email), collaboration (e.g., SharePoint) and data management as the foundational components in starting the journey. Process Management amongst internal stakeholders as well as with external stakeholders and Evidence Management become the next-in-line important areas. While this can be true for any industry in general, regulatory and security constraints of Life-sciences industry make these areas a bit more complex. Once these components are set to allow running business as usual, investments in Digital Engagement with physicians and patients and other Innovation areas form the basis of differentiation in terms of setting up a business model.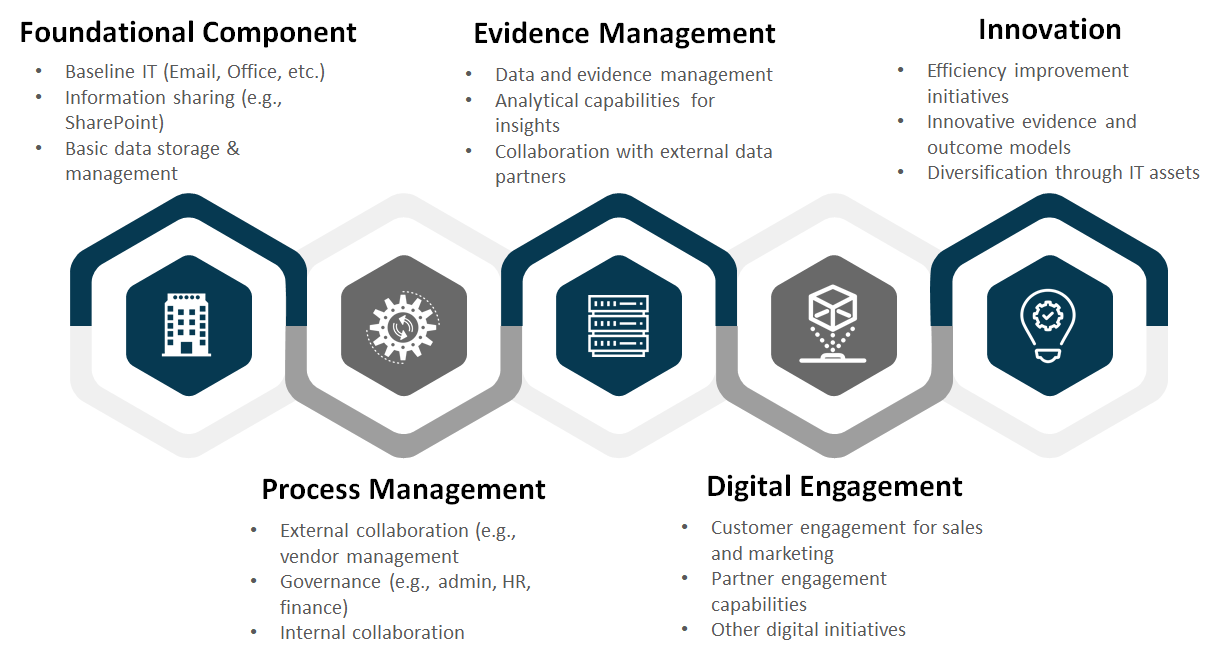 Organization need to transform and adapt in order to survive and manage eventual rapid growth. They need the right expertise to become future-ready by leveraging technology and innovation. Read about our capabilities across the life-sciences and healthcare value chain.
Start with a dependable IT roadmap
It is important to start with an end reference architecture in mind in order to build a dependable IT roadmap. We have identified a detailed roadmap that spans across Research & Development, Launch & Commercialization areas with activities that are foundational, advanced and potential differentiators. To read more about these, please download our detailed "CIO Playbook for Managing Exponential Growth", and engage with us in a conversation regarding the challenges that you are facing as an organization from an IT perspective.
While developing this roadmap, it is important to balance immediate requirements and at the same time long-term vision of the organization. Our interactions with CIOs and IT leadership across various life sciences organizations have helped us identify key questions that need to be answered during implementation of an IT roadmap in the growth phase across all three areas:
I. Research & Development
While the foundational components of today are developed in an opportunistic fashion today, will we be able to use them in a repeatable manner in future?
What will be the communication and coordination requirements of the organization, based on the broader business strategy?
What competitor intelligence and predictive analytics will be required to support future pipeline decisions?
II. Launch
What are the launch planning, tracking and execution systems that are required to support the channels appropriate for the products?
Which data and information needs have to be harvested today in order to support pricing and forecasting decisions in the future?
What are the assets that are being developed during launch stage that can be leveraged in the future?
III. Commercialization
What are the right platforms to support the products and sales & marketing strategy for the initial product(s)?
What is the optimal investment in customer relationship management suite and how should ROI be ensured from this system?
What will be the right differentiators in terms of physician or patient engagement, and how can today's investments support them tomorrow?
5 focus areas to enable the right foundational investments
We have identified five "focus areas" where right foundational investments have proven to create value in the longer run as companies' scale:
Enable collaboration & information management

Pharma and biotech companies grow very rapidly as they cross each hurdle during development, approval and launch phase. With this exponential growth at every stage, it is critical to preserve the core DNA of the company in terms of both knowledge and culture. Having scalable, easy to use and widely adopted collaboration platforms and knowledge management systems plays a large role in facilitating rapid onboarding of large teams and empowering them to operate efficiently in a short time.

Data & evidence management roadmap

Data and evidence have constantly proven to be the most critical assets for life-sciences organizations in the new era of evidence-based medicine. Organizing this data and evidence in a transparent and easily accessible manner, so that it can be used easily in the future is again critical. Data management decisions made with only a short-term view have time and again resulted in larger eventual costs.

Analytical capability development

With growing amount of data and its applications, the field of analytics has expanded beyond imagination. Analytical applications depending on the use case require a diverse set of functional and technical capabilities. It is important to develop an analytics roadmap not only with a clear mapping of required internal skillsets, but also a right mix of the partner ecosystem to support these requirements in a timely and cost-efficient manner.

Omni-channel customer engagement infrastructure

World of e-commerce and commerce are now just seamlessly merged; it's not about the phone or the desktop or the store – it's about all of those, and marketers need to provide consistent and seamless experience regardless of channel. We're quickly moving to a world where digital has gone beyond mobile to include technology-enabled screens and connected screens of all forms and sizes, thus requiring a truly integrated strategy.

Digital patient engagement infrastructure

Patients research medical information, treatment options, provider selection criteria and dozens of other considerations, and have a great deal more "skin in the game" now. Moreover, in a patient-centric world, convenience is the new competitive currency and hence engaging with patients in a convenient and content driven manner will form your differentiation in the longer run.
Recommended Reading:
Elevating provider engagement to the next level: The health care landscape is transforming at a fast pace with futuristic hospitals and physicians seeking more innovative ways to expand beyond the usual patient engagement. Explore the endless possibilities in personalized health care and next-generation physician engagement.

With all of the above trends, while progress and speed of execution are necessary, planning is paramount at this stage. We recommend a three-stage process.
3-stage process to handle trends for growth and expansion
Current IT Maturity Assessment which is a diagnostic process to evaluate where the organization stands today & where it needs to be in terms of maturity and sophistication to align IT with broader organizational strategy.

Roadmap Development & Planning to enable a path to desired state of maturity over next 12-36 months in line with other anticipated business milestones, within a manageable budget.

Balanced Scorecard to Monitor Progress against the plan on a continuous basis and identify the need to course correct at an appropriate time.
With the above planning process in place, we have ample experiences in helping clients understand their current IT footprint and develop a long-term enterprise IT strategy that aligns with their broader organizations business strategy. While it's important to be best-in-class in some of the key areas that are core to your business, our approach offers a pragmatic view in terms of helping clients not to over-invest in areas which are non-core.
We would love to hear from you regarding the IT challenges you are facing in your organization. Please write to us with the IT challenges and learnings you have faced at insights@nagarro.com or connect with us directly at purav.gandhi@nagarro.com.
Life-sciences, HealthCare, Playbook, CIO, Life-sciences & Healthcare
Life-sciences, HealthCare, Playbook, CIO, Life-sciences & Healthcare