The popularity of Google Maps highlights the immense value of location data in today's world. With over a billion monthly active users, Google Maps has become indispensable in people's daily lives. It serves various practical purposes, including helping users find their current location, get directions, receive real-time traffic updates, and plan trips.
Location intelligence is more than just location data - it's the additional intelligent capabilities and features that are built on top of it, such as information visualization and real-time optimization algorithms. These features enhance the usefulness of location data, making it a powerful tool for businesses and organizations. According to studies, the global location intelligence market size is expected to reach $36 billion by 2028.
How can industrial companies benefit from location intelligence?
Companies are under immense pressure to maximize productivity and respond quickly to market demands in today's rapidly changing market landscape. However, this complex challenge requires proper planning of production and logistics processes, as everything is interconnected. For instance, efficient intralogistics is crucial for optimizing production processes. To achieve this, companies must ensure that the right material is available in the right place and at the right time. Unfortunately, many things can go wrong, such as bringing the wrong material for a customer's order to the machine. This can cause delays in production and lead to decreased productivity and delayed deliveries.
To overcome these challenges, companies need a system that can integrate position data with order data from ERP and operation data from an MES system. This integrated system can greatly improve the business resilience while being a clear value add to achieve Industry 4.0 goals by bringing transparency to enterprise-wide operations.
Siemens Location Intelligence
Within the industry, a wide range of operations takes place on the factory floor or warehouse, including manufacturing, material handling, and logistics. Many high-level systems support resource management and production planning at the enterprise level, such as MES, ERP, and WMS. The Siemens software solution Location Intelligence connects these layers of applications with location-based intelligence.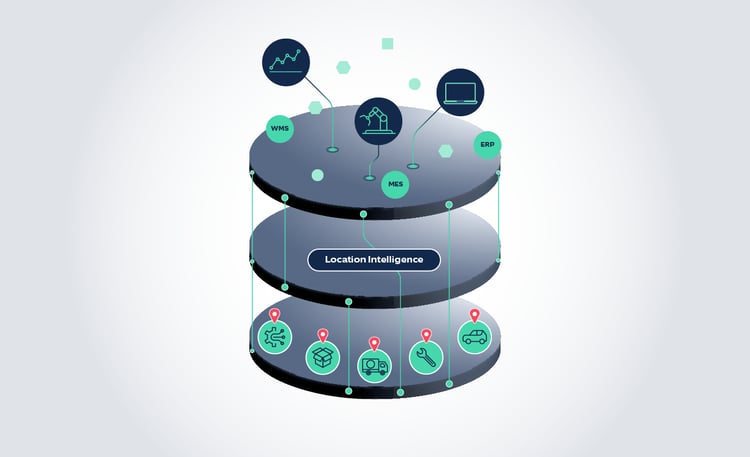 Location Intelligence – the layer of intelligence between systems
Location Intelligence provides:
Full Transparency – Reduce time spent searching and speed up production and logistic processes by providing location transparency on the operations much like a real-time digital twin of your industry.
Anomaly detection – Prevent bottlenecks and other unplanned scenarios as anomalies are made visible by real-time analytics.
Optimization – Optimize the production and logistics workflows by process automation based on position-based events.
Anatomy of a Location Intelligence solution
A Location Intelligence solution is a combination of hardware and software, typically consisting of four layers at a high level.
Locating layer – consists of hardware devices that are required for location detection, including transponders and gateways based on different technologies such as RFID, RTLS, GPS, etc., and specific software components supporting the hardware integration. The hardware would be chosen based on requirements such as:

The level of precision required for the target use cases
Required frequency, the location must be tracked
Hardware configuration, power consumption, and other considerations

Location Intelligence Middleware layer – provides integration and communication services and foundational services that allow the solution to be applicable across many domains and use cases.
Location Intelligence application – provides end users with foundational features as well as a platform for extended use cases.
Enterprise software – includes enterprise software such as MES, ERP, and other applications that can leverage the value of Location Intelligence for end users. While Siemens Location Intelligence can meet end-user requirements, custom applications built with Open APIs and Location Intelligence's No Code Low Code capabilities can meet those needs when extended workflows and visualizations are required.
Use cases
Location Intelligence capabilities aid industrial companies in realizing their long-term goals, including Smart Manufacturing, Smart Logistics, and Smart Workforce Management. Siemens Location Intelligence provides a base set of capabilities that add value across the above use case categories, such as:
Search and Find
Geofences
Movement analytics
Siemens Location Intelligence has proven valuable for industrial organizations that have implemented digital asset tracking and enabled visibility into asset maintenance. This has transformed traditional paper-based operations into a fully digital system with real-time visibility into operations, allowing for the identification of bottlenecks and ultimately improving accuracy and productivity.
We have also observed another common application of Location Intelligence in material handling on the production floor or at the plant. This implementation enables real-time visibility and automated guidance, which can help identify bottlenecks and lead to subsequent improvements in productivity and quality.
Key dimensions that accelerate business value
Location intelligence is maturing, and the results are evident. Hence industrial companies are eager to gain value in a shorter time. We have seen Siemens Location Intelligence's product readiness in multiple dimensions, which supports the goal of delivering value quickly.
Deployment – While the locating hardware layer must be deployed on-premises, containerized software components are ready to deploy on-prem or cloud on Windows or Linux.
Configurability – Configurability helps in delivering a catered solution with relevant domain object hierarchy, attributes, terminology, and mapping to the actual physical layouts.
Built-in features – Built-in features such as search, inventory management, movement and geofence analytics, and geofencing events enable rapid development of process automation, workflows, and integrations.
Extensibility – Location Intelligence integrates Node-Red into the core platform, an open-source low-code platform that accelerates external integrations and customization.
Open – Location Intelligence's well-documented Open API enables customization and integration with third-party apps.
Location tracking hardware – Years of experience in production-grade deployments have formulated the selection of the right hardware. Siemens' partner network strengthens the network/hardware setup, including local partners in various geographies and global partners like Nagarro.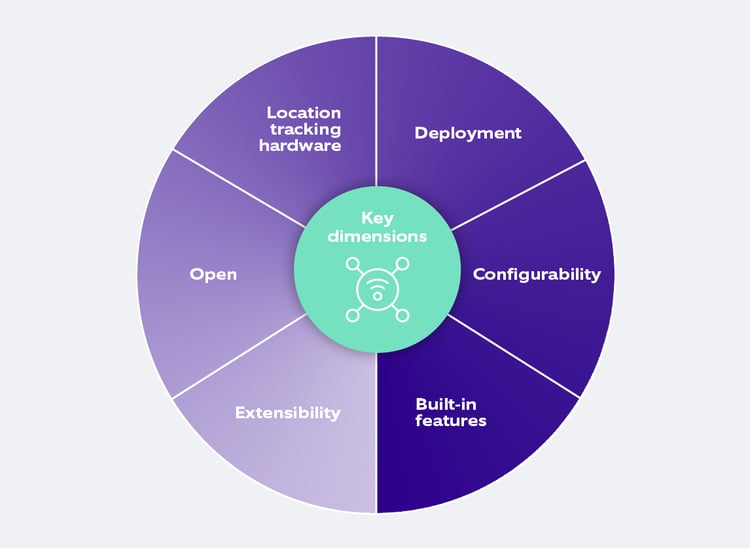 Key dimensions of product readiness – Siemens Location Intelligence
The partnership with Siemens
Siemens Digital Industries works in the area of customer service on a variety of innovative products and solutions. They found a strong and trustworthy partner in Nagarro to jointly offer selected solutions to a broad international customer base.
Siemens and Nagarro are cooperating in end-to-end delivery and in further co-development of existing products. The partnership aims to provide customers with digital solutions, optimize operations, and digitalize the operating environment. Our common goal is to ensure fast IT/OT integration with our products and solutions to equip our customers for a rapidly growing market.
A broad spectrum of digitalization consulting and distinctive domain knowledge of Siemens Digital Industries guarantees tailor-made solutions for international customers. Nagarro brings broad engineering knowledge and experience in system integration in various industries.
Clients can get hands-on experience with such solutions by visiting Siemens DI or Nagarro Customer Demo Lab.
Nagarro partners with Siemens in the area of industrial manufacturing based on the software Siemens Location Intelligence: application software for locating systems that bring intelligence into production and logistics processes.
How Nagarro can help
Location Intelligence is a catalyst to achieve the industry's goals of being smarter and more productive. We have seen the below factors in Siemens Location Intelligence that support delivering value quickly.
Bringing Location Intelligence value requires expertise not only in the industrial context but also in technologies. We've created frameworks and toolkits to aid in use case identification inspired by our 'Thinking Breakthroughs' approach.
Nagarro has partnered with Siemens to bring the Siemens Location Intelligence software to clients, leveraging both organizations' agile delivery and proven solution implementation capabilities. Nagarro has a team of experts focused on the Siemens Location Intelligence solution, which has already been successfully delivered.
Are you interested in harnessing the value of Location Intelligence? Want to know more? Get "connected" with our experts. We will be happy to help!