Last year, a digital media trends survey of 2000+ US consumers found that 69% of respondents subscribed to at least one streaming video service. With COVID-19 forcing people to stay indoors, media consumption seems to have got a rocket thrust. Netflix's docuseries Tiger King grabbed the attention of 34 million US viewers in the first ten days of its release. Americans are already spending 12 hours each day on various media platforms, and three-fourths of the consumers are expanding their options with streaming subscriptions and TV-connected devices. Content creators are helping people stay indoors. Behind the scenes, this growth is fueled by whirlwind technological advancements and a better, more intimate understanding of the consumer.
Media & Entertainment industry revenues are projected to reach $792.3 billion by 2022, up from $666.9 billion in 2017.
- PwC Global Entertainment & Media Outlook 2019-2023
Emerging trends

The media industry was among the first to encounter and successfully navigate the spate of digital disruptions. However, the growing pains are far from over. Digital transformation is a continuously evolving beast that enterprises have to tame over and over again.
1. New ways of distribution
The rise of social media, democratic internet access, and the proliferation of smartphones and tablets have changed the demands and expectations of media consumers. The result is an astounding variety of new digital products and services.
The video on demand (VoD) market is expected to grow globally at a CAGR of 8.3% to 2021. Subscription-based VoD services like Netflix, Hulu, and Disney+ provide users with access to bundles based on a subscription model, and these seem to be the consumer favorite.
Others, like Google Play Movies, allow users to rent content that can be downloaded to or streamed on a device of their choice. Tiered distribution models like Hotstar offer content through a basic free tier and a premium tier structure. Consumer convenience is the common thread followed by all industry players.
A significant trend in this sector is the rise of streaming on mobile devices. With mobile penetration rising in millennials, media companies are eager to tap into this whole new segment of the population.
With streaming being an engaging way of delivering the content, more industries are now leveraging live streaming to reach out to their audiences. Brands routinely go live on social media and other channels to promote products, interact with viewers, and answer questions. This is an effective approach to cultivating a strong community around the brand. Consequently, live streaming has become a regular fixture in marketing plans.
Given the rate at which encoding standards are evolving, media companies are now capable of streaming high-quality content with efficient compression and lower bandwidth usage.
2. Intelligent media: Where everyone wins
In the days before the proliferation of intelligent media, people meters were installed for free in households, and TRP (Target Rating Points/Television Rating Points) was used to measure the number of people watching a particular show at a particular time. Unfortunately, this measurement gave only a limited sample picture. VoD and streaming services have hacked their way around this dilemma by generating copious amounts of analytics data from each individual's viewing session. This helps them generate targeted content for each viewer's persona, i.e., a personalized experience.
Everything—from the interface that greets users when they log on to a service to the ads that are played on their smart devices—has been carefully planted to encourage optimum engagement.
Today's advertisers have figured out that context is king. This has paved the way for a contextual media gold rush where advertisements are selected and served by automated systems based on the context of what a user is looking at. The USP of contextual media is that it seamlessly blends in with the content and the aesthetic of the page it is displayed on. Apart from encouraging user engagement, contextual media also has the advantage of not disrupting the viewing experience significantly.
Precise video analysis, enabled by AI tools like Google's Video Intelligence API, automatically recognizes a vast number of objects, places, and actions in stored and streaming video. This technology can identify and extract metadata at the video, shot, or frame-level, giving creators the ability to index and organize their video catalog intuitively. The result is simplified media management for the end-user.
3. Advertising
While algorithms are a closely-guarded secret, it's no mystery that there is some brilliant mechanism behind a user logging in to a service to find just the right content. Interspersed within these recommendations are cleverly placed ads. Pre-rolls, in-stream, and post-roll ads have already proven their effectiveness in increasing the monetization for distributors. Server-side video ad technologies like Dynamic Ad Insertion are capable of inserting video ads into live streaming and video on demand. The deep insights available through a modern video ad server enable advertisers to serve customized ads to different consumers during the same stream. This is real-time campaign optimization and a win-win for all parties.
4. Consumer engagement via new medium
Consumers have developed selective blindness to traditional ad delivery strategies. In the age of diminishing attention span, the widespread use of ad blockers, and a multitude of content channels, media companies need to get creative to engage with their user base. For a consumer to engage with an ad, it must be relevant to them and presented in a novel, creative format.
Augmented Reality (AR) and Virtual Reality (VR) are causing seismic shifts in consumer engagement. Despite being around for a couple of years now, the novelty factor of these technologies has still not worn off. As communication tools, AR and VR have the potential to dethrone written sales copies. For instance, music artists now live stream their content through VR so that enthusiasts who are unable to attend the concert in person can still be part of the experience.
This new marketing strategy has seen companies keen to adopt this cutting-edge technology. Unlike images and banners, AR is the way to interact with consumers, thus creating an emotional connection with them.
The challenges are many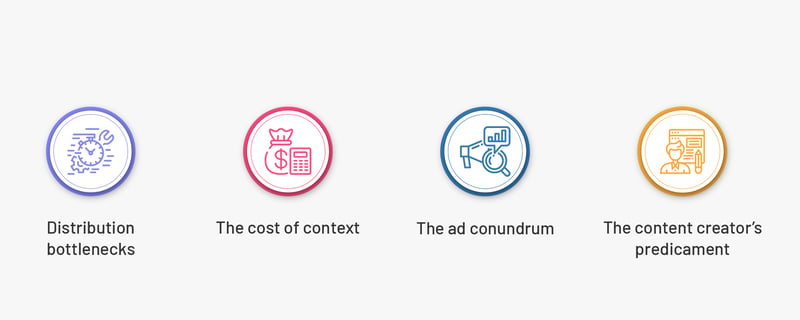 The challenges that media and publishing companies are facing due to these emerging trends are many. However, at the end of the day, we can expect the industry to mature in a way like we have seen never before.
1. Distribution bottlenecks
VoD has hit primetime in a big way. To meet this massive scale and to offer low-latency videos, distributors are increasingly turning to Content Delivery Networks (CDN). Using geographically distributed servers, CDNs cut down on the time taken to deliver the content from its origin to users, without compromising on security or quality. CDNs also address the question of how to distribute media cost-effectively.
Even if you have solved the distribution equation, the challenge for content creators—studios, OTT services, cable/broadcaster—remains the same: how to zero-in on what type of content clicks with the audience?
Peer recommendations, driven by social media posts and water cooler conversations, are inspiring viewers to experiment with genres. Smart algorithms have made the task of content curation and ad targeting easier.
2. The cost of context
Targeting users with contextual media is more of a trial and error approach, made difficult by having to stitch together a viewer persona from various sources. This has, however, not deterred companies from investing in contextual media in a big way, and AI makes their task easier. AI will also help advertisers in narrowing down on ads that will capture the viewer's attention and won't interfere with the visual experience.
3. The ad conundrum
There is an increasingly vocal tribe that is opposed to companies misusing personal information to drive profits for corporations. There is also the fear that the data harvested to feed the contextual advertisement engine might fall into the hands of bad state actors. In the European Union, especially, strict laws are formulated to prevent such a situation. Companies that are lax, when it comes to customer data security, are penalized heavily.
The overuse of in-stream and pre-roll ads might lead consumers to wonder why they are paying a premium for a service that is essentially an updated version of traditional cable TV.
Media companies need to restrategize their monetizing strategy and its technology implementation by keeping the content segregated for premium services and services driven by ads.
4. The content creator's predicament
Specialized, high-end hardware requirements mean that content creators are hesitant to wholeheartedly adopt AR/VR to engage with consumers. A report also pegs the lack of good user experience design, convenience, and portability as key reasons why enterprises are reluctant to fully commit to AR/VR-powered content generation.
Conclusion
Competition in media is intensifying. Where once Netflix cornered a significant market share in the OTT space and still does, production studios are brainstorming why they should not venture into this space themselves, especially since they own vast IPs. OTT players, on the other hand, are pouring money into developing their own content in fear of these new players catching up to them.
With new streaming services, backed by extensive content libraries emerging frequently, the competition in the market has increased by manifolds. On the flip side, this means that the consumer is spoilt for choice!
However, the media industry is priming itself to keep meeting changing consumer demands that seemingly have no end in sight. Fast-changing trends are also sprouting new challenges every day. Key players are more than happy to play this game since it translates to an increase in their bottom line. Advancements in technologies further help them garner additional revenue. While staying in the loop and adopting new tech trends can seem like a resource and money-intensive task, the benefits are there for all to see. Consumers are happy to shell out more for engaging content and a seamless entertainment experience.
Are you ready to explore this plethora of options? Know how Media and Publishing offerings at Nagarro can help you take a deep dive and pick the right fits for your media value chain. Get in touch with our experts today!