At the Nagarro Competence Center for IoT and Industrial Digitization, we aim to transform future technologies to practical solutions. In today's IoT driven world, outdoor installations have sensor technology data transmitted over long distances (GSM or satellite) to secure cloud environments - targeted, analyzed, processed and visualized. In a connected workforce, service technicians benefit from smart glasses and assisted reality applications live during their deployment.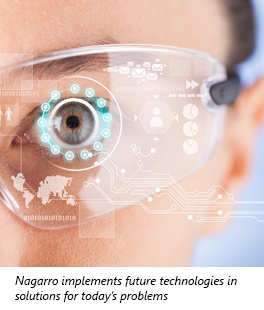 Vienna, December 2, 2016 - Nagarro, an IT service provider specializing in software development and managed services, has set up an IOT Competence Center with the objective of creating concrete solutions for the manufacturing industry by using upcoming technologies, platforms and individual developments.
Damianos Soumelidis, Managing Director of Nagarro Austria said, "At the moment there is a general buzzword-bingo. In order to make practical IT solutions for the industry from components such as wearables, augmented reality, sensor technology, etc., innovative and development-oriented system integrators are needed."
Some technology partnerships have already been concluded within the framework of the initiative. On the platform side, Nagarro works with Microsoft's Azure IoT Cloud, Amazon Web Services IoT Framework and SAP Hana. "Processing large amounts of data and automatisms over long distances can only be accomplished with the help of the cloud." says Soumelidis. There are already co-operations in the connected workforce area, i.e. the networking of employees. The first concepts for connected workforce solutions have already been developed in Austria. In the Assisted Reality space, Nagarro recently signed a partnership with APX Labs, one of Google's few certified development partners in this area.
Nagarro offers strategy, concept and idea workshops for interested companies. The international Competence Team, headed by Manufacturing Industry Expert, Umang Garg, is engaged when needed. "We are able to rely upon experts at any time and we are therefore quick and agile in implementing developments." says Damianos Soumelidis.