On the company's 20th anniversary, the owners of the Austrian IT service provider ANECON gave themselves a very special present. On January 8, they signed the contract to join Nagarro and secure their future.
Vienna, January 8, 2018: Exactly 20 Vienna, January 8, 2018: Exactly 20 years after the formation of ANECON GmbH, founders Johannes Adler, Hannes Färberböck and Hans Schmit take the next step towards securing the future of their company with the integration of ANECON into Nagarro. While Nagarro expands local presence in Austria with this acquisition, ANECON strengthens its expertise and service portfolio.
According to the agreement, the successful Austrian IT company will be incorporated under the Nagarro umbrella. The founders have set the course not only for further growth in terms services and size, but also for the company's future. ANECON is an owner-operated company, but is not a family business. "The question of how we can make ANECON future-proof has been on our minds for years. With our integration with Nagarro, we have found an optimal solution for our life's work in terms of content, structure and mindset," says Hannes Färberböck, ANECON co-founder and management board member.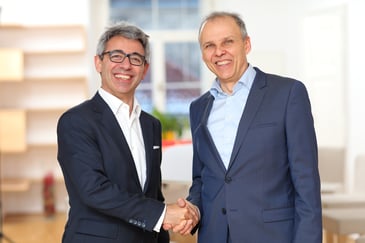 With effect from January 1, 2018, Nagarro Austria will hold 100 percent of the company's shares, subject to merger control approval. The founders and current shareholders will actively participate in the management of the company. All ANECON employees will become part of Nagarro, adding to the manpower that can cater to increasing market demands.
Damianos Soumelidis, Managing Director of Nagarro Austria, is convinced: "The merger catapults both companies into a new league. With more than 200 top people in Austria, plus 4,500 Nagarro experts worldwide, we can deliver scalable IT services and innovation at a consistently high level. This combined model of local strength and international shoring is unique in Austria."
Press contacts:
DI Damianos Soumelidis, Nagarro GmbH
Contact: +43 (0) 664 886 585 21
damianos.soumelidis@nagarro.com www.nagarro.com
Madeleine Mitrovic, Double-M Marketing & Communications
Contact: +43(0) 664/450 99 61
mitrovic@double-m.at - www.double-m.at
About Nagarro
Nagarro provides technology services for digital disruption to both industry leaders and challengers. When our clients want to move fast and make things, they turn to us. We combine design, digital, and data to help them outperform the competition. We distinguish ourselves by our agility, imagination, and absolute commitment to our clients' business success. Today, we are more than 4500 experts across 16 countries. Together we form Nagarro, the global services division of Munich-based Allgeier SE.
About ANECON
ANECON GmbH is an owner-managed IT service company with headquarters in Vienna and a subsidiary in Dresden. With 20 years of experience, ANECON experts possess extensive know-how of the entire software lifecycle and deliver high quality IT projects to its customers. Approximately 150 employees advise on transformation, develop individual software and ensure security and quality through testing and test automation techniques. To know more visit