Redefine the way insurance is built, bought, and experienced as we lead you through the digital landscape to create and realize innovative opportunities.
The insurance sector is going through rapid transformation. A traditional business model, a rigid product line and an aging technology, is leading to a perfect recipe for disruption by new entrants or digitally savvy competitors.
As digitalization rapidly redefines and magnifies customer expectations, it is important for insurers to enhance their customer interaction channels. Customers, particularly GenY, have become more demanding. The time to keep them engaged through any channel is also shortening with increasing demands to provide a personalized experience in everywhere.
Nagarro assists global insurers by digitally transforming the omnichannel customer experience, personalized marketing, advanced analytics, and operational efficiencies. Our expertise has helped streamline legacy business processes such as new business, underwriting, claims, and customer services.
Digital transformation is all about the customer – the right strategy can lead to higher customer acquisition and retention, helping insurers outperform competition. By harnessing next-gen technologies in a strategic manner, organizations can enable a hyper-personalized customer experience, efficient operational processes, and streamlined business models.
Our technical expertise is complemented by an agile way of working and by following organization-wide core enablers. This ensures the success of insurers in leveraging the digital platform.

Organization-wide key enablers
At Nagarro, we help insurance organizations redefine their digital transformation roadmap to achieve advanced stages of personalization and optimization. In order to transform themselves digitally, insurers can harness our expertise in the following areas: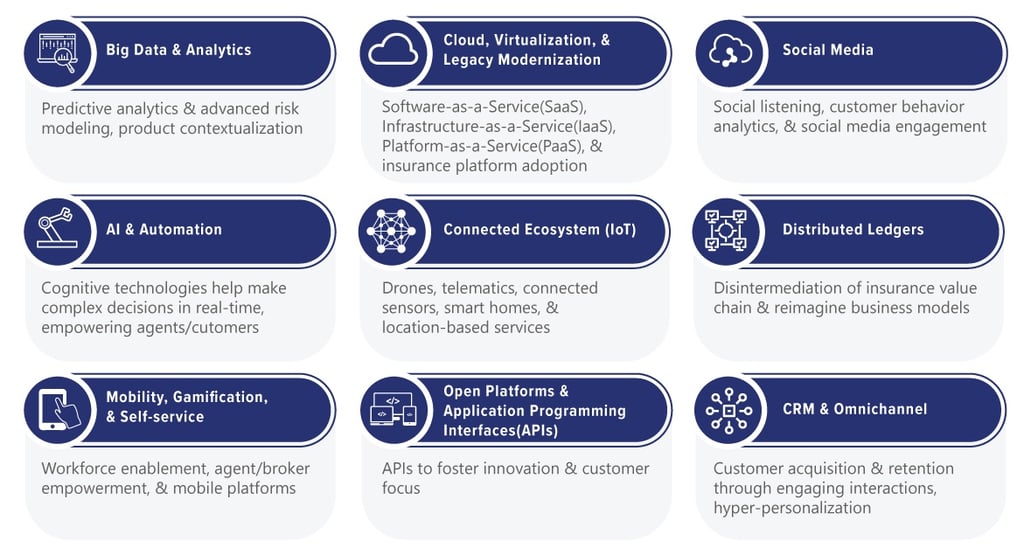 Nagarro's technology offerings
To know how you can transform your insurance services by leveraging our digital offerings, write to us at info@nagarro.com.