At Nagarro, employees have endless opportunities to enhance their skill sets through further trainings and continuous self-development. Everyone is encouraged to identify and hone their skills, enabling them to contribute best to the company and chart their own growth too.
Meet one such Nagarrian - Hasneet Nehra, who has been working as a Lead in Quality & Assurance for the last 5 years. Originally from India, Hasneet decided to spend 16 months working in a different country. Of the more than 32 Nagarro locations worldwide, he chose to work from Riyadh in Saudi Arabia.
Hasneet was supported by the Nagarro expat team who made his stay truly memorable. The expat team stays closely connected to the locals and helps Nagarrians with the best possible accommodation, while also helping with any resolving any on-site queries or concerns.

If you have to describe yourself, what sort of person, would you say, is Hasneet?
I am someone who strongly believes in the concept of "simple living and high thinking". I can find happiness in the smallest of things like playing Ludo or just by chatting with friends. In addition, I love to keep a positive environment at my workplace and you will always find me cracking jokes with my co-workers.
You may not find me in your happy times but you will definitely see me standing by your side when you need any help. I love playing carrom, cricket and badminton. A regular traveller since 2018, I love being friends with people from different countries and cultures to be enjoy that global flavor.

What was the duration of your stay in Riyadh, Saudi Arabia?
I worked in Riyadh from May 2018 to August 2019.

That's for longer than a year. How did you prepare for life in Riyadh?
I did a lot of research, but always felt that I needed more information. In fact, that's exactly why I'm talking about it in this interview, to help people and colleagues who might have the opportunity to work there, in their decision.

What convinced you to go to Riyadh and not to any other city or country?
As I said, I began by doing a lot of research about life in Riyadh. But, as we know, only someone who has lived there can best describe what it's actually like to be there. One of my friends from a previous organization had been to Riyadh once. I called him up to check about the lifestyle in Riyadh, and the typical do's and don'ts of the city.
While one can rely on different sources of information to decide about any place, fortunately for me, I made my decision based on the inputs from my interactions with people who had been there. I trusted them and decided to take up the opportunity.

Okay, which project did you work for and what tasks did you have?
I was working on a project with a leading communications provider in the telecom domain. My tasks were to ensure end-to-end testing of the entire user journey, automating all APIs and performance testing of the servers.

Can you recall your first day in Riyadh? How was it like after you touched down?
In the beginning, I was nervous, and was wondering if the people at the airport would question me a lot. On the contrary, everything was very smooth! They gave me my passport and I left the airport without any hassles, and without anyone questioning my intentions.
Oh, and another takeaway from my first few minutes: If you are from India, you will surely feel nice on hearing Hindi from the Saudi locals standing at the airport. They basically aren't fluent but the two words "Naya - idhar" which means "first-time entry people in this line" and "Purana - udhar", "re-entry people in that line" would only make you feel more relaxed and comfortable.

How was the first week in the new environment?
Trust me, in the first week, it took me a while to get used to the new situation, just like one would in any other city or country. I tried to understand the new city and its rules. After some time, things felt quite normal. People in Riyadh are happy to help you in any situation. When people from Pakistan treat you nicely as an Indian, you realize that perhaps the only differences we have are in our minds, implanted through the political systems of the two countries. In fact, I am still in contact with many people in Riyadh even now!

That's wonderful. And what did the office in Riyadh look like?
My office was located in the Granada Business Park. The building was fully secured with access cards given to all employees. I and the entire digital team used to sit on the 13th floor of the building, which was decorated with all process-related documentation.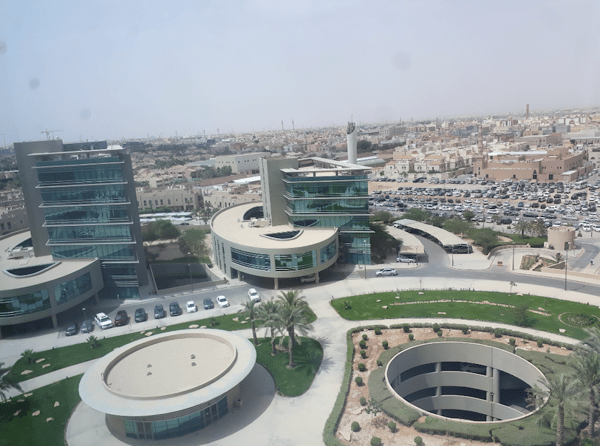 View from the office

What differences have you noticed in their culture as compared to India?
Well, if I talk about the culture in Riyadh, I agree there are differences, just like in any other culture. A lot of Indian folks believe that you can´t eat during the Ramadan period, but it isn´t that strict either. The offices are divided in such a way that you can eat without being disturbed. Nobody says anything or prevents you from eating, because they know we have a different culture. After 7 pm, they even unlock the restaurants and you can eat there as well.

What's your take on the office culture there?
Since we´re an IT company, I could find a lot of people with that background. All the people I worked with were very smart and treated me well. I could see that they believe in innovation and professionalism. Being very open, their office culture was also quite cool. I taught my colleagues some Hindi words and we had a lot of team lunches.

What did you do in your spare time there?
There were a lot of things we could do in the society after coming home from office. We had a swimming pool, gym, volleyball, basketball and even a tennis court. Not to forget, the picturesque cricket ground. In addition, Riyadh has beautiful places to visit. Some malls have unbelievable architecture, there's also the kingdom tower with a cool skywalk. Even the real city at night is a sight to watch.
I'd also like to mention here that I am extremely thankful to the Nagarro travel team for their planning and arrangements. They arranged one of the best societies in Riyadh, where we could live. Thanks to such teams, employees have a smooth and enjoyable experience, even while living outside their country.

Did you also travel domestically?
Yes, I did travel by car with my colleagues. The only thing you should never forget is your passport (again, as true as anywhere else!). Without it, you don´t have any identity of really being there and a VISA copy doesn´t work. With a passport around, you can travel wherever you want to.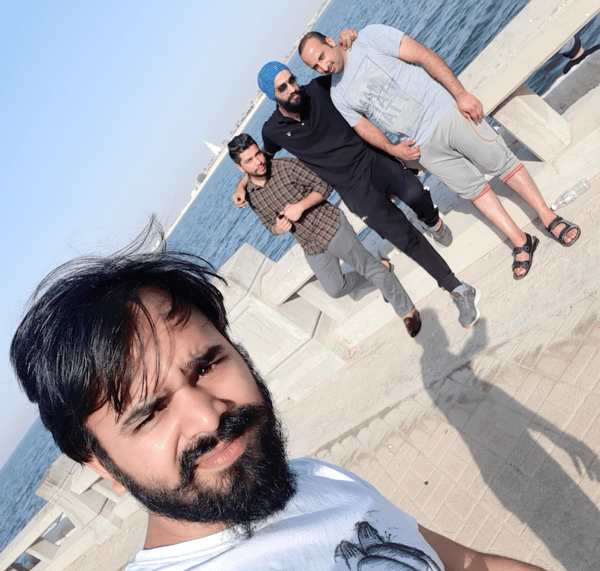 Outing at Dammam with colleagues

Did you like the food?
Riyadh gets the best of imported fruits and vegetables from all over the world. So yes, I loved the food. Not only non-vegetarians, even vegetarians have a lot of choices for their type of food.

On a lighter note, what was the funniest experience of your stay there?
Well, the funniest as well as scariest experience in Riyadh was the "passport damage". The photograph on my passport got blurred. Looking back on the day, it still makes me laugh because this incident also made me visit the Indian embassy in Riyadh 😊

At a professional level, what did you take with you from this experience?
This was a telecom project and I was able to learn about the nuances and intricacies of the telecom industry. Interactions with domain experts helped me to really enhance my knowledge in this domain. In addition, I did demos for clients, which boosted my confidence about speaking in front of an audience. I think client-handling is a must-have skill in the IT industry.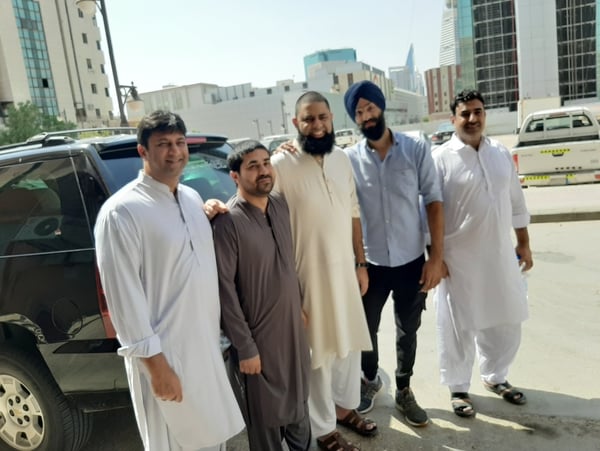 Getting together with clients on weekends
What would you advise any of your other colleagues who are considering working in Riyadh for some time?
Yes, to anyone who is planning to go there and has options of projects in Saudi Arabia: Don´t discard this option on the basis of its general perception or internet reviews! Each country has a different culture, just learn some standard phrases of the language and you will see that locals see your efforts and are really friendly.
I had an amazing time there, and I'm happy I trusted my instincts to visit this beautiful city and country. I will always cherish my Riyadh phase and all the memorable experiences!
Want to read more stories from our working in another country diary? Check out the experiences of our colleagues who worked in India, USA, and Austria.