Most probably, you might be using Salesforce to manage your sales, marketing, and customer support. After all, it has been the most popular CRM for seven years in a row.
As your business grows, your organization needs to keep up with the new or modified business processes and security and structural changes. Additionally, Salesforce is constantly evolving, with many new features added or removed as per the industry's needs.
This brings forth various challenges with your Salesforce implementation, such as:
handling process enhancements,
managing new release updates,
and working on new features.
Traditionally, Salesforce is managed by a team varying in size between 2-20 depending upon the organization size and implementation complexity. It has become even more challenging now as managing, extending, and supporting a Salesforce org has become complex and requires a variety of specific skills.
What are Salesforce managed services?
Salesforce managed services are a flexible, scalable, and cost-effective way to manage, support, and extend the capabilities of your Salesforce operations. This allows you to focus on core competencies while the housekeeping, upgrades, and building new blocks to accommodate new business processes are handled by a team of specialists.
This approach keeps your business running efficiently and allows you to execute changes on various clouds without focusing too much on your cloud capabilities and technical expertise.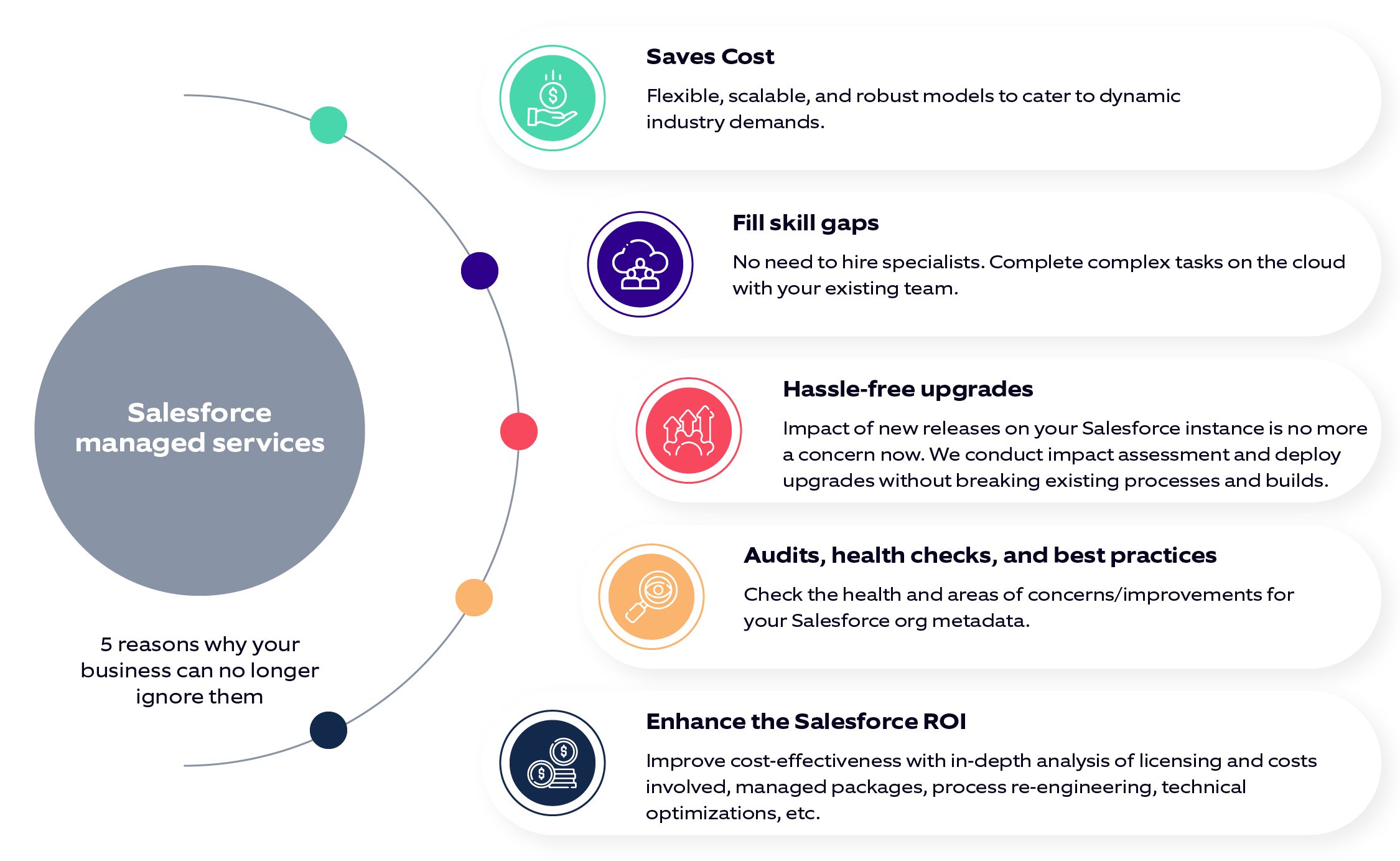 But how do we achieve this?
Let's discuss various concepts on how Salesforce managed services can improve your operations.
Reactive vs. proactive vs. predictive approach
The reactive approach, also known as the break-fix approach, is when you react to the damage after it has happened. A typical example is fixing an issue when the code related to a process is broken. This is cumbersome and stressful as there is a high business impact. Recurrent downtimes result in revenue losses, impact the application's success, and are detrimental to the end-user trust.
On the other hand, the proactive approach, makes the service offering more reliable and checks the costs of support activities. Therefore, customers are moving from a reactive, break-fix state to proactive service models. These can be time-based, condition-based, or even predictive that rely on the application data to identify the areas of concern.
Activities to conduct as part of proactive support in Salesforce are:
Review the impact of Salesforce releases on the existing features
Advise the team on using the new features and their potential impacts
Install and deploy new patches introduced to the platform
As an extension of the proactive approach, predictive maintenance requires monitoring the performance during normal operation to predict failures. Predictive maintenance analyzes the data gathered from various components of the key application workflows. The analyzed data helps identify specific components that can fail, allowing maintenance teams to correct the issue before a failure. Predictive maintenance, therefore, helps organizations optimize their strategies by conducting maintenance only when completely necessary.
Activities to conduct as part of predictive support in Salesforce:
Undertake periodic health checks on application stability and integrity
Advise on eliminating potential redundancies based on health check
Extend the application functionality based on end-user and stakeholder requirements
A highly recommended way to manage predictive maintenance in a Salesforce instance is to conduct frequent audits of the instance. Various health check tools are available in the Salesforce ecosystem, to conduct these audits. These tools facilitate org analysis, help identify redundancies, and provide results on potential improvement areas.
Fixing and addressing the problem areas, based on your instance audits help with the following:
Better ROI with the reduction of costs
Faster turnaround time from build to deployment
Reduction in deployment failures by 10-15%
Enhanced end-user experience
Triaging to increase efficiencies
When a customer raises a ticket, it is assigned to an appropriate queue. This queue is visible to designated service representatives. They review the ticket information and take appropriate action. The customer issue is understood before it is assigned or picked.
The ticket raised by the end users fall in one of the following categories:
Technical issues
Process-related issues
Data issues
Product questions
Miscellaneous
An important aspect of a support-based model is triaging tickets and assigning them to appropriate resources. Triaging also helps with the efficient management of the ticket backlog.
The service representative reviews and reassigns each ticket to the appropriate team for resolution. This activity helps identify emerging support trends, assist incident workflow management, and assist during red alert events. This activity can be divided into the following steps:
Assigning tickets to appropriate queues/resources
Checking for further information, in case required
Closing tickets with self-help/SOPs/knowledge
Updating the ticket priority/urgency based on provided information/description
A simple yet efficient way to manage ticket volume is establishing the Rapid Response Team. RRT supports the triaging of tickets.
Advantages of ticket triaging:
The system puts the end-user in charge and helps in effecient problem-solving
Agents and businesses reduce their efforts on addressing service, low-value calls, or low-value transactional activities.
Reduction in cost per ticket
Major volume (up to 40%) of the tickets are managed at the first level
Allows team to focus on core areas i.e., improvement and development
Reduction in incident volumes by 20%
Training, SOPs, and application user handbooks
Self-help and user training are the most effective ways to reduce the incident numbers in any application. With extensive experience of supporting clients via Salesforce managed services, we have realized that the incidents raised by users typically follow a pattern and can be attributed to specific functional areas in the application. An empirical finding from the ticket data of our clients suggests that user training can address around 20-25% of the tickets. We have delivered bespoke trainings to our client's end-users to minimize understanding gaps in the process/application setup.
Another approach is studying the ticket data and identifying areas to provide SOPs. SOPs is an acronym for standard operating procedures that help the users navigate through the steps for completing a process. A well-complied SOP eliminates common errors for which users raise tickets.
The application handbook is another intuitive and efficient way to manage the transition activities. Application handbooks help get the new users onboard with the Salesforce instance. This handbook can capture the key personas, covers key process flows, and the associated components. The application handbook typically is a living document and can be updated on a recurrent basis as per the process/instance changes.
Our client experiences demonstrate that such handbooks reduce the transition time significantly. They cover the key elements of the Salesforce instance without being dependent on dedicated knowledge transition sessions.
Summing up
With the ever-evolving Salesforce platform posing new challenges (skill development and cost-effectiveness), an optimal way to increase the ROI on your Salesforce landscape is to focus on managed services. There are models to cater to different business needs i.e., gaining business insights, creating a stable system, increasing flexibility, or reducing costs.
You can always scale Salesforce managed services as per your needs. Curious to know more? Get in touch with us!