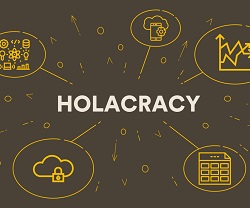 The culture of a company is crucial and plays a key role in its success or failure. It tends to produce superior results as compared to those with weaker cultures. In the past 20 years or so it's become a popular point of discussion and relevance as the modern workplace continues to evolve.
We all are mostly familiar with leadership within a traditional hierarchical structure: a top-down format within a triangle where managers are the main decision makers. So, what happens when that structure becomes a hierarchy of work rather than a hierarchy of people? How is leadership in self-organization different?
Some time ago, I had the opportunity of working at Zappos and of experiencing its unique culture.
Founded in 1999, Zappos grew to be the world's largest online shoe and clothing retailer known for its incredible customer service, free shipping, and free 365-day return policy. Zapoo has set incredible benchmarks for its competitors owing to its zany culture and its focus on customer satisfaction.
In July 2009, Zappos was acquired by Amazon.com in an all-in deal worth around $1.2 billion.
Amazon's CEO, Jeff Bezos, says, "I've seen a lot of companies, and I have never seen a company with a culture like Zappos'."
Zappos' unorthodox culture is the work of CEO Tony Hsieh, an innovative and successful entrepreneur. Hsieh built the culture on the idea that if you can ensure talented people and employees enjoy their work; great service and brand power will naturally develop. The culture of Zappos is a matter of great intrigue and study. Here is what I learnt about it.
In late 2013, Zappos implemented a unique corporate culture called "holacracy" by replacing its conventional organizational structure. Holacracy is a system that removes traditional managerial hierarchies allowing employees to self-organize to complete work in a way that increases productivity, fosters innovation and empowers anyone in the company with the ability to make decisions that push the company forward. It promotes distributed accountability, authority, and leadership, in the absence of direction from others. This one-way holacracy empowers you to control your work and achieve your goals. While agile methodology has been fundamental to software development, holacracy offers a complete system for achieving agility in all aspects of an organization.
Many holacratic principles used by businesses today are drawn from agile methodology:
1. Self-organizing teams
As the saying goes "With great responsibility comes freedom." It holds true in the culture of holacracy as well. People are given the freedom to choose their role which not only have the accountability but a purpose as well. They are free to make decisions in their work and to push the company forward. With this trust, people become accountable for their actions and to each other. The teams gather together to focus on the progress they've made and talk about ways they can contribute to accountability to the company and each other.
This in return facilitates assignment/reassignments and prioritization of roles without seeking approval or consensus during the implementation.
2. Leadership
In the holacracy leadership model, the leader:
Pushes forward the purpose of the team/role by enabling each member to chart a personal course
Seeks to understand what decisions people are making in their roles, and why, and also when people are initiating constructive dialogue when there is a difference of opinion
Processes tensions in a manner consistent with the company's cultural norms (Core Values)
3. Open-space work environment
Holacracy encourages an open-space work environment. It is another unconventional tool to make it easy to find and understand the resources we need to succeed as individuals and team members.
4. Motivation
Sometimes looking at the same workload every day can create a kind of occupational highway blindness. Taking an interest in what co-workers are working on not only gives our brain a breakaway from our routine but can also renew our vision and inspire a fresh level of engagement. At Zappos, one version of this is often referred to as "serendipitous interactions"; the idea that stepping outside of your world a little more can inculcate new ideas as well as can create collaborative opportunities.
5. Recognition
There are many ways Zappos' culture amazes their employees. One of the ways is the "Grant-a-Wish" program which allows employees to submit and grant wishes and is a great way to build a team and family spirit in the company (e.g. learning how to play guitar, ride a motorcycle, etc.) In addition to employees granting wishes, Zappos as a company grants wishes. One of the most inspiring wishes granted was for an employee who wanted to become an American citizen but was unable to afford the citizenship program. Zappos granted his wish and he went on to become a US citizen.
6. Team building
Zappos managers and mentors are encouraged to spend time simply getting to know their team members. A manager may already know an employee's strengths but learning about their passions can add new meaning and drive. As the 80/20 rule suggests, that small effort can have a huge ripple effect for the manager, the employee, and the team as a whole.
7. Recruitment
Zappos has two sets of interviews: the skills interview and the culture interview, and candidates must pass both. The culture interview is based on Zappos' 10 Core Values; if an applicant doesn't pass it, they don't move forward in the process, regardless of how much of a technical fit they may be. Past behaviors and touchpoints that come up during the interview that are contrary to the core values are red flags.
The bottom line, with several companies and technologies emerging daily, traditional paradigms to running a company are slowly being replaced. Companies are transitioning to self-organizing models including agile methodology and holacracy. Due to Zappos' organizational restructure, holacracy has been a focus of alternative management systems over the past year.