"For the strength of the Pack is the Wolf, and the strength of the Wolf is the Pack.
-Rudyard Kipling
Rudyard Kipling meant that individuals are bound to gain as much from a group as the group gains from them. If we apply it to non-profits, it becomes significant considering the type of relationship a non-profit holds with its undeniably valuable resources, its volunteers.
In context of this analogy, a non-profit derives its fair share of strength for vital programs and services from its volunteers. On the other hand, interestingly, the volunteers also like to rely on these organizations to access a platform where they can contribute to social causes they care about, learn crucial life skills, and gain real-world experience in their chosen field.
But why is this symbiosis or mutualism between a non-profit and a volunteer sometimes too short? Or even if long-lived, why does it fail to reach its maximum potential?
The challenges could lie at both ends; let us try to decipher some of these issues.
The Challenges
Recruitment issues
The Volunteer Management Pro 2022 report states that the top challenge that volunteer managers face today is recruitment (28%). Finding volunteers has been one of the most recurrent issues that grapple every other non-profit in its operations. This problem now has been further intensified due to the reluctance of volunteers to join because of Covid. Even if there are eager volunteers, non-profits are unaware of the ways in which they can customize the volunteer experience to match the current pandemic constraints and put them to effective use.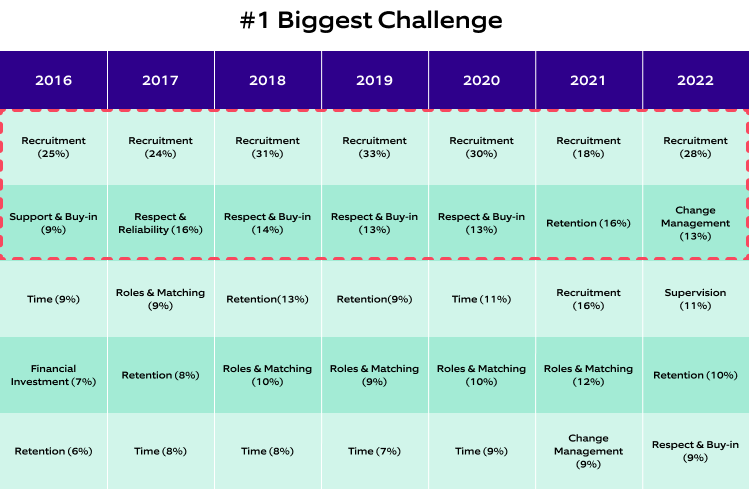 Challenges faced by volunteer managers: Analysis of past seven years
Often the root cause of these major problems of recruitment, change management, and supervision of volunteers lies in the fact that the non-profits are not aware of the needs and wants of their volunteers.
Unheard Volunteer Worries
On the other hand, the volunteers, despite wanting to invest their time, cannot build trustworthy relationships with non-profits. Most of the willing and enthusiastic volunteers often leave their journey midway.
Interestingly, an extensive Community Life Survey conducted to understand the volunteerism status annually, tried to identify the common barriers in a detailed manner. The below graph highlights some of the key reasons.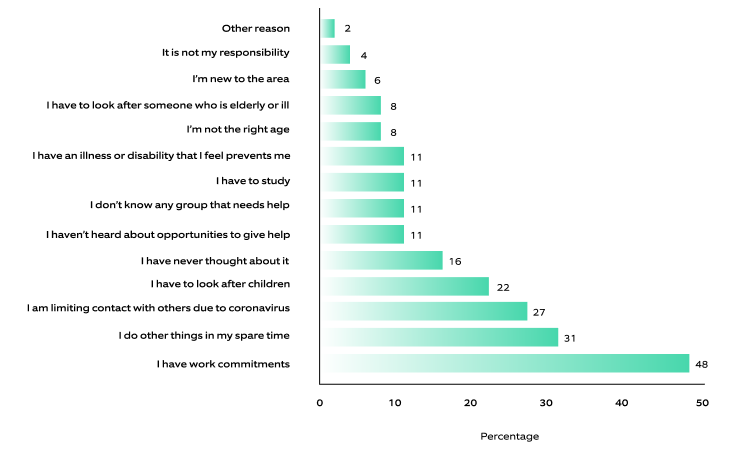 Reasons given for not taking part in formal volunteering
or not volunteering more frequently (2020/21)
If broadly classified, volunteers have acknowledged the following three main impediments impacting their active participation in volunteering:
Timing and scheduling constraints
Not enough information about suitable opportunities
Not being able to feel attentive or interested because of non-profit's lack of matching opportunities
Compounding Pandemic Effect
It is not surprising to know that COVID-19 has impacted non-profit organizations in a significant manner, from their staffing and volunteerism needs to their revenue and operations. As per the results of Human Resources Impact of COVID-19 on Canadian Charities and Nonprofits, a report published by Charity Village and The Portage Group, paid staff layoffs have been a harsh reality for non-profits already running on shoestring budgets. Nearly 23% of the surveyed organizations engaged in permanent layoffs since the pandemic, and a combination of layoffs and natural attrition resulted in a cumulative reduction of 4.6% in their total workforce.
Even though things are now improving globally and fewer layoffs are anticipated in the coming months, non-profits have a considerable gap to fill to strengthen their workforce. Today, a strong focus on engaging more volunteers has become an undeniable necessity than a desire.
Path Forward
A silver lining among all this data is that people are ready to volunteer if they are provided with the right opportunities at the right time.
The important question is, can non-profits better strategize their recruitment and retainment programs for such prospective volunteers in any way?
The answer is yes, and the first step for them is to understand these volunteers better.
Volunteer Profiling – A crucial step
It is important for non-profits to know their volunteer base and understand what motivates them to participate in a successful volunteering engagement.
Not just know, but understand them
Non-profits need to collect all possible information about their volunteers during the preliminary stages of interaction. This can be done through informal & formal channels, need assessments, or simple surveys during the onboarding process.
As a first step, this should include the traditional pieces of information required to draft their profiles, such as demographics (name, age, gender, address, contact information, etc.), and other required details such as preferred mode of communication or emergency contact details.
After their details are collected, organizations need to dive further and delve into their personalities and ask volunteers relevant and vital questions, gathering as much critical information as can be consumed.
The profiling team can begin by designing questions around the three fundamental areas, which we like to call the Know-your-volunteer trinity:
What they care for: Identifying their inclinations towards various social causes. Perhaps they can be asked to rank the social causes relatively, to quickly understand their affinity with the underlying cause of a volunteering event earlier planned to offer them.

What they are good at: Recording their current set of skills that might become helpful for the mission. Also, interviewees can wishlist some of the skills they desire to acquire through volunteerism.

What motivates them: Gauging their interests, their thoughts on incentives and recognition, and how they perceive the impact of the work they perform and whether it plays a role in their decision-making.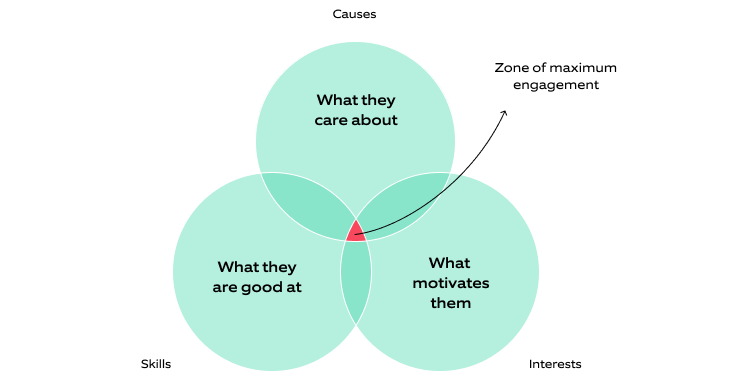 ''Know -your-volunteer" trinity
Correct profiling of volunteers provides access to a broad range of ideas and resources that could be utilized in planning tasks and events correctly for the volunteers, ensuring good engagement for them.
Where does the right profiling help?
Once armed with critical information about prospective and regular volunteers, non-profits have to:
Match them with the right opportunities:
When you are aware of the volunteers' availability, interests, and preferences, it becomes easier to align them with volunteering opportunities that respect their time and capabilities. Matching the volunteer with the right opportunities is a crucial and game-changing process that could help organizations build a trusted relationship with their volunteers and make them come back time and again.
Help them upskill:
Volunteers bring in the much-needed skills for a non-profit's program on an "as-needed" basis. Paying special attention to their skill base, helping them build on their existing skills and allowing them to learn other skills, makes a significant difference to them.
Recognize their efforts:
One of the most important things is to promptly appreciate their efforts and achievements promptly. Recognizing the work of volunteers in ways that leave a lasting impact on them and make them feel good about their contribution is crucial. From small treats to mentorship opportunities, personalized celebrations go a long way over a template-driven recognition program.

Time and again, volunteerism has proved to be crucial for any non-profit's sustainability. Correct volunteer profiling is an important pillar of strength for a robust volunteering engagement. Not only does accurate profiling give a head start to non-profits in acquiring better volunteering leads, but it also aids in improving scalability and having better cause promotions. Similarly, volunteers can effectively share their interests with non-profits, gain new skills, network with like-minded people, and enhance their participatory experiences.

How Nagarro can help
At Nagarro, we are constantly looking for new and better ways of improving engagement experiences among volunteers and non-profits. With our wide range of industry experience in thinking breakthroughs for non-profits, we can help you strategize your volunteer management programs. Connect with our experts to know more!