Bad design is everywhere, from household items and digital products to USB cables. It confuses, annoys, frustrates, and even makes us laugh sometimes.
In the medical field, however, poor design can be deadly. Medical device designers and engineers must ensure that any product or service is safe to use and its potential for misuse or errors is minimized or mitigated. The entire product design and development process is heavily regulated with safety in mind.
In this article, we will talk about the three important things regarding usability engineering for medical devices that you need to know before getting started.
Why do we need usability engineering for medical devices?
According to a 2016 Johns Hopkins study, medical errors were said to be the third leading cause of death in the US, accounting for over 250.000 deaths per year. These numbers were estimated by patient health and safety experts while analyzing medical data over a period of 8 years. This is an older study that sparked controversy as its research methods and extrapolations were not considered accurate enough, although it did raise an alarm and brought the issue to public attention.
Two other studies estimate deaths due to medical error at around 5.2 percent or 3.6 percent. Though not all deaths are related to using a medical device, the fact remains that the outcome can be grave. For this reason the activities related to the design and engineering of medical devices come with great responsibility, and therefore are highly regulated and have a big emphasis on risk management.
Medical devices have a big and direct impact on patient lives, health, and safety. This is why usability engineering as a process is such a crucial part of medical product development. It aims to ensure that user needs, goals, and limitations are considered through prototyping and validation with both end-users and usability specialists in an iterative approach.
What is a medical device?
Global Harmonization Task Force (GHTF) describes medical devices as any physical device, material, substance, software, or accessory item to the first, which was designed and produced by its manufacturer with the intention to be used for medical purposes such as diagnosis, treatment, prevention, monitoring, or management of a disease, injury, or other medical condition (this includes implants, prosthetic devices, conception control). Furthermore, it does not achieve its main intended use through a pharmacological, immunological, or metabolic process.
In simpler terms, a medical device can be a physical, software, or combination device intended to be used for human beings for medical purposes, other than what is considered medication.
What are the 3 essential things to know before getting started?
1. The process – in this case, the usability engineering for medical devices process
The IEC 62366-1 and IEC 62366-2 standards guide designers and usability engineers in designing medical devices. This guide describes all the necessary activities (with step-by-step details) to ensure that the product design is conducted per industry standards and best practices.

It is not much different from the standard UX design process and follows the well-known chapters like discovery/analysis/concept/design/validation.
The intertwining of the risk management process sets it apart, which adds a few more steps and checkpoints, along with highly formalized documentation.
There are even specific steps or sub-steps to document certain information like the product description, the primary operating functions (POFs) or usability evaluation plans, and the output of activities such as design and validation.
An important part of the process is dedicated to validation (through usability testing, expert evaluation, etc.) for identifying potential usage or usability errors.
Although we call it human or user error, we say it is never the user's fault in the usability field. This means it is the responsibility of all medical device designers and engineers to foresee and implement measures to prevent any such errors or risks.

2. Risk management – Risk-based approach in design or considering the worst possible outcome and planning how to avoid it
For this part, being a pessimist could come in handy. Take every main product functionality (referred to in the process as "primary operating function" - POF) and think about what could go wrong. Consider the targeted persona and context of use, and imagine what could generate an adverse event or a harmful outcome. Given such a scenario, what can be done, or how can we alter the product design to eliminate or reduce the risk.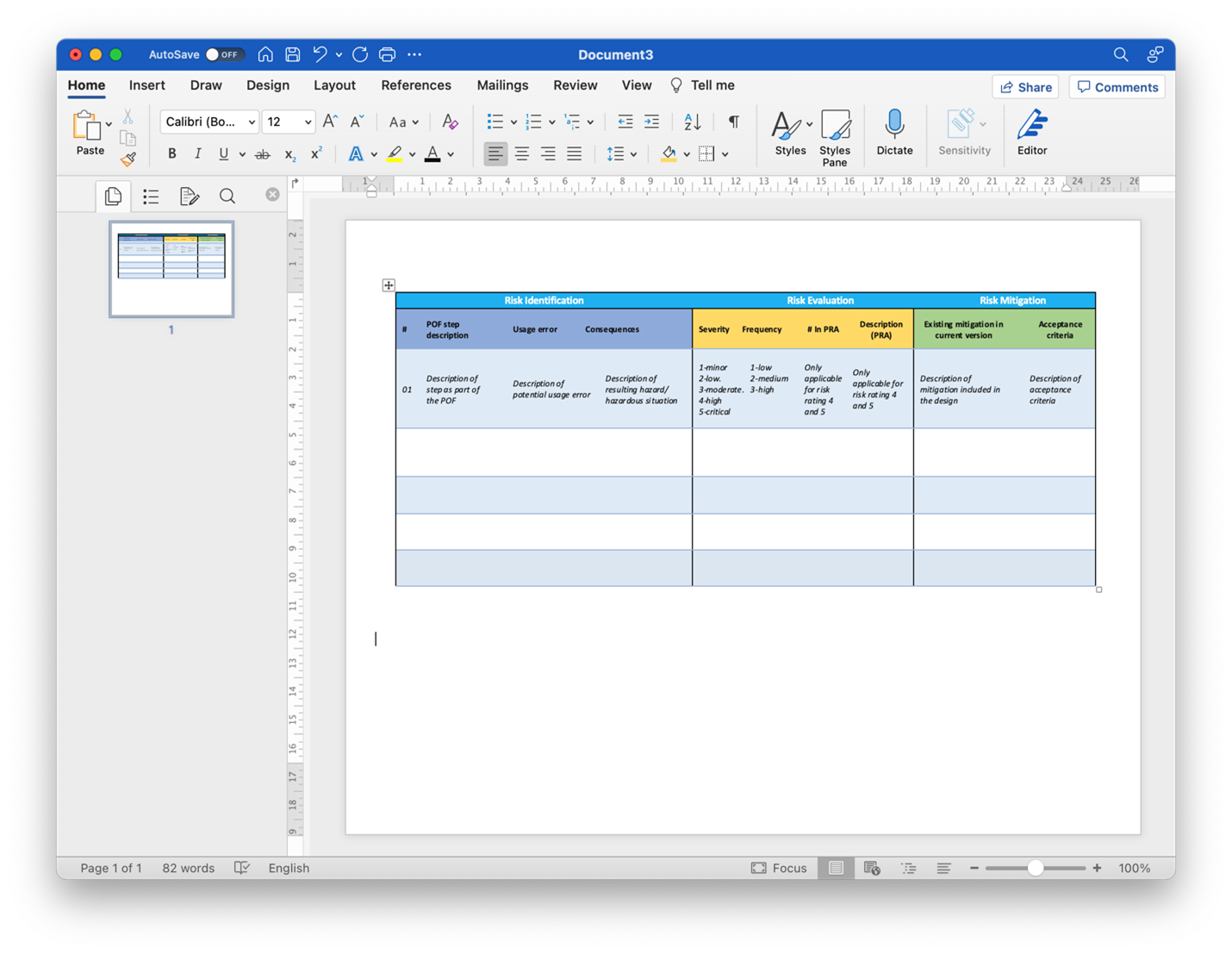 All the analysis and observations should not remain at the thought process level. They must be thoroughly documented and fed into the separate and essential risk management process (ISO 14971 - Medical devices - Application of risk management to medical devices) that covers areas beyond usability engineering.
3. The documentation - One document to rule them all, namely the Usability Engineering File (UEF)
The Usability Engineering File (UEF) must be included in the documentation submitted to any regulatory body before getting the necessary approvals - when the product is market-ready.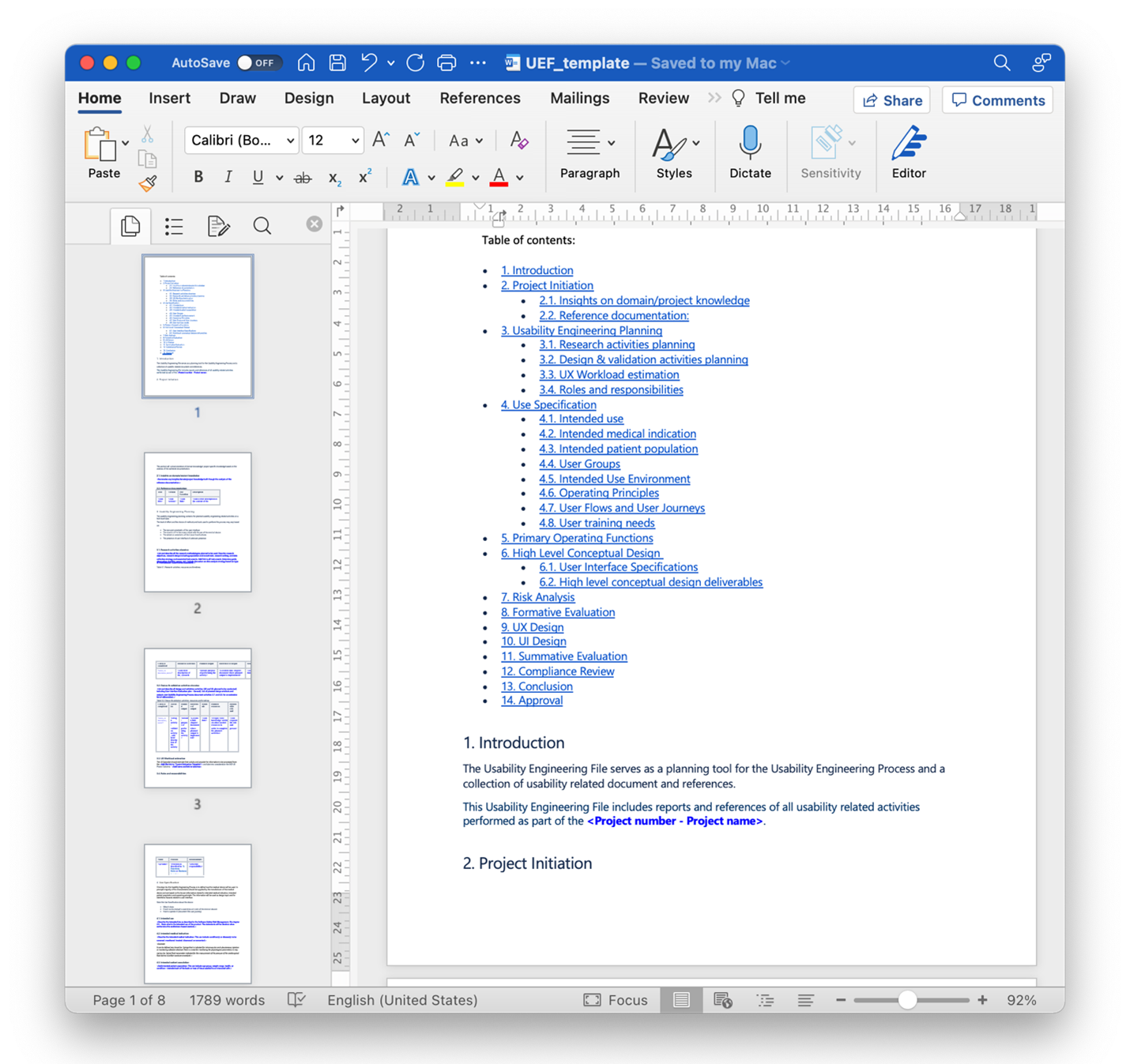 Apart from this regulation-related aspect, once you have a decent UEF template, it can also serve as a comprehensive guide and checklist for your activities. It is more of a friend than a necessary evil.
This file will provide a step-by-step walkthrough of the process and ensure that the product design has passed all necessary activities and checkpoints. Additionally, it gathers all relevant pieces of information in one place, making them ready for use for any reviews or as a starting point for a new product version.
The conclusion
The aspects that come with the medical device territory often (if not always) stem from the goal of minimizing potential risks. A medical device must ultimately prove that its benefits greatly outweigh any associated risks.
Because of this, on top of the classic UX paradigm of knowing the business, your stakeholders, your users, etc., the most important aspect is safety and error prevention.
Want to know how to create functional, usable, delightful safer products? Our Life Sciences experts can help. Get in touch with us now!