Embarking on a transformative voyage through the ever-evolving landscape of DevOps isn't just about reaching a destination; it's about embracing a continuous evolution of processes and practices. In this dynamic realm, where operational paradigms shift and technology propels us forward, organizations strive not only to adopt DevOps but to enable it in a way that catalyzes growth and maturity. Let's delve into the pivotal stages of this journey, discover the three-phase DevOps Transformation, and explore how Nagarro's DevOps Enablement Strategy ignites success.
Enabling DevOps is not a destination but a journey towards continuously improving or automating the organizational process. Talking of the DevOps transformation, over a period, there has been paradigm shift at each level be at operational /Technology or at an organizational level. Also, operational focus moved from Traditional IT servers to As-a-service.
For virtualization to Cloud Age and Finally, we have Application evolution, it is worth mentioning that custom software application development services are a prospering segment of the overall software development industry, and it is gaining importance at the global level.
To move further in this journey of application evolution, many organizations have successfully achieved the DevOps baseline and then look further for support for able to sustain in their DevOps journey to be part of the ever-evolving world of DevOps. This is where DevOps Enablement comes in, as it helps organizations to move ahead by implementing processes to Introduce, Integrate, and Enhance DevOps to bring maturity in the toolchain.
Nagarro thrives in providing its clients with top-notch DevOps solutions, which encompass all the best practices, key roles, metrics & industry standards to cater to the ever-evolving needs of the clients. We focus on inculcating a DevOps culture that emphasizes on people, processes, and practices which further empowers our clients with standardized & streamlined DevOps ecosystem.
How do you achieve DevOps transition?
Here's a quick look at how you can move to a streamlined DevOps ecosystem.
We begin by first assessing the current ecosystem, and then designing the implementation roadmap of the end-to-end architecture. Once this is done, we embark on the DevOps enablement journey in a phased manner by adopting the following protocol: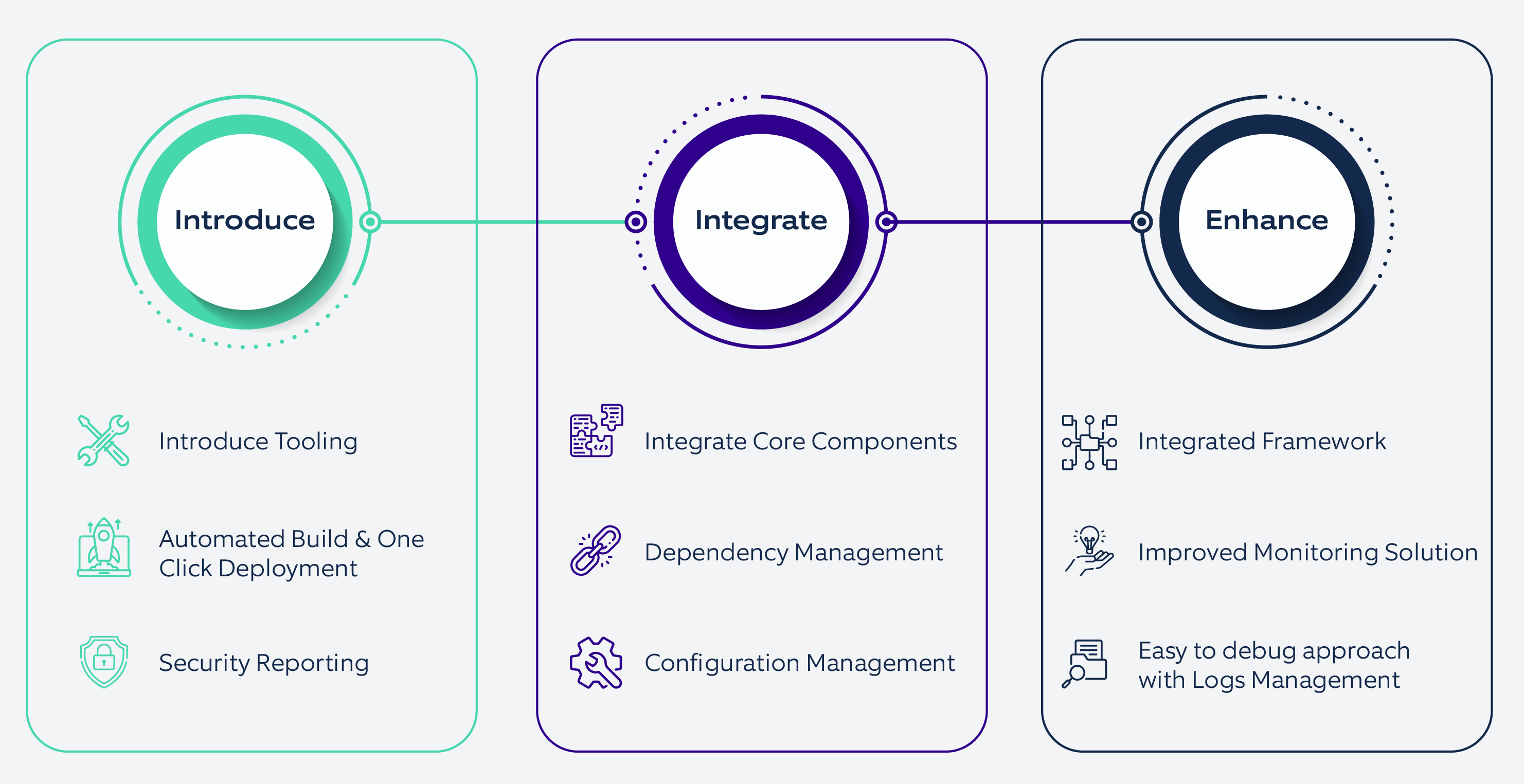 Figure 1: 3 Simple Steps/Best Practices for a Seamless DevOps Transition
We can categorize the DevOps enablement journey in three different stages:
A) Transformation stage – this stage includes three phases within it:
Introduce
Integrate
Enhance
B) Continuous Onboarding and Support stage
C) Optimization stage
Let's get to know more about each of them in detail.
A) Transformation stage
The DevOps enablement journey involves a 3-phase DevOps Transformation implementation process to bring maturity in the toolchain, namely Introduce, Integrate & Enhance. Let's talk about these 3 phases in brief below.
1) Introduce
This phase focusses on introducing a standardized toolchain covering the different blocks of DevOps, like continuous integration, continuous delivery, automation, continuous feedback loop and collaboration. Usually, it starts with discussions with the product teams to define a standardized set of tools that will be used to define the baseline for other product teams. The DevOps baseline can consists of various sets of tools like Jenkins, Nexus, Docker, Kubernetes, Sonar Qube, Ansible, Terraform, Prometheus, Graylog , Azure, and not limiting to these only. Upon baseline tools are setup and integrated, the next step is to configure automated builds to ensure one-click deployment. These tools can be leveraged to implement automated builds & one-click deployments to fasten and enable frequent rollouts. Hence, an all-inclusive DevOps toolchain that also aligns with the organization's needs plays a key role in this phase. The next major step is to enable reporting that primarily focuses on security to seed from the baseline itself.
2) Integrate
Once a standard toolchain has been identified for an organization, then comes integrating the core components into it. This phase also involves addressing the dependency management aspect by ensuring that all the dependencies are well analyzed and scanned to avoid security breaches. Moreover, you can ensure configuration management by using various tools available in the market to keep a check on configuration changes to ensure traceability. Without this, your business and end-users could suffer from systems outages, data breaches and data leaks. It also helps in ensuring cost optimized environments, efficient change management & quicker rollbacks.
3) Enhance
In this stage, an all-inclusive toolchain that we started with is now ready to be enhanced further by tailoring it as per specific organizational needs. This can involve integrating it other frameworks, implement monitoring and log management solution for quick troubleshooting & debugging of issues. During this phase, a series of steps are taken to engineer the DevOps streams with tooling and standardization of infrastructure automation, One-click provisioning of infrastructure and application code with Infrastructure as code (IaC) and Continuous Integration (CI) toolsets, CICD, automated testing, configuration management, continuous monitoring & logging, Introduction of Containerization, product documentation, DevSecOps , disaster recovery and adoption of cloud service for faster rollouts of the products.
B) Onboarding and Continuous Support stage
This stage aims at maintaining and supporting the build right from development till production environment. Here, we can start onboarding more projects onto the established CI/CD toolchain and simultaneously provide support & operations to them. The build pipelines are implemented for sub-production and production environments. Handling one-click deployments on both on-premises and cloud is done. We also bring in Infrastructure-as-code concept within the targeted environment. And integration of the CI/CD pipelines with ITSM tools is also implemented.
C) Optimization stage
In this stage, we optimize the architecture with customized orchestrated environments based on Continuous Feedback loop. We emphasize Continuous DevOps as it provides you with a competitive advantage and empowers the Optimization phase to maintain continuity within business. Optimization is generally a continuous journey and not just limited to a few steps. The client team and DevOps team connect regularly to assess new areas of enhancements and keep evolving the DevOps ecosystem to reach higher levels of DevOps maturity. The DevOps team over a period, tries to ensure that the highest levels of DevOps maturity is achieved where operational focus is then shifted entirely to As-a-service model based on the principles of Platform engineering.
We help clients in building DevOps model which reformed cultural aspects and brought in Automation. We develop a fully automated solution that helps them in addressing the current problems as well as achieving scalability, reliability, and faster time-to-market.
In conclusion
To summarize, our DevOps Enablement Strategy focusses on envisioning the desired DevOps milestone for the client by putting ourselves into their shoes which is also aligned with Nagarro's 'CARING' values.
Putting ourselves in our client's shoes is not only extremely helpful for us in understanding and solving the real pain points for the client but it also comes naturally to us because being Client-centric is an integral part (the C) of our CARING values.
As we traverse this transformative odyssey through the intricate tapestry of DevOps, one truth remains unwavering: Excellence knows no boundaries. The journey from "Dorota hit a nerve" to crafting an innovative DevOps ecosystem that resonates with every corner of the tech landscape showcases the power of evolution. Just as Vera signifies vitality and strength, we believe in channeling that very essence into our DevOps Enablement Strategy.
In the realm of ever-changing tech paradigms, Nagarro's commitment to igniting success through DevOps excellence stands resolute. We are more than facilitators; we are partners, guiding you through the dynamic phases of Introduce, Integrate, and Enhance. Our aim is to propel you toward your DevOps zenith, where each stride is marked by the principles of continuous improvement, innovation, and seamless collaboration.
Join the evolution: Begin your DevOps transformation today!
Ready to embark on your DevOps journey with us? Let's make your tech aspirations a reality. Contact us now to explore how Nagarro's DevOps Enablement Strategy can amplify your organization's capabilities and usher in a new era of tech prowess. Let's shape a future where innovation thrives, and excellence knows no bounds.