Unless you've been living under a rock for the last decade, chances are you use digital banking and already know everything about its benefits. That's why this article is more about how traditional banking still adds value in the era of digital banking and how banks can benefit from both these models in today's times.
Here's a quick health bulletin on the state of traditional (physical) banks, leading up to the COVID-19 pandemic.
As per a KPMG report:
The US had around 2,000 net branch closures in 2018.
In the UK, around one-third (3,300) of the total branch network closed between 2015-2019.
In Australia, around 5% of banking outlets had closed till mid-2019.
In the New Normal, digital banking has provided an effective alternative to continue business as usual. Here are some numbers, from a developing economy like India:
Nearly 72% of all financial transactions of public sector banks are now carried out through digital channels
Customers who are active on digital channels have doubled from 3.4 crores in 2019-20 to 7.6 crores in 2020-21
For private banks, the figures are even more skewed towards digital banks. And India is just one example; the figures of most other countries are also in favor of digital.
There's almost no comparison between the two – it's like a David vs Goliath comparison. But what's a David-Goliath story without David having any aces up his sleeve too?
But why on earth would anyone want to shun the convenience of a few phone taps or mouse-clicks to prefer venturing out and appearing for an in-person experience? Well, while that is certainly true, there's still a lot that a traditional banking experience can provide, which is irreplaceable - even for digital banking.
From almost as soon as the internet revolution sparked off a digital transformation across each industry, everyone began preparing an obituary of the traditional banking system. But hey, we are in 2021 and it's still very much there. So, is there anything that traditional banks can do which their digital counterparts cannot?
Let's see how and why traditional banks can stay the course and in fact, have their own merits:
Show me the money!
According to a Federal Reserve report, the top 3 banks in the US (Bank of America, Wells Fargo, and JP Morgan Chase) - in terms of physical branches - are also the top 3 banks in terms of assets. A branch helps in building a brand presence in the market. A McKinsey report for a US bank estimated that the value of a physical network in even one market is equivalent to spending millions of dollars in annual marketing. The traditional brick-and-mortar version of banks is still worth a lot of bucks.
The differentiator in a commodity-driven world
In the commoditized world of banking, where interest rates are normalized, any bank can only offer precious little as compared to any other. In such a scenario, the value of human interaction and a personal connection cannot be overstated. Compare that to using an app or chatbot, which is still a machine or just a piece of code talking to you?
User experience and personal rapport
If your bank knows you better than anyone else, why won't you go to such an irreplaceable option? Won't you opt for a bank (in its traditional avatar) that knows you well personally and can offer the best possible solutions? Now imagine being in a bank where you can discuss, negotiate, and converse with your bank's relationship manager. Think about that power of a good deal or if nothing else, a great, informed discussion with a banker. All that is made possible by forging a strong rapport through in-person interactions. Try building that with a chatbot!
Niche services
Traditional banks offer incomparable services (like cash deposits, locker facilities, and notary services), which digital banking does not. Quite simple - do what your competition cannot.
It's not uncommon for people to have a source of income or business with high amounts of cash. How does that make its way into your account? The traditional bank system is still the best bet when it comes to keeping your cash reserves safely in your bank account. This is another area where online banking cannot offer a comparable service.
Similarly, traditional banking also offers notary services and locker facilities, which might not be the most sought-after features for any bank but might still be relevant for those users who happen to need them. For example, in the case of a notary service, you may require someone to witness the signing of documents and verify the identity of the person who is signing them. In such cases, traditional bankers provide that service either for free or for a nominal charge. Again, online banking is nowhere in the picture for any of these services.
Got experts? Great, I'll be there!
Some tasks are best suited only to specialists. Sample this: you need to perform complex banking operations or need expert advice on the best way to carry out certain financial transactions. In such a scenario, nothing beats being able to share your problem statement in person with an expert, understand and discuss it, and get all your solutions. And to do all this, visiting the bank is too small a price, if at all. This power of human connection cannot be overstated. Now look again, can you find this option in your cool app?
As you can see, David does have his share of advantages too. And therein, lies the opportunity for traditional banks to add and enhance their value.
What should banks do now?
Given the unique strengths of traditional and digital banking, how can banks leverage them best in today's times? If you are a bank, what should you optimize your branch experience to gain an advantage over your peers and fintech companies? Or should you sway towards the digital channels, which are cost-effective but lose out on the in-person experience and advantage that a physical bank provides?
The answer is simple: Just optimize the respective strengths of both the banking models. Enter: Omnichannel.
Omnichannel strategy for banks: The best of both worlds
An effective omnichannel strategy ensures a successful and seamless marriage of the traditional with the modern – of course, we are talking about banking only! This strategy involves a solution where customers can start their journey in one channel (like physical branches), progress on another (like a mobile app), enquire through various channels (like chatbots, call centers, or social media handles), and finally, conclude their journey on an entirely different channel (like a website) and still maintain an enjoyable and satisfying user experience.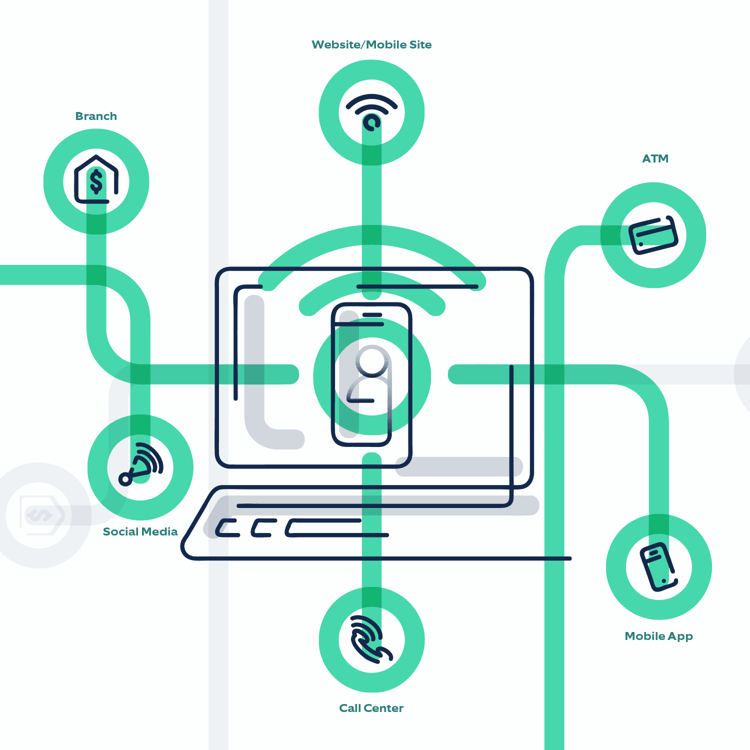 In the initial phase, banks can:
map customer journeys
define the impact of each channel across customer segments
determine the KPIs to measure the individual channels and make informed decisions to go for investments
Such a consolidation of banks and branches naturally reduces operational costs as well. Banks can also try to have different branch formats depending on the location demography. For instance, a location with a tech-savvy young generation can have a branch with more self-service features, reduced staffing, and a more vibrant look and feel (example: Capital One introduced café branches). In contrast, a branch in a rural area can still have a normal look and feel, with more workforce.
Banks have already used tech enhancements like Artificial Intelligence, big data, the Internet of Things, and open APIs to streamline day-to-day operations and maintain a positive customer experience. Now, they also act as a complete digital ecosystem by offering their own (as well as third-party) banking products and services.
The way ahead
Keep your pen away if you picked it to write an obituary for the traditional model (by the way, quite an apt analogy too: a pen in today's e-world – traditional model but still not done and dusted). The story of the good-old bank branch is far from over. Traditional banking can still play a critical role in providing financial advisory services, offering human touch, and even assisting in a transition to digital channels.
It's quite likely that the traditional brick and mortar branches can transform into a less cluttered branch space, with more self-servicing tools like smart ATMs with interactive capabilities, cash deposit machines, assisted online banking, remote assistance through video conferencing, and bank officials to aid or provide information if needed. This is another great use case for branches to be an important cog in the wheel, especially for banks that are pursuing the omnichannel delivery strategy.
If you want to create a bank branch for the future, our banking experts can help you. Connect with us at bubfsi@nagarro.com and take that leap of faith. You can bank on us!