Do we need a particular time and place to talk about gender diversity at all? Is it okay to talk about gender diversity only during International Women's Day-type events? Instead of being treated as a mandate, this must be an everyday affair.
In this edition of TNT (Think Nagarro Today) blog, we will touch upon some of these topics that need to be discussed around the year. Our colleagues from the global Marketing team – Peter Hammer and Megha Jha – interviewed 3 wonderful women at Nagarro who are going to talk about some initiatives that brings out the perspective of rationalizing gender diversity at the workplace.
Our experts: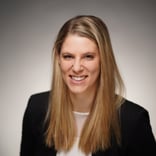 Julia Rettig is based out of Germany and working in Marketing. When she is not working, chasing after her son or playing rugby, she is interested in all things about leadership, SAP, and even zombies.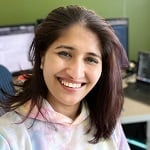 Roopshree DasGupta from the US has an overall experience of 16 years in application design and development in leading technologies. She is an avid reader and has read 50 books in the past year.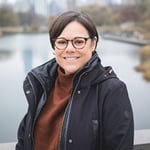 Noel Cunningham is an influential executive who passionately leads all global user experience design efforts at Nagarro. She is a champion of human-centered design and brings 15+ years of experience to Nagarro. She lives and works in Chicago, US.
Peter: A few months back, you ran a women leadership survey. We would like to know more about the insights from that.
Julia: We ran the survey last June because we wanted our engagement and commitment to be based around quantifiable data. The main output we were aiming for was to know what obstacles women at Nagarro face and what hinders them from moving to higher positions.
Unsurprisingly for us, work-life balance remains to be one of the major challenges. And we have done a lot here already with our work from anywhere concept – needless to say, this benefits also both women and men.
Another improvement we immediately worked was a way to connect our female colleagues globally. A majority of responses in the survey said they would love to have more female role models in leadership and also a way to connect and network with them. We will hear more about the Connect Circle later.
With this in mind, we also established some workshops like #IamRemarkable, a Google initiative that we implemented shortly after the survey. The #IamRemarkable workshops aim to empower women and underrepresented groups to celebrate their achievements, feel confident about themselves, and drive diversity and allyship.
Over the last months, we ran lots of workshops and it is truly awesome to see the momentum this has created. Right now, we also have some new facilitators going through training to offer more sessions soon.
Peter: That is amazing!
Megha: I attended one of the workshops and had an amazing experience doing that. Julia just mentioned that the survey triggered the conceptualization of Connect circle, I would like to ask Noel, why do you think a platform like Connect Circle is important for organizations? What role do you think it can play in strengthening the position of women?
Noel: Connect Circle is an exciting platform that any woman at Nagarro can join. The purpose is to meet, exchange ideas, build the network, feel supported in a global community across Nagarro. It is a very active group of over 750 members so far. In the face of remote working, we've especially heard that this has been a powerful way to connect. In terms of how this can make a bigger impact, I think people start networking and forming communities across the company. We begin to see these conversations trickle beyond the Connect circle and impact the company at large.
Peter: Very cool. One of the things that I realized in these discussions is that across the geos, it didn't matter where the women were from. There are common denominators, the things they were facing, the challenges they had, and the support they had with Nagarro. And I thought that was fascinating to see boil up in such an easy and safe way.
Noel: Yeah, I mean, many of the things we're facing are universal. The issues are ubiquitous, and it's been reassuring to discover that. Sometimes, there's a feeling that you're alone in these things. And I think the Connect circle really makes you feel connected.
It's important for the industry as well to see that there are so many cool and inspiring women working in technology.
Megha: I really love being a part of the Connect Circle. It is one of its kind — a place for networking, where women get together. There is a discussion, there are comments, women share their experiences, and we also get to know the multiple things that we are doing. It's an amazing platform. So really, thank you for building this.
Roopshree: It also provides a safe space and encourages confidence of speaking out in a forum for anyone who's a little introverted. It helps create visibility and build confidence.
Peter: With regards to leadership, we do have our very own program for that: Glass Window program. Can you elaborate on that?
Roopshree: Glass window program started a few years back, and it provides a platform, an excellent opportunity for women in Nagarro to participate in the senior leadership cohort. They get first-hand visibility of how decisions are made at the organizational level. How are decision making processes, for example? You get a seat at the table, an opportunity to see how those decisions are made, but your input is also valued. You are highly encouraged to provide inputs in these forums.
It allows you to network in the form of ice breaker sessions with all the senior leaders, and you get insights into how they succeeded or how they grew over a period. I was part of the cohort last year, and I learned so much over the last year, which I do not think was possible in my regular day-to-day work. And while the glass window cohort is mainly made of women, men also participate in this program.
It is unbelievably valuable, at least for me. I have gained many insights.
Peter: And I think we should tie that back down to Nagarro's core value of being non-hierarchical. The dynamic of our leadership, which includes that level of mentoring and fostering of talent, is very cool. The fact that a company the size of Nagarro would applaud and welcome that type of input and transparency makes us different.
Roopshree: Totally agree.
Megha: From the other side of the perspective, I would like to say that programs like this foster aspirations. And I think a lot of women want to be a part of this great program.
Julia: It's like you said, Peter, it ties in so well into our corporate values because the program is designed like Nagarro. You take responsibility. You're part of a great community. You add value and get valued in return. You have lots of diversity, not only with regards to gender and age. This adds many new perspectives.
Roopshree: I would like to add that you feel welcomed. Your ideas are accepted, making it equivalent to a safe space like Connect circle.
Megha: We all are a part of this amazing organization. So, I would like to know how you feel unstoppable at Nagarro, and maybe all of us can share one instance where we think that Nagarro has had our back.
Julia: I want to start by saying that Nagarro has my back every time.
I can take responsibility. I can be creative. I can drive things forward. I can fight for stuff that makes sense. We are very goal-oriented and very responsible, so this is what I like about it. I've never been talked down, or an idea of mine has been treated indifferently, and I really appreciate that.
Roopshree: I have spent more than 16 years in Nagarro now, and I have pretty much moved around various teams and technologies, and that makes me feel like I am unstoppable because Nagarro has provided me the platform of doing whatever I want to do. There are countless opportunities. The ease of transitioning between these opportunities makes Nagarro a unique organization to work.
Noel: I feel very trusted and empowered daily, and there's freedom and autonomy, which comes with this organization that I love.
I'm not saying anything new here, but, Nagarro has always had my back up and continues to do so. From small things like taking time off when I needed to take time off to trusting me to be a part of senior leadership and the position that I'm in right now, it has always had my back.
That was an amazing conversation. A discussion where the three incredible women shared their experiences and gave insights about the community/forum that they have been building. At Nagarro, we continue to implement company-wide programs for self-promotion and to fight unconscious biases. And what could be a better example than the existence of platforms like Connect Circle and Glass Window program, along with super enriching workshops like #IamRemarkable.
That's it for the fifth TNT edition but keep watching this space for the open discussions, where we will dig deep into many other exciting topics and even more insightful conversations!