Your challenges are ever more unique and complex in a quickly changing and evolving world. To find solutions, you need forward-thinking, agile, caring partners that can help you transform, adapt, and build. At Nagarro, we deliver on our promise of #ThinkingBreakthroughs. But what does that mean?
Ionut Pop and Kerstin Grüneis from Nagarro's Global Marketing team interviewed Nagarro's experts Ram Reddy, Divya Dar, and Paul Haberfellner to get an answer.
Our experts: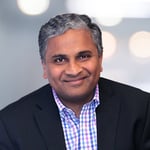 Ram Reddy from the US is a big sports fan. As Boston's love of sports run deep, he follows all different kinds. A stunning project at Nagarro he would like to highlight is VF Corporation.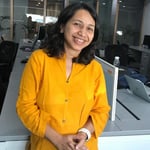 Divya Dar from India has been involved in rolling out Ginger, Nagarro's AI-powered dog assistant, and she recently also got herself a cute dog. Her advice? Dogs are a ton of work, but if you are up for the challenge, get one, they are great. How would she describe Nagarro in 3 words? Fun, CARING, and stimulating.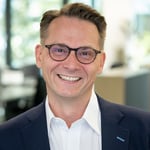 Paul Haberfellner from Austria is really passionate about revitalizing and modernizing old buildings. His biggest surprise ever? He found a grave in his house when he was tearing down an old place by removing the floor. With Nagarro, he associates 4 Fs: Fun, Friendship, Future, and Freedom.
[Ionut]: What does Thinking Breakthroughs mean to you, and how do you incorporate it in your own work?
[Ram]: For me, Thinking Breakthroughs is the fact that everybody can act globally. You can work across projects with teams that you have never known before. And that is something I've not seen in many companies where people are stuck in their geography, BU, or comfort zone. I think the global perspective gives people an understanding of many cultures and countries and makes for a great project because you get the best talent across many countries.
[Paul]: I would describe it as a truly hands-on framework based on multiple years of experience. And this is a tool we can use for our clients to ignite their digital journey immediately and fire up the rocket boosters to identify low-hanging fruit and immediate actions we can set and achieve together. This is exactly how we live the Thinking Breakthroughs framework, and I honestly believe it's an asset and a differentiator. I have goosebumps just talking about it because I went through multiple workshops with clients, and this is always a fascinating journey. It ignites something special. It's really cool to sit in a workshop where you're not another vendor. You are a partner because they treat you differently.
[Divya]: I think it's a journey of our growth, and at the moment, it's driving us all. For me, it also signifies an evolution for us as an organization. It's a tagline that we try to implement in our projects and different functions. Thinking Breakthroughs for me is something that we want to do and achieve. It's the best way to grow as an organization, and maybe a couple of years down the line we'll have something else because then everybody will be thinking of innovation or Thinking Breakthroughs.
[Ionut]: Can you share an example of a time where Thinking Breakthroughs made a difference during a client engagement?
[Paul]: One example happened recently, and please know, we have not yet run the Thinking Breakthroughs workshop with this partner. I got a call from the authorities of a big city in MENA region. They reached out directly to me, saying, "We asked Google in the US and Google in Europe whom they would recommend to help make our city smart. Both US and Europe sent us to you, and I should give you the keyword Thinking Breakthroughs". Come on, isn't this cool? This is mind-blowing. It means we've done an awesome job of creating visibility within such a huge "pond" because we still are small fish in this pond.
[Ram]: In the last couple of weeks, we've been talking to a retailer. We went in with one day's notice and talked to the CIO, who had flown in from India. After 1.5 hours, he was so impressed that we had this knowledge about everything he should be doing and how we could help him. He was more focused on what we should be doing next week now because we invested the time to understand all his challenges. We brainstormed on how to approach it without knowing how the conversation would go, but we had many areas to discuss. By the end of 1.5 hours, he was very impressed that this was a particular area he could have Nagarro start with.
[Divya]: I'm not client-facing, but I see it's becoming very mainstream for clients. The idea is to understand what they need, even when they may not yet know it. That's how Thinking Breakthroughs translates. And that's where we are—making friends and winning business.
[Kerstin]: As a leader, how do you inspire others within the company to apply Thinking Breakthroughs in their work?
[Divya]: Well, I host all these internal sessions to inspire people. I would like to believe that they do help at least to make this idea mainstream. The things people talk about, when you see examples and when they see things having an impact, motivates them, and it feels doable. It feels tangible.
[Ram]: I think leading by example is the simple answer. A lot of Nagarrians you see in these different meetings have a lot of experience, but they still come with that open mindset "I want to learn something new irrespective of the years of experience." So, I think it's just a cascading effect as everybody sees everyone else learning and being part of this. You don't have to say, "Guys, I'm doing this." They see it, and that's how you motivate people to follow.
[Paul]: I think there's nothing to add. You have to fill it with life. You have to fill it with examples; this is my way of transporting it to make people curious. You learn something if you tell the story and additional information that reflects the truth in every Thinking Breakthroughs workshop. You take something with you which brings you and us all further. I always take something with me. Always with an entrepreneurial spirit because we all have the freedom to add our own flavors to the recipe, making it so special, a self-evolving, ever-growing thing. I love it, honestly.
OUTRO:
Thanks to our experts for providing such excellent and transparent insights into our #ThinkingBreakthroughs approach and Nagarro's journey to deliver breakthrough innovation!