Have you ever wondered how companies, but also you as an individual, can integrate the topic of sustainability into your everyday life? In this TNT (Think Nagarro Today) edition, a blog series where we put Nagarro's experts in the spotlight, we are discussing a topic that will undoubtedly affect every company and every person – sustainability.
Peter Hammer and Sabrina Floh from Nagarro's global marketing team conduct this interview with Nagarro's sustainability experts Ashish Agrawal, Paula Kroner, and Leslie James. Among other things, they talk about integrating sustainability into our daily lives, what role companies can play, what Nagarro is already doing, and whether love plays a role in all of this.
Our Experts: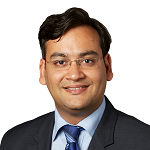 Ashish Agrawal is a global BU head at Nagarro and is based out of Gurgaon, India. His favorite fact about Nagarro is that in addition to people, the environment and digital solutions are at the heart of the company's focus. As a child, he always wanted to become a pilot. Since adulthood, he has been more critical about his dream career, considering important factors such as the environment. Instead of becoming a pilot, Ashish improved Nagarro's environmental footprint.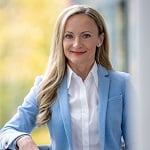 Paula Kroner from Munich, Germany, is a tech, passionate and caring leader at Nagarro. She found her dream job in this company as she can have an impact directly and indirectly with the work she is doing. She has learned from one of our Nagarrians in Phillipines that nature always has found a way to balance things out, and humanity is part of it. Her advice is to try to see things from a different perspective, as everything we do is for us.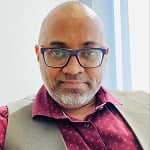 Leslie James is an experienced marketing professional at Nagarro with a background in social development. He identifies most with the overall meaning of our value, caring, as it is really lived within the company and not just a word. If he could choose any superpower in the world, it would be the power of transportation to go to any island when possible – an extension of work from anywhere.
[Sabrina]: Nowadays, all companies are talking about being sustainable as the most important, and everyone wants to be more sustainable. What do you think about that?
[Paula]: I think, looking at the current business ecosystem, it's not only about the clients and partners we are working with. Nagarro is also a business, right? It's about the ability to change things towards a positive impact. It all boils down to making the right choices, giving back, and love: Love nature, love the people, and of course, love the future.
Every company has a mission, organizational design, values, and goals. As a very first step, it is important to make the sustainable goals an explicit part of the company's mission.
If we map these, for a sustainable future relevant aspects and look at them in the way of delivering a project, we have the initialization phase, where we define where we want to be at the end of the project and what the product is about. Having the goal set and then trying to prototype and develop the things in an agile manner because we need to deliver regularly, and not wait for five or ten years to have an outcome, and then reach a steady state where you scale.
Looking at the global market, I think we have already proceeded from initialization to the development phase. It surely depends on the context and the businesses, yet looking at how things can be done can be a facilitator and bring other companies to the next level.
[Peter]: Does that mean we've reached a point where we're no longer only looking at the obligation because of government regulation? Have we reached a point where we're also looking at the obligations because of the risk that we have in terms of the planet, the future that we may not have if we don't start acting better and changing things, or are we still dealing with the government's telling me I have to do?
[Paula]: I like to play with perspectives and to believe that we don't do things because we need to, or someone tells us to do so, because for example, of existing regulations in place. I believe that a tangible positive impact can be achieved at a fast pace if we all adapt our behavior at some point because it is what we want to do and is our choice.
Changing the perspective and having this mental way of looking at things helps us have the outcomes that we want to have, regardless of whether it's about a business or a person. At the end of the day, a business is made of humans.
[Peter]: You use the word love, and I'm going to translate it into Nagarro's language, care, because that's how we emphasize it. Nagarro is a non-prescriptive company that allows you to navigate your own both in your career and in your personal life. Knowing what Ashish and Leslie have been working on, can you tell us how Paula's statement works in the Nagarro world?
[Leslie]: I'll say something that maybe goes beyond the word. Suppose you look at the role of businesses in today's world; there is the whole consumption economy that companies are responsible for to some degree and the great inequity there. If you have a roof over your head, you have food, and your children are going to school, then you are among the top five percent of people in the world. That is a great degree of inequity, and it is up to individuals and businesses to find ways to balance this in the world, so we must do collectively and individually what we can.
What I like about Nagarro's culture is its value of "caring." There is a recognition of our individual and collective role in making this world a better place through very simple, small, big, or whichever way we can contribute. And I think the need to balance this imbalance is a very important recognition of our fortunate place in this world and how it behooves us to do whatever we can to balance it.
[Ashish]: I think great perspectives were shared here. One is about the choices we make and the focus on the individual. It is not Nagarro's culture to prescribe concrete specifications. For us, it is important that people understand the importance of their individual actions and also those of us as a company so that they can find appropriate solutions.
Let's say I'm interested in planting trees because many Nagarrians have mentioned in a survey we ran. So, for us, it is about finding opportunities for people to plant trees. Maybe some of us can take the initiative themselves, but others need that opportunity and need to know there is an option.
Doing these things hands-on is what will really get people engaged and feel more fulfilled and empowered. But in the end, choices don't just stop at my area of interest; it's also about whether I need to replace my sneakers and buy a new one? Or can I extend the life of my sneakers? Do I really need to buy that fancy car and or, do I really need to take that plane ride? Could I just do a video call? So those are the individual choices that we need to make.
Recently Nagarro reminded me that even if you open your refrigerator, you're losing out on 40% cooling. So just being aware of these facts and making small measurable steps already helps. We want to provide these thoughts and seed these ideas in the minds of people and then let them take it forward.
[Sabrina]: Now, you were talking a lot about what people's choices are and what people can do individually. But do you have concrete examples of what Nagarro doing in that area?
[Ashish]: There are many things that we are doing, so if I take an example on the client-side, we are starting on the thinking breakthroughs initiative where we are calling it thinking sustainable breakthroughs. We have our engineers think about how we make software choices that will make the project more energy efficient? For example, to choose between on Prem or cloud. Can the website be light in design, so it consumes less electricity? Or do I need the servers to be working over the weekend? So, things like that make people aware they should be making these choices while thinking about the software.
Or on the customer side, we work on a lot of process transformations for customers using technology. So, what can we install within the process that makes it much more sustainable? Do we need consumers to get plastic cutlery every time food is delivered? Could we build functionality where people have to check the box to get that cutlery and get as much out of the equation as possible? So straightforward choices can really impact things at scale because the number of people using that technology is very high, so being aware of that and bringing that into the work we do is where we have started as well.
[Peter]: Ashish and Leslie launched the "Did you know?" program that empowers Nagarrians as individuals to realize the small changes they can make, like not opening the fridge too long. Sometimes we have to know what to change and start doing them daily. It's not always the grand gestures.
Don't wait for the government to tell you what to do. Don't wait for a country to tell you what to do. Don't wait for your company to look around and see where the low-hanging fruit is around you because every little change can help us in the bigger picture.
[Paula]: I can also add some stories on the individual level and extend what Ashish was standing about the strategical focus of our clients.
We have implemented an awareness initiative last year with colleagues collaborating with one of our clients with a huge focus on sustainability. All the teams are doing a great job helping the client achieve their communicated sustainability goals.
I automatically thought that if they had such an exceptional development outcome, they must all already be sustainable heroes. We asked them about a couple of sustainable stories to raise awareness and motivate others, but as this was so natural for them, they didn't know what to say at the beginning.
Now we have more than 70 pages with their stories about planting trees, cooking for a good cause, and using sustainable make-up, to mention some examples – showing real sustainable heroes among us.
[Peter]: Some people are doing that without thinking. Like recycling, it has become second nature for many of us. We don't even think about it anymore. We recycle, so that's an exciting transition. What are the other things we can just make a part of our everyday normal that becomes as easy as recycling? That should be the goal in our household.
[Sabrina]: Yes, be it the electricity. Just think about that TV on standby. It consumes electricity as opposed to a completely turned-off device. It doesn't cost you anything other than three seconds of your next morning to turn it on again. And as a positive side effect, your TV will last longer. It's not just sustainable, and it's also smart!
[Ashish]: Yeah, just think about when you buy things from any shop or order online. The packaging is immense. Just be aware of who is the one that sends you less plastic or less cardboard.
[Leslie]: Nagarro is a growing company, and we have new people coming in every day, and you want them to embrace the whole idea. I think embedding a culture of sustainability at almost an individual level facilitates it, gives them a taste of it, and allows them to try things and join the journey towards sustainability.
As context, it important to understand that the planet does not need saving because all of this temperature change was normal for the planet. We were able to build civilization because there was a long period of no change. If there is a change, we are the ones who are going to disappear, not the planet. So, overall, I think creating that culture is the biggest thing that we are probably doing in that regard.
[Sabrina]: For all of those who have read until now, you may also be interested in the sustainability ESG space. Just look at the annual report that came out. It is a very detailed report of everything that Nagarro is doing.
[Peter]: There's something that Manas said in a conversation when we spoke to him, which I want to highlight now as it is a nice ending for this blog article: "So doing good with other people who care about doing that good together feels amazing."