Our world is changing - our economy is shifting, and our workforce is evolving. Today, customers expect (and demand) much more from us than ever before. Naturally, it takes a lot to meet rapidly changing customer expectations and ensure a good customer experience. Oh, and then there's also the small matter of another important fact - Increased customer expectations also bring in a commensurate expectation of a seamless and personalized customer experience. This is where many organizations often struggle to deliver this experience.
Why? Here are some of the reasons:
Weak email campaigns
Ineffective market segmentation
High operational costs
Limited/incomplete database
Lack of follow-ups
Inability to engage customers on their preferred channels
Inaccurate customer assessment
Lack of automation in CRM cycle, customer platforms, and self-service portals


Now, imagine how it would be if a solution could address all these problems for you! This is where you can say hello to Oracle's Customer Experience (CX) Cloud suite. Oracle Customer Experience Cloud empowers customers to create, manage, and experience the correct information right when they need it. It offers a connected suite of applications to help organizations create, manage, serve, and nurture long-standing customer relationships. It also helps build a 360-degree customer view irrespective of how, when, where, or with whom they engage.
So, exactly how does all this work and impact different departments? Let us take a closer look at how the Oracle CX Cloud Suite supports different organizational functions to deliver an enhanced customer experience.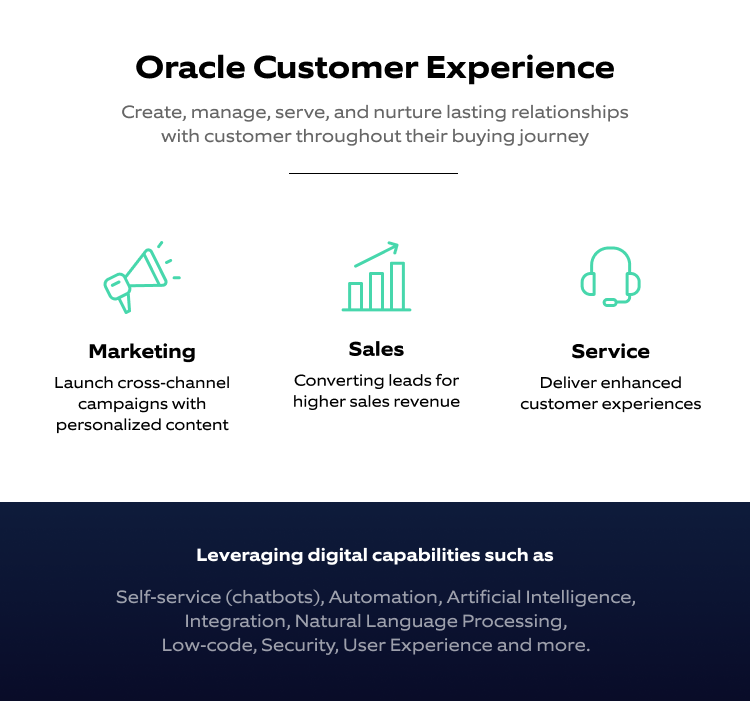 Marketing
Oracle Marketing, called Eloqua, is a comprehensive, integrated marketing solution available to launch cross-channel marketing programs and unify all prospect and customer marketing signals in a single view. A connected suite of B2B applications allows you to manage customer interactions on their preferred channels. It offers:
Campaign design
Advanced lead scoring
Real-time firmographic data
Integrated sales tools.


Equipped with inbuilt AI capabilities, Eloqua uses analytics to help you deliver the best content. It does so by observing and analyzing omnichannel customer behavior. This allows the marketing team to design relevant, tailored, targeted campaigns that reduce churn. It also increases engagement with intelligent segmentation and look-alike modeling. Eloqua uses optimization to improve the email open rate, clicks, and conversions.
Sales
Oracle Sales Cloud guides the sales teams with timely, data-driven, and intelligent recommendations to help them identify the most valuable prospects. These recommendations are based on machine learning algorithms that recognize the customers with a higher conversion rate from the database. Oracle Sales Cloud lets you create and track sales campaigns, develop leads into business opportunities, and pursue opportunities to generate revenue. It improves customer acquisition, connects with partners, and boosts the opportunity-to-win ratio.
Besides Oracle Sales Cloud, three other Oracle capabilities contribute a lot to improving sales:
Oracle Sales Force Automation: Data duplicity is a crucial challenge for organizations today as they often rely on third-party applications or excel sheets to segregate complex data. As the data volume increases, it becomes difficult to analyze this data in real time. Oracle sales force automation allows organizations to automate data creation.
Oracle Customer Data Management: It helps compile data from multiple sources, verifies its accuracy, and provides a unified customer data view to sales, service, and marketing professionals, helping create a reliable customer database.
Oracle Integration: It offers an easier way to read the data from multiple sources and helps overcome the problem of duplicate and incomplete data.
Service
Oracle Service Cloud provides innovative, timely, and unique service experiences that enable organizations to differentiate their brand and have knowledge-driven interactions with their customers in an automated fashion.
The evolution of self-service portals in customer support scenarios has introduced organizations to a tool capable of combining knowledge base articles with a chatbot, live chat, co-browse and omnichannel service. Oracle Digital Customer Service also allows customers to raise service requests and chat with live agents. This functionality helps in closing leads and service requests in a fast and effective manner.
Chatbots are helpful as they are functional around the clock, are time efficient, automate follow-ups, maintain interaction history, and save significant money for organizations. Organizations can leverage the capabilities of Oracle Cloud Infrastructure Digital Assistant which leverages AI and comes with prebuilt skills and templates to create conversational experiences for customers through text, chat, and voice interfaces.
Many organizations fail to provide relevant and necessary information to customers through FAQs or handbooks. Without a knowledge bank addressing the various inquiries, self-service portals will most likely fail, leaving the customer unhappy and agitated. Oracle Knowledge Management provides organizations with consistent, accurate, and easily accessible knowledge content through digital, agent-assisted, and self-service channels. This minimizes the cost and time spent on follow-ups. The solution offers customers and agents natural language processing search, analytics capabilities, and authoring and publishing tools to improve the efficiency of self-service tools.
Customer experience (CX)
Organizations need a robust platform that connects data, processes, and applications to create efficient digital experiences. Oracle offers the flexibility to integrate all applications, extend capabilities with emerging technologies, build on a secure platform, and apply powerful analytics and adaptive artificial intelligence. Oracle Customer Experience (CX) Cloud Suite offers tools that are simple to manage yet powerful enough for developers to extend. Besides being innovative and flexible, it provides consistent performance as well as security.
The platform helps organizations at various lead lifecycle stages. It comes with low-code capabilities that enable IT team to restructure their business processes through automation and integrate them with any third-party application. Meanwhile, analytics helps organizations view their performance pipeline and avail various reports at different lead stages. Customers can view their inquiries and service requests in the pipeline as well. Apart from this, the platform also offers data security and user experience improvisation capabilities.
What's in it for you?
While multiple CX solutions of different capabilities are available in the market, the Oracle customer experience Cloud suite is a comprehensive solution that covers all CX requirements. It comprises various products like Oracle Marketing Cloud, Sales, Service Cloud, and Commerce Cloud with out-of-the-box integrations. Oracle database comes with its integration capabilities. It also has a common codebase and powerful database technologies, requiring fewer third-party integrations. The integrated, comprehensive Oracle Cloud platform boosts employee performance across all functions, reduces costs, and increases property development and market competitiveness. Oracle CX Cloud helps organizations grow their business by increasing productivity, customer centricity, and brand value.