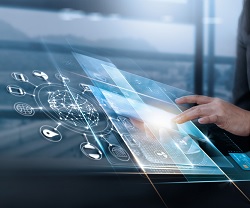 In the first part of this series on "The journey to digital" we discussed the need to develop a relevant business transformation driven digital strategy based on several underlying environmental, behavioral and, technological factors. What we realized in the process is that every organization has its own unique digital frontieri and hence their transformation journey must be unique.
So how do we define our digital frontier?
Let's take a step back and look at the key building blocks of customer digital transformation.
Omnichannel: Today customers navigate through multiple digital channels via multiple devices and expect a seamless experience across various touchpoints. This calls for a well-integrated cross-channel experience with contextualized and personalized messaging, offers, products and so on.
Customer experience: In the current environment of undifferentiated products and services, customer experience has taken the most important place in establishing a brand. Today, interaction with a customer is not unilateral or one-time but has transformed into a multilateral continuum of relevant experiences. Customers expect their interaction experiences with brands, companies, institutions to be contextualized, relevant, and pre-emptive.
Personalization: With rapid digitization, markets are now highly reactive and agile. However, this phenomenon has an unintended consequence – customers never run out of choices that are possibly more than what is relevant, useful, and actionable. These choices are making it extremely difficult for customers to make sense of these options in this impersonal digital ecosystem and make a suitable selection of a product or service. Personalization of experience, marketing content, product, and services are the key differentiators between digital leaders and the rest.
Marketing: Digital channels have opened a whole new frontier for marketing and engaging with customers and prospects. The entire paradigm of push-driven sales has paved the way for pull-based sales and marketing.Moreover, digitization has blurred the traditional boundaries between the two. This changed paradigm requires a new approach towards digital-channel-driven marketing including seamless digital outreach, micro-segment level campaigns, and personalization of marketing; all leading to an omnichannel marketing approach optimized for customer engagement and ROI.
Analytics: Analytics is at the core of an effective digital transformation process. To engage a digital customer demands intelligent interventions across their journey that includes identifying potential customers across different channels, understanding customer profiles, and preferences, recognizing recent events and context, recommending appropriate choices and finally tracking their responses to fine-tune interactions. In addition, changing customer preferences, market and environmental dynamics in the complex digital ecosystem requires continuous optimization of marketing channels and campaigns.
Digital Content Management: Content is the king – as they used to say – is not enough anymore. The right content, at the right time, to the right person is the new paradigm. This requires a strong digital content management capability. Creation and proliferation of digital content in an organization navigating through various teams such as brand, marketing, creative, technical, and delivered through various channels including website, mobile app, partner portals, online ads, Facebook, and so on. All this complexity requires digital content centralization, collaboration, and omnichannel integration.
How do we start?
As mentioned above, every organization has its unique digital frontier. A well-defined approach covering the key building blocks is required to assess the current as-is digital frontier and to define a to-be state aligned to the business strategy and priorities. Nagarro's Customer Digital Maturity Model can provide a well-defined framework to achieve this objective and identify key gaps in the capabilities across the customer digital building blocks. Each of these building blocks has a maturity level ranging from foundation to developing to advanced.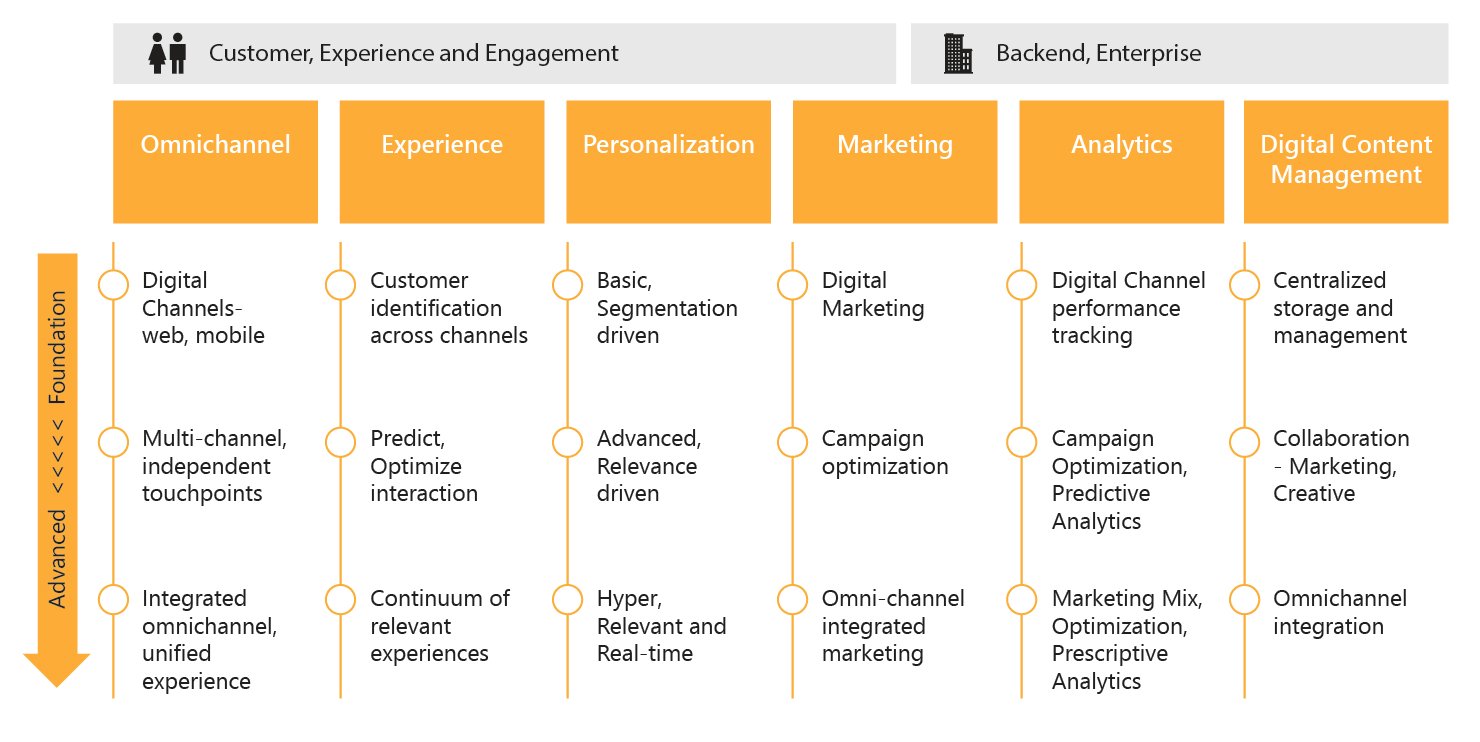 Fig 1. Customer Digital Maturity Model
The table below exemplifies one of the building blocks, its maturity stages and salient features of the capability that defines this stage.
Omnichannel
Maturity Level
Omnichannel Stage
Salient Features
Foundation
Digital Channels – web, mobile, etc.

Introduction of digital channels in addition to tradition channels
Examples - web or mobile app in addition to kiosks, advertisements, sales representatives

Developing
Multi-channel, independent touchpoints

Well-rounded multiple choices or points of interaction like web, mobile, search engine, social media
Lack of integrated interaction data
Non-unified and siloed messaging

Advanced
Integrated omnichannel, unified experience

Unified experience and approach
Seamless and complementary multi-channel interaction
Integrated customer data for single version of truth across channels
With a well-defined Customer Digital Maturity Model, we help clients understand their current digital maturity, define a unique digital strategy and initiate the digital transformation journey.
If digital transformation had a Facebook status – it would be "it's complicated". Yes, it's complicated but we believe it can be managed. The high stakes today make digital transformation a strategic imperative for companies. It is a wide-open area where a well-defined, structured approach is required to define the path for each organization.
Write to us at info@nagarro.com to know how we can personalize your digital transformation journey.