It was an insane belief in people's love for movies when Warner Brothers and Christopher Nolan decided to release Tenet in theatres during the pandemic. The box office collections so far are enough to declare it a hit, though far from what was expected from a conventional release. Indeed, this anecdote only gives credence to the forecast that the worldwide media industry (including entertainment) will rise to 2.1 trillion USD in 2021.
But is the growth driven primarily by such blockbuster medium only? Not really. In the last few years, these unprecedented trends are fueled by the emergence of digital platforms like YouTube, Netflix, Prime Video, and Hulu. And then, there is a new paradigm shift for linear media. For them, TV channels or theaters are no longer the only medium where they broadcast their content, but now it can be watched on over-the-top (OTT) platforms too. Suddenly the need to deliver the content digitally via multiple platforms became the topmost priority for many media houses, giving rise to a new set of service—Media as a Service.
Of course, Media as a Service has been on a continuous growth trajectory for the last few years, and the COVID-19-crisis has given it a shot in the arm. The audience now wants varied content, without the constraints of accessibility and availability, with personalized experience and without any delays. All this can be possible only when the media value chain works as a service, driven by the cloud platform.
In our last blog A winning strategy to tap into the media gold mine, we had discussed how individual media services on the cloud platform can help implement business use cases with ease. In this blog, let us explore how these media services, along with other cloud services, can create dynamic, agile, and flexible workflows in the media value chain.
Media as a Service: Where to start?
Media workflows are traditionally complex and can cover a wide range of activities - from creating movies, interviews, trailers, stills, theatricals, and sitcoms to distributing them via DVDs, online channels, social media, mobile apps, and various partner networks. All this is achieved with the help of complex and multidisciplinary workflows. With Media as a Service, these complex workflows can be operated through various services running on the cloud.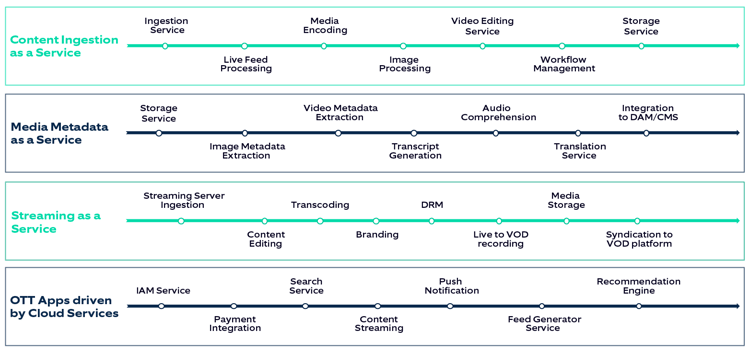 Content Ingestion as a Service
The media value chain starts with content ingestion. A sequence of services can create the entire content ingestion workflow. To begin with, services like ingestion and live feed processing can ingest media from various partners. Then pass it on to cloud editing services like media encoding, image processing, and video editing services to make it suited for the audience. This entire workflow can then be managed using the workflow management service, which takes cares of the collaboration between creative teams, multiple reviews and reviewers, content audits, and the content approval. The finalized content can be stored using storage services provided by the cloud platforms.
Media Metadata as a Service
In today's world of personalized preferences, the audience wants content that is tailored to their taste. Numbers say that most consumers today are likely to engage with those media platforms that personalize their experience:
So, it is imperative to deliver the right content to the right audience at the right time. Further, the content must be tagged appropriately during media aggregation so that it can be correlated with other content types and gets delivered to the right audience (based on their interests and preferences). Intelligent cloud services like image and video metadata extraction can help extract metadata from a video. Besides, audio services like transcript generation and audio comprehension can generate metadata for voice. This metadata gives a fair idea about the media and about any other media it can be co-related with. Finally, we can smartly tag the media and store it in the CMS (content management system).
Streaming as a Service
A digitally conscious audience watches media from anywhere, on any device of their preference. According to Google Insights, people use an average of 2.5 devices to connect to the internet daily, and around 80% of the overall content is consumed on mobile devices. The media must be optimized for different platforms and screen sizes to provide the best viewing experience. To enable this, streaming can be implemented as a cloud-driven service. Services for transcoding, branding, and DRM (digital rights management) can be implemented as a cloud media service. The cloud functions can take care of content editing and live-to-VOD (Video on Demand) recording. This tailored content can be streamed to the VOD platform or can be syndicated to the partners.
OTT Apps driven by Cloud Services
The final OTT app can then be built on native or cross-platform technology, driven by cloud services.
User login can be handled by IAM cloud services
Subscription can be managed by payment gateway integration
Streaming services can be powered by the cloud-driven streaming workflow mentioned above
Other services like push notifications and feed generation can be built on the cloud to provide end-to-end services through the OTT app. Finally, we can also develop a recommendation engine by using intelligent cloud services to deliver the right content to the right audience over OTT.
What all this means
An end-to-end media value chain can be implemented by using such a mesh of cloud services that provides agility, flexibility, and scalability to the entire operation. It will scale as you grow, providing your business a global footprint and faster time-to-market, using the latest technology and uniform set of tools across the organization.
The future of the media value chain is evolving, and Media as a Service holds the key to it. If you need any help with leveraging the advantages of this service, just get in touch with us today.