Telkomsel (leading Indonesian telecom operator now) realized the potential of the gaming market - almost a decade ago. It started with Dunia Games, allowing customers to download games, and directly charging them to their phone bills. Over the years, it developed its own games like Shellfire a Mass Online Battle Arena (MOBA) and partnered with publishers of popular games like PUBG. By 2019, Telkomsel grabbed a whopping 22% market share of Indonesia's gaming industry.
This is just an example. The point is that telecom operators have an incredible opportunity to tap into the gaming market and diversify their business. After all, the gaming industry is growing faster than anyone could ever imagine.
How big is the gaming industry?
In 2021, the gaming market generated total revenues of $180 B.
In perspective, the gaming industry's revenue of $175.7 B in 2020 was more than 4 times the combined revenue of the global box office ($21.4 B) and music industry revenue ($21.6 B).
By 2024, the global games market is predicted to generate a revenue of $ 218.8 B.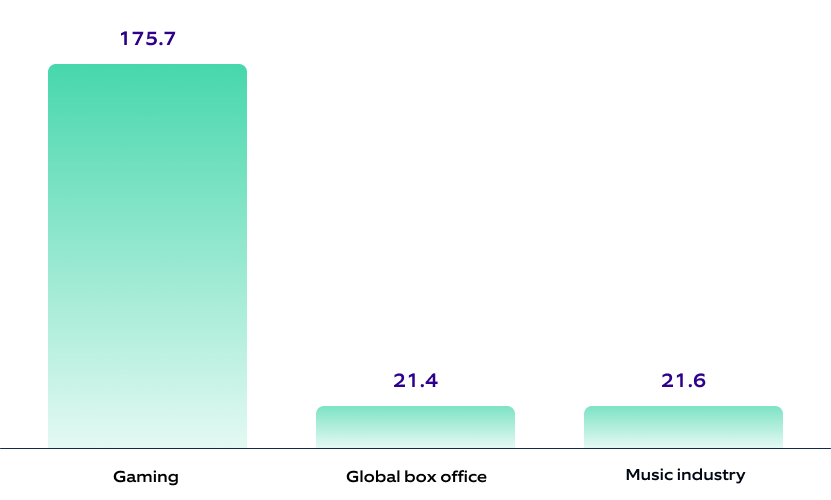 Figure 1: Revenue from Gaming (in USD B) has leapfrogged that of the global box office and music industries
Gaming is now mainstream!
There are an estimated 3 billion gamers globally, with 55% of these players in the Asia Pacific.
In Saudi Arabia, about 50% of the entire online population identifies as being regular gamers.
As part of its Vision 2030 plan, Saudi Arabia aims for the gaming industry to contribute 1 percent to its economy by 2030.
The key trends shaping gaming
The COVID-19 and the ensuing global lockdowns led to unprecedented gaming growth. Surprisingly, this growth sustained (albeit at a slower pace) even when lockdowns were eased.
Let's look at the top trends in gaming:
Rise of mobile
Revenues from gaming today exceed the revenues from console and PC gaming put together.
Due to Apple's App Tracking Transparency (ATT), changes have made mobile user acquisition and monetization more difficult for game publishers.
Cloud gaming
Cloud gaming was already growing before COVID-19. But with the ensuing clogging of supply chains leading to the shortage of consoles, cloud gaming growth has been even more pronounced during the pandemic.
Cloud gaming has many benefits for the end consumer – no need to upgrade expensive hardware every few years and play from anywhere. However, we will have to see if hardcore gamers will take to cloud gaming in a big way.
Operators with their newly minted 5G networks are key stakeholders in improving the cloud gaming experience for consumers.
Metaverse
While the Metaverse itself is an evolving concept, major game publishers are already working towards creating their own play in Metaverse by facilitating non-gaming-related shared experiences online.
In addition to providing the underlying connectivity, telecom operators have an excellent opportunity to partner with game publishers and help shape the future of Metaverse.
E-sports
E-sports is booming with record prize money. Today the prize money awarded in popular e-sports tournaments is comparable to those from prestigious traditional tournaments like Wimbledon. Today, the popular live streaming platform for gaming, Twitch, boasts an audience size similar to Netflix or HBO. With plans afoot to include e-sports in Olympics, this number will only grow.
For operators, e-sports is a great way to reach out to consumers and keep them engaged.
Why should telecom operators care about gaming?
Higher ARPU: At its core, gaming is a competitive sport. Engaged gamers will invest in improving their gaming experience or performance. 5G, with its promise of enhanced broadband connectivity and lower latency, can go a long way in doing this. Operators can upsell higher-end plans and provide a huge spread of value-added services to gamers.
Reduce churn: Games can help in collecting user data. Telecom operators can utilize this data to drive engagement and provide personalized services across their service spectrum.
Globally, operators have invested massive capital in building 5G networks. The race is on to build killer use cases on top of these high-performance networks and capture value. We believe gaming can be the defining use case that drives enthusiasm towards adopting 5G in the B2C space.
The rise of new gaming categories: AR/VR and cloud gaming largely depends on high-performance networks. This bodes well for operators looking for returns on the massive 5G network investments. With their vast customer base, access to customer behavior data, and a well-developed support ecosystem, telecom operators are ideally placed to leverage gaming and capture significant value.
However, not all consumers are the same; each market has its own context and nuances. Operators will need to find a market fit and adopt the right strategy for their context, region, and market. There are several white-label products available today that can accelerate the deployment of gaming services.
Conclusion
Telecom operators globally are looking beyond connectivity and reimagining their businesses as digital solution providers. In this context, they need to have a strategy for addressing the growing gaming market.
With deep-rooted expertise in telecom, gaming, and innovative technologies like cloud, artificial intelligence, and AR/VR, Nagarro can help you navigate this exciting journey. Get in touch with our experts today!