The telecommunication industry is evolving to cater to huge data processing and low latency needs with the advent of different technologies like 5G, IoT, virtual & augmented reality, and AI/ML.
The telecom data centers are also going through a transformation to handle high data volume and low latency needs.

The consumer and business landscapes are changing rapidly with data revolution coming with smart cities, home & industry automation, over the top (OTT) services, and intelligent transportation. There is a common theme: data is everywhere and is growing exponentially. The first-generation networks were analog and restricted to voice, 2G brought digital communication, 3G added video and mobile data, 4G supported high-speed access, and 5G is bringing massive bandwidth with low latency.
Over the years, telecom companies have invested in multiple technology transitions to increase network capacity, reduce costs, and improve versatility. Here, the data center transformation plays a pivotal role as proprietary physical devices are gradually transitioning to virtualized and cloud-based environments.
Let us look at the journey so far and what appears to be coming next.
Starting with proprietary physical devices
Traditional telecom data centers were proprietary, on-premises, and primarily used to support internal telecom functions. These network functions and applications were deployed on monolithic servers.
The services on top of monolithic servers were proprietary and tightly coupled with HW (hardware), leading to less-flexibility, vendor lock-in issues, and high cost. The network functions moved to the virtualization platform to overcome HW dependency.
Getting efficient and agile with virtualization
Virtualization is a significant transformation that happened at the infrastructure-level. In virtualization, the hypervisor drives the physical hardware and abstracts the resources of the machine, which are then made accessible to virtual environments called virtual machines (VM).
Telecom players started to adopt NFV (Network Functions Virtualization) for network functions such as Packet Core, MMSC, Firewall, etc. NFV allows decoupling the control, bearer, and management plane functions, all running on commercial off-the-shelf (COTS) hardware.
Virtualization helped in improving capital efficiencies and service agility with automation. However, telecom players found it challenging to maintain the complexity and scalability of VMs. The increased need for scalability, lesser time to market, quick roll-outs, and upgrades resulted in the movement towards cloudification.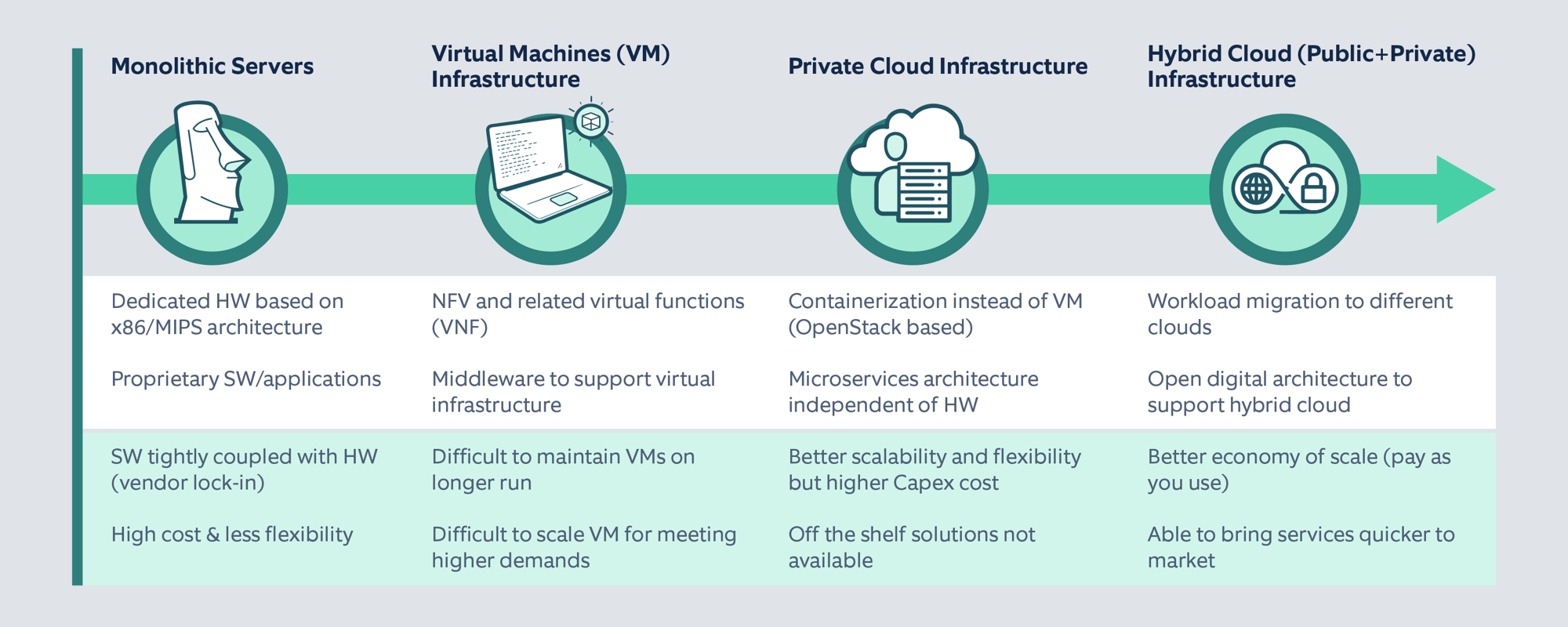 Adopting cloud for better scalability and cost-efficiency
Cloud delivers the added benefits of automated scaling of infrastructure and dynamic resource pools, which most clearly distinguishes it from traditional virtualization infrastructure.
The applications are decomposed to head towards microservice-based architecture with the container-based environment where applications are cloud-native functions (CNF) instead of virtualized network functions (VNF).
The telecom operators have managed the infrastructure needs by creating and managing their own data centers using a private cloud for both non-core and core networking operations. Open-source platforms like OpenStack are usually adopted for private cloud, and the native OpenStack API facilitates the integration.
In parallel, many telecom operators became cloud service providers and started providing cloud-based data center services to other enterprises. Telcos bought existing data center providers to extend their business portfolio. However, public cloud players (like Google Cloud, AWS, and Azure) gave stiff business competition in this space. Telecom operators found it challenging to maintain the data center business and started to sell-off to other players.
For instance, Verizon acquired data center provider Terremark in 2011 for $1.4 billion. Eight years later, the company decided to sell-off its data centers to Equinix for $3.5 billion. Similarly, AT&T and CenturyLink moved out of the cloud business. Recently, Telecom Italia decided to spin-off its 23 data centers in 2021.
The impact of public cloud players (hyperscalers) on telcos was not only on their cloud business but also on their cloud to run their own operations. Many telecom players realized that the public cloud is beneficial for their telecommunication business to provide better customer experience and IT services.
Leveraging private and public clouds using hybrid cloud infrastructure
The major benefits of public cloud players like AWS, Azure, Google Cloud are scalability, lower TCO, and quick roll-out of services.
The traffic volume saw further growth with the advent of new services like streaming on over-the-top (OTT) platforms (that spikes up further during global events like soccer, festivals, etc.). Telecom players started to collaborate with public cloud players because the economies of scale on offer were hard to ignore. Many telecom players adopted hybrid cloud and multicloud to move non-core applications (like BSS, OSS, billing, and revenue management) to public clouds, retaining core network operations within their private clouds.
As per George Glass (VP, Architecture & APIs) of TM Forum, "As CSPs build trust with cloud providers, they will move applications to the public cloud, eliminating the need to build and run data centers. They will embrace cloud because the benefits are compelling …"
Hybrid cloud solutions help modernize on-premises data centers via access to public cloud services behind the firewall. The telecom players use various technologies like Open Digital Architecture and RedHat's OpenShift to transform the applications. This helps in providing integrated access to private and public cloud environments to ease workload migration between environments.
5G added another dimension to the data center needs
With the emergence of 5G, the data volume and processing speed needs are increasing exponentially. Edge computing will play a major role in 5G to cater to low latency use-cases, like cloud gaming and autonomous vehicles. A lot of data processing will be required at edge data centers called Next Generation Central Offices (NGCOs) in 5G.
The data centers will be distributed in 5G with data centers at the edge, at regional/central location to meet 5G use-cases needs.
Going Forward
Data centers are a strategic asset to continuously process an enormous amount of data with low latency for telecom operators.
Hyperscale providers continue to spend billions every year on building and expanding the footprint of their global data centers to cater to the high demand for cloud services. It would be difficult for telecom players to stay away from the public cloud. Many telecom players are finding that using the public cloud in many ways provides benefits to embrace and is not a threat to their business.
Many telecom players have already done partnerships with hyperscaler (public cloud players) to provide a better experience to end customers with analytics, off-the-shelf solutions, and rapid development. Additionally, they are entering edge data center space where telecom players have distributed infrastructure, and public cloud players bring their telecom-centric cloud platforms.
For instance, as per Google's press release: As partners, Google Cloud and Nokia will develop cloud-native 5G core solutions for communications service providers and enterprise customers. This collaboration will deliver cloud capabilities to the network edge to facilitate enterprise digital transformation.
Also, a report from Gartner indicates that the rising trend of CSPs collaborating with telecoms to broaden their reach into the edge and support a hybrid workforce may also bring about further market growth of the public cloud.
New business opportunities are evolving rapidly, so is telecom players' response, as has been the case so far.