With the meteoric rise in the adoption of digital transformation (DX) across sectors, incumbents in telecom companies (Telcos) are busy strategizing the best ways to ride the wave. Apart from operational efficiency and targeted customer service, DX has also opened new revenue streams.
For any business to remain relevant and competitive, it must embrace digital transformation. But what most business leaders want to know clearly is: what exactly is digital transformation? With new technologies making old ones redundant, the goal post is always shifting. Telcos, especially due to the stiff competition in their niche, should be pioneers in adopting digital transformation initiatives.
This becomes even more important with the advent of new competitors for owning the consumer's mind space. These competitors are moving from infrastructure or consumer solution providers to service providers. Companies like Google and Facebook have been encroaching the telco territory continuously, e.g. Google offers free Wi-Fi services in many railway stations in India and Facebook has discussed offering free internet services in many parts of the world).
What digital means for telcos
Telcos are aspiring to become digital lifestyle service providers by using their networks to play the key enabling role for this journey. They are increasingly gaining the consumer's wallet share by venturing into unconventional sectors for a telecom operator.
In their present form, telcos have unique and valuable assets in the form of well-established, up-to-date infrastructure, and a broad geographical reach. Most are experimenting with many different types of digital services such as advertising, machine-to-machine (M2M), and healthcare. These are necessary developments, and some have begun delivering results — especially M2M. However, they are still primarily driven as 'products.' Capability is built or bought and then sold to customers. In the digital world, products are difficult to defend. Since new competitors emerge every other day, the truly powerful and successful models are based around platforms.
Undoubtedly, the digitization trend has had a disruptive effect on existing industry dynamics. Outside players are able to leapfrog established players in the industry.
With technology accelerating at breakneck speed and consumers being bombarded with more choices, digital has emerged as the new equalizer. Start-ups mushrooming across the globe are partly fueled by over-eager venture capitalists. Incumbent telcos find themselves in a conflicting position. On one hand, they see themselves as the point of control, with most services being built around their infrastructure. On the other hand, why wait for third parties to latch onto their infrastructure when telcos themselves can provide these services?
This is exactly what digital transformation has pushed telcos to do.
Thinking digital
Data is the new currency in today's digital world. Without the right infrastructure to enable its exchange anywhere and at any time, the digital revolution will stagnate. To meet this growing demand, telcos are ensuring ubiquitous broadband access by building highways of gigabytes and high-speed infrastructure.
For decades of their existence, telcos have been very poor at utilizing the knowledge of consumer behavior, that their digital content provider partners take advantage of, for growth.
Customer value creation using live data interpretation is high on the agenda of senior executives in telecom firms according to a global survey conducted by the CMO Council in late 2018.
A major driver of this data-enabled economy is the increasing demand in the machine-to-machine (M2M) and cloud services. McKinsey estimates that by 2025, the potential economic impact of IoT on factories will rise to as much as $3.7 trillion a year. Telcos are upgrading their software and hardware extensively to meet this demand.
Another strategy telcos are using is to expand into other verticals. Also, not to forget the fact that with strategic bundling of services, telcos are able to provide a valuable platform across business demographics.
The development of such a platform represents a horizontal opportunity for operators to deploy many of the services that they already offer, such as connectivity, voice, M2M, and smart home services. Additionally, new partners can deliver their services directly to end-users by using a telecom operator's secure digital platform. This will help operators to continue driving demand (and revenue) for, and from, their core services, and also create traction for new, value-added services.
The industry report, 'Megatrends in Telecommunications' by Nokia, in collaboration with Oliver Wyman, reported 20%–50% of revenues for some service providers now come from non-traditional services. By expanding their services to address the issues faced in new, emerging, verticals, telcos are poised to maintain their current growth trajectory. This movement will undoubtedly open telcos to new partnerships that are strong in that ecosystem and will bolster their revenue.
As a recent 2019 whitepaper from Hitachi Vantara notes, the shift to DX powered by data is providing telcos with a 360-degree view and allows marketing, sales, and other customer-facing functions to make precise, data-driven decisions.
The benefits of going fully digital
This decade (2010–2020) turned out to be a gamechanger for how brands connect with their consumers. Never before had customers been given so much special attention.
Sectors like banking and aviation used to pay attention to only the big spenders. But with the advent of social media, every interaction undertook additional significance.
This tipping of the scales toward the customer, in turn, has created more competition, with each new player upping its customer service game.
Telcos too, are not far behind but are a bit late to the game. They didn't really focus too much on customer services till OTT services like Apple's FaceTime and Google Hangouts began wrangling their core services like voice and messaging from them. As early as 2017, a KPMG report noted that about a third of all international phone call traffic went through Skype. Later, in 2019, an article by Carritech telecommunications analysed the impact that this shift in power will have on traditional telcos. They concluded that the OTT-backed services, with their intuitive interfaces and broad functionality, relegated telcos to being mere data service providers and inflicted considerable strain on the sector's financial health.
Zeroing-in on key areas
Undertaking digital transformation is especially helpful for keeping abreast of innovations and optimizing operations, revenue enhancements, and commercial outreach. But in each of these cases, telcos should identify key areas where digital transformation is crucial to stay ahead of the competition.
If not, they run the risk of spreading themselves too thin which leads to the inefficient deployment of digital transformation. The below priority quadrant will help telcos to identify what areas to target for digital transformation given the resources at hand.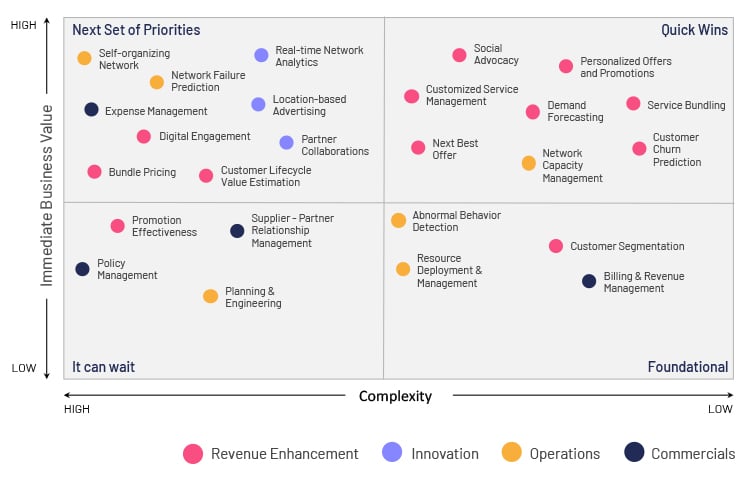 Priority quadrant to help understand the focus areas for digital transformation

Similarly, the priority quadrant tells us to focus on service bundling if we are looking for quick wins. The combination of high business value and low complexity makes it an easy target to achieve with low resource expenditure.To elucidate, 'Customer Lifecycle Value Estimation' is something that is high on the business value scale and the complexity scale. That is why it makes sense to prioritize resources on this as opposed to evaluating 'Promotion effectiveness' which has low business value but high complexity.
Divide and conquer
With a focus on improving competitiveness and providing more value to the customer, telecom service providers are resorting to customer segmentation. Despite this being given lower priority in the priority quadrant it has the potential to further streamline revenue streams and improve customer experience. Historically, segmenting customers has always yielded diminishing returns. Companies are, at most times, in danger of over-segmenting and over-targeting. Which is why it's crucial to identify a few key metrics to drive segmentation on.
Let's examine some common segmentation tactics.
Need-based: By answering questions like "What problems are customers facing?" and "What new experience would they like in the product?", operators are able to predict and deliver solutions even before the customer gets a chance to complain. This, in turn, helps them create a delightful experience. For any target market, need-based segments provide the inspiration to develop and finetune a product strategy.
Demography-based: Operators are investing time and resources to understand the descriptive attitudes of customers like their location and age. Segmenting customers in this way further refines the outreach strategy and improves ROI significantly.
Behavior-based: Identifying the factors that motivate a customer to opt for a service helps an operator to understand and improve its adoption strategy. The receptiveness of a customer towards a product or a service can be understood better by analyzing the why of their behavior.
Digital transformation is the common thread in each of these segmentation strategies. The copious amounts of data generated by digital transformation initiatives mean that you no longer need to wade into the rough seas without a navigational chart.
Here are some ways how telcos are leveraging digital transformation to gain back customers:
Adopting the customer experience model
Mass marketing is being replaced by target group-based marketing: Targeted advertising options provided by Facebook and suchlike have mitigated the visibility problem.
Personalization is the new mantra for success: With social media providing a clear picture of the buyer's persona, customizing services has become easier than ever before.
Focus on greater personal interaction with the customer: Addressing the customer's pain points through a one-on-one interaction by using chatbots or emails is the fastest and best way to gain brownie points.
Social media: Window of opportunity
Social media channels can be used to popularize the brand with next-to-zero cost involved. It is not uncommon to find brands that have amassed millions of followers on social media.
Omnichannel presence to drive and support large campaigns: A presence across various social media channels helps to spread the same message across demographics and geographies.
Analytics generated by social media channels help curate better campaigns and provide valuable insights into the customer journey.
Mobile as an enabler
Apps are the new portals to be sold. Millennials spend most of their rest & recreation time on mobile devices and they are not averse to trying out new services.
Opportunity to capture the long tail of customers: On the basis of recommendations or sponsored posts, companies can latch onto a huge user base with similar interests.
How 'thinking digital' is opening new revenue streams
Digital transformation has enabled a seamless transition between the mobile world and the surrounding ecosystems like banking, entertainment, services, utilities with a single POC (Point of Control): the mobile device. Telecom operators must tackle the challenge presented by the shift from access-based to customer-focused competition and focus more on growing through non-traditional drivers. Here are some ways to open and improve revenue streams:
Precise marketing
Offer optimization: Analysis of successful service bundles and promotions along with offers for early adopters and cross-product promotions.
Churn identification and prevention. In fact, a report by McKinsey notes a reduction in churn by 15-40% when companies used DX to drive customer value.
Packaging services with OTT service providers.
Customer experience enhancement
Location-based services and personalized marketing.
Dynamic profiling and customer segmentation help in focusing on revenue-generating segments.
Use analytics to analyze the customer journey from awareness to subscribing to a service.
Innovative business models
Tie-ups with retail merchants should match the wish lists of subscribers and push specific campaigns for the segmented population.
Use payment data and services like NFC to send out personalized e-coupons and promotional materials.
Of course, digital transformation is an ever-evolving space. By the time you finish reading this post, someone, somewhere would have successfully pitched a new monetization scheme to telcos. The point is that, as established players with huge infrastructure to support their initiatives, telcos can easily leverage digital transformation to increase their bottom line, if key decision-makers can spot the important trends correctly.
Scale-up your digital transformation initiatives by leveraging data
Traditionally, telcos only had consumer data at their disposal to drive monetization practices such as customer experience management, operational intelligence, and margin optimization.
However, as the below infographic shows, by leveraging the copious amount of external data generated by modern consumers on their mobile devices, monetization now extends to M2M service analytics, lead generation, and mobile advertising, for example.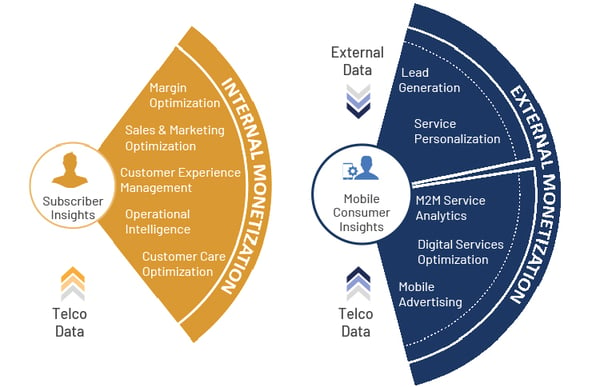 Internal and external monetization by leveraging data

This boom in data is a boon for the telecom sector. Data is everywhere and telcos find themselves in the enviable position of being at the right place at the right time. Now is the time to jump onto the digital transformation ship to steer clear of revenue or operational blockages.
In conclusion
With government regulations around the world intent on breaking monopolies and leveling the playing field, telcos must use digital transformation optimally to leverage all the advantages they can offer.
The way forward is clear. Global telecom industry giants have already welcomed the DX revolution with open arms. By identifying key areas for digital transformation and incorporating customer feedback, telcos are looking at a gamut of new, future-proof revenue streams. Digital transformation has turned out to be a gift that keeps on giving, provided that the right investments are made at the right time.