Fintechs have long been the flag-bearers of disruption in the financial industry, thanks to digital transformation. Traditional banks, often slow to respond, must adapt now to enhance customer experience. Nagarro's framework is designed to achieve precisely this.

The COVID-19 pandemic has impacted consumer behavior globally since the beginning of the year. As a result, contactless transactions have become more of a norm than an exception, with increased consumer need for digital banking services.
Small-time businesses have been impacted the most by social distancing. Banks, especially those in the US – like JPMorgan Chase, Citigroup, and Washington Federal Bank, have their relief plans ready for these customers. Fast-tracked loan approval, interest-free capital disbursal, and overdraft waivers are just some of the solutions they have proposed.
These unprecedented fluctuations in the economy require financial institutions to accelerate their digital innovations to improve customer experiences, that have suddenly become rough.
Fintech-led disruption is nothing new. As a matter of fact, in a previous publication, we talked about the way modern customer experience along with latest tech innovations fuel challenger banks to enter a domain ruled by unrelenting behemoths.
There have been quite a few innovations in this regard:
Bank Rayat Indonesia (BRI) has turned boats into mobile bank branches to reach out to the unbanked island population.
Chime, a fintech company, offers paychecks to its savings account holders 2 days in advance, unburdened by no processing or hidden charges.
Clinc, a conversational AI-services provider, offers voice-enabled services to banks, enabling their users to talk to their banks and enquire about their balance, pay their bills, and other facilities.
Globally, challenger banks or neobanks raised more than $ 3.7 billion in 96 separate deals in 2019.
Banking institutions have typically been at the receiving end of technological disruptions. Till now, the only drivers of change in this industry have been the regulatory updates – yes, those mandatory ones that just cannot be avoided. No wonder, banking institutions are rightly known as the laggards or late adopters of technical advancements/innovations. But are these institutions really to be blamed for their attitude towards technology? The banking industry needs to be absolutely certain of the possible implications of any technology before it is accepted and adopted. Hence, until a new technology moves along the learning curve and matures, it is far from even being considered by financial institutions.
But, of late, this tide has turned for the better. Financial institutions seem to have changed their outlook about the latest advances in technology. While they remain cautious, they have also begun taking calculated risks towards adopting the latest technological innovations. Motivated by the rise of fintechs, digital transformation or digitalization has become a buzzword for this industry now. But most incumbent banks struggle to set their digitalization goals and focus areas to better leverage any business opportunities.
Nagarro's framework for digital transformation
The proposed framework from Nagarro acts as a starting point to help guide financial institutions in navigating through this process seamlessly. It is designed to help them find a focus area by breaking down all possible requirements.
The following high-level diagram depicts a financial institution landscape (representative not exhaustive):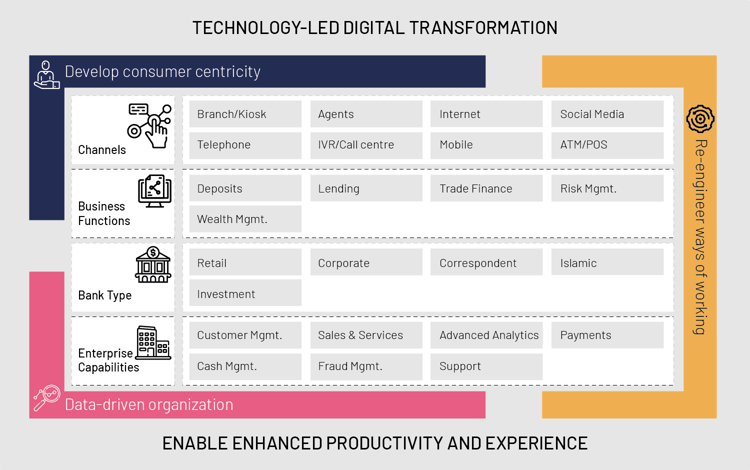 Components of the framework – Who does what?
Distribution channels:

Financial institutions rely on multiple channels to communicate and deliver services to their customers.

Business functions:

Business functions comprise the services financial institutions offer their customers.

Bank type:

Based on their business functions, these institutions have a bank type like retail, corporate, Islamic, or investment bank, among others.

Enterprise capabilities:

Financial institutions select their preferred enterprise capabilities to perform their business functions.
Digital transformation imperatives
There are three approaches a firm can take for digital transformation. We believe that digital transformation means that a firm is trying to:
Develop consumer centricity: Nowadays, banks focus on customer empowerment through better customer experience, powered by automation and advanced AI models.

Implement data-driven decision-making: Data-backed decisions can streamline the decision-making process for banks. This process, along with automation, helps in quicker and more efficient ways of working; or

Re-engineering its ways of working using technology
What do the colors mean?
We employ color-coding to focus on the area of digitalization while consulting a financial institution. Essentially, one or more boxes of the core is painted in pink, yellow, or blue. This will serve as a clear indication of a digitalization goal. The goals identified through this exercise are important to kickstart the digitalization process.
Use cases identified through our framework
1. A retail bank (bank type) can look at ways of being client-centric (priority) at its branches (channel) and look at possible solutions for the same.
In a branch, seamless customer onboarding is one example of client-centricity. Applications that equip customers to digitally open accounts will enable simplified customer onboarding. These applications run on advanced OCR solutions that enable scanning and uploading required documents onto the bank's database.

Similarly, a retail bank can leverage a Customer 360⁰ genome through its CRM, identify possible product recommendations, and then upsell/cross-sell suitable products when the customer visits the physical branch. The system can base these recommendations on the 'website search' or 'mobile search' attribute in the Customer 360⁰ profile. There is a high chance that the customer will be delighted by the fact that the bank could understand their unsaid needs and leverage the opportunity.
2. An investment bank (bank type) can look at re-engineering its ways of working (priority) by improving its advanced analytics expertise (enterprise capabilities) in order to serve clients better. One such application is the deployment of a "smart" robo-advisor for portfolio rebalancing and investment goal-tracking.
At Nagarro, we believe that financial institutions can leverage technological solutions effectively by identifying a suitable business imperative for digital transformation. In a nutshell, any block from the above diagram can be picked and digitalized with a goal in mind.
We hope you enjoyed reading through our proposed approach to comprehend a digitalization attempt for a financial institution. If this sounds interesting to you in any way, please feel free to reach out to us to discuss further.