"If you fall behind, run faster. Never give up, never surrender, and rise up against the odds." - Jesse Jackson
The beauty of life is that it goes on, whether good, bad or ugly. It teaches us a lesson at every step and every phase.
This edition of Reboot focuses on a Nagarrian who didn't stop even after his health deteriorated and had to temporarily take a break from work only to come back stronger and healthier. We are talking about Sameer Puri, a "Principal Consultant" in Jacksonville, US, and here he talks about his highs, lows, and what makes Nagarro for him a special place.
Sonam: Hi Sameer, how is your health now? Please tell us more about yourself and the challenges you faced.
Sameer: I am very well, thanks to God! I could not have imagined myself this healthy a few years back. I am off steroids and immunosuppressants, and it makes me feel good. My entire colon (large intestine) was removed after a life-altering surgery. I will have two more corrective surgeries that I can complete at my pace.
I have a disease called Ulcerative Colitis, which is an autoimmune and your body's immunity fights against you. In my case, it affected my gut due to which I couldn't digest any food. No matter how hard I tried to concentrate on my work, my health was not supporting me. I wasn't able to concentrate on anything. Coming from home to the office was a herculean task as I could not control my bowel, and as a result, I was always demotivated and down.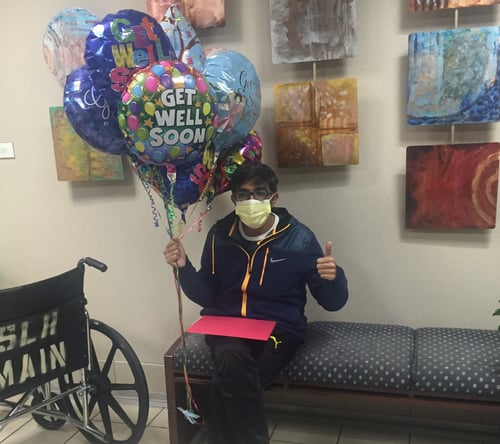 Sameer at peak of sickness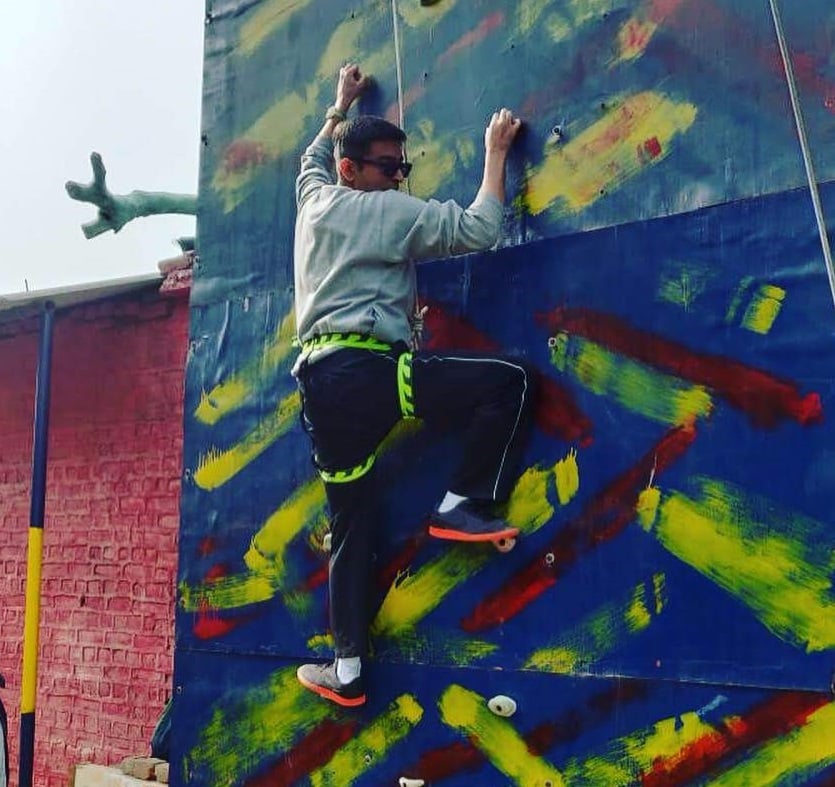 Sameer trying out some adventure post surgery
Talking about my association with Nagarro, I have been working here since 2014, and it has been an amazing eight years. My core belief is that when you work for your employer, you should give your 100%; this is the value I have lived by to date. Nagarro has been the employer of my choice.
Sonam: How did this affect your day-to-day life?
Sameer: Visits to the washroom were nothing less than 20-25 times a day. Imagine how many nutrients and water are washed out doing this. There were times I could not even stand and go to the washroom by myself and had to take my wife's support. Then I deteriorated further when I was passing blood in my stools, I weighed around 50 kgs at one point in time. I was put on a rigorous diet and steroids, but pain and disease continued for years.
I remember, while boarding a plane once, I had requested a seat closest to the restroom; they were surprised. This disease was not only affecting me physically but also killing me mentally.
Sonam: You are a fighter! What gave you the strength and positivity to fight against all odds?
Sameer:
1. My wife, my biggest support system:
My wife has been my constant and biggest support system. She supported me through all troubled times. Be it flying to super-specialists across India or spending sleepless nights with me at hospitals. She has been my pillar of strength. My entire family suffered when I was suffering. I used to have numerous admissions a year, sometimes 7-9. We didn't go for vacations and family dinners for 8 years because I was always in pain, and going out meant searching for a restaurant with a good washroom. It embarrassed me.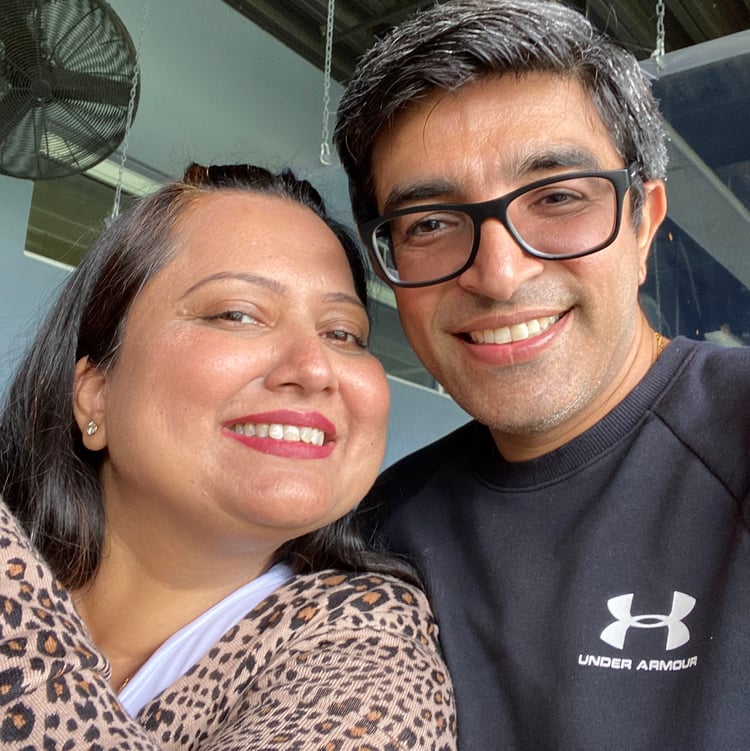 Sameer with his wife
2. My organization, Nagarro:
When in 2019, every medicine, steroid, and biological stopped working, I was to undergo the dreaded surgery. The doctors were to remove my colon and place a bag outside my body on my stomach that would act as a colon. It was major surgery, so I opted for a short break. I went to Nagarro and shared my plea; they supported me through and through. I was never pressured to return quickly or perform. I was amply supported financially; no salary was deducted during my sabbatical. This is what you need from your employer, empathy and care. This was not the first time; I was also helped in many such situations earlier. Let me tell you something very interesting! We had no parking reserved for handicaps (in my case, I am an invisible handicap). I could not have walked even 20 steps to work, and the parking was usually full when I reached the office in the morning. Somehow the senior management got to know about it, and the next day I was issued a sticker for reserved parking. It may seem like a small thing for you, but it was huge for my family and me. I had tears of joy in my eyes; someone was paying attention to my needs. I was happy to know that we work for a company that doesn't think we are mere robots. We are humans with emotions. Kudos to the management!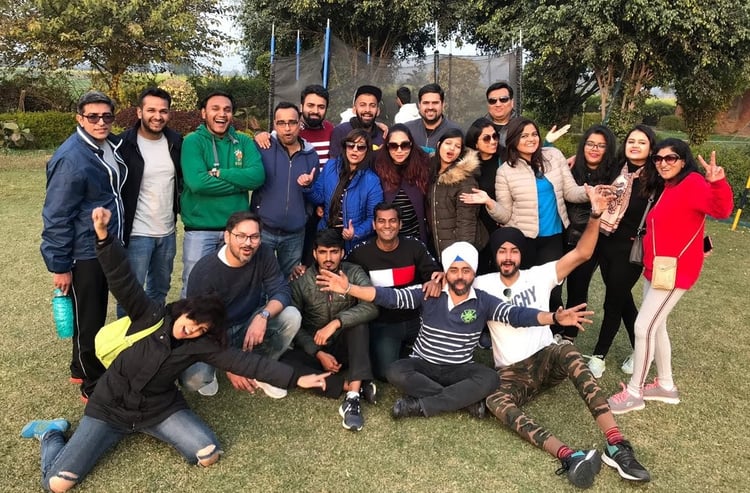 Sameer at a team party with Nagarrians in India
3. My favorite sport, badminton:
It is essential to have a hobby that you love. I am a professional badminton player. I would say badminton is one of the things that has kept me alive. My doctor told me not to play badminton. I told him, sir, if you ask me to take any medication, I will take it, but one thing I cannot take away is my chai ka pyala (cup of tea) and badminton. When I played badminton (I still play), I was so involved in the game that I used to forget my sickness. I won some badminton tournaments here in Jacksonville in 2017, 2018, and 2022.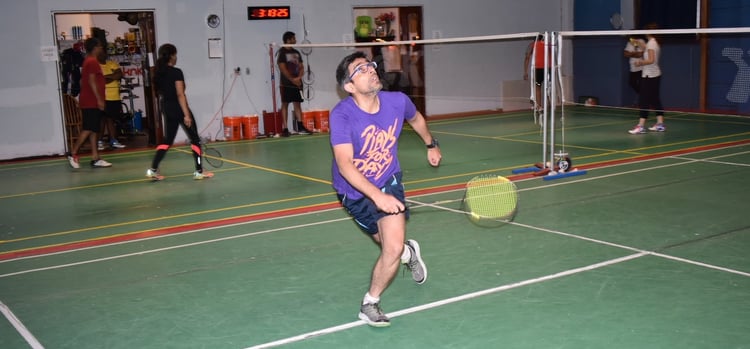 Sameer playing his favorite sport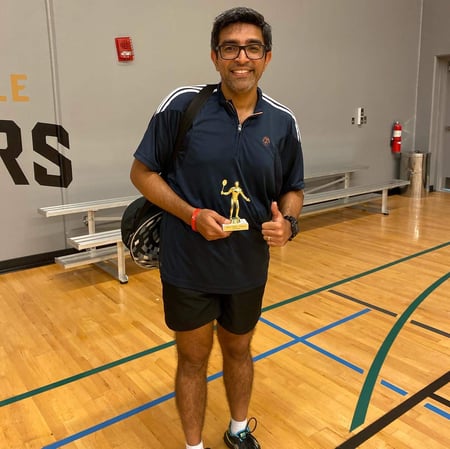 Sameer with his trophy in the badminton tournament, Jacksonville
I would just say, even after all this, I am blessed to be alive and kicking and back to the project where I once returned sick in 2016. I have a great place to work in Nagarro, who stood by me and believed in me; my loving family, who is my north star; and above all, God, who will catch me whenever I fall.