We are clearly amid a new industrial revolution: Industry 4.0. It is driven by the exponential growth of disruptive technologies and their changes in our lives. Quality 4.0 brings together Industry 4.0's advanced digital technologies with quality excellence to drive substantial performance and effectiveness improvements.
Every industrial revolution has also resulted in a quality revolution. Let's look at the evolution of Quality 4.0, understand its principles and tools, and how it can help solve long-standing quality issues.
According to a BCG study, "Quality 4.0 Takes More Than Technology." About two-thirds of manufacturers feel that Quality 4.0 will greatly affect their operations within five years. However, just 16% of them have begun implementing Quality 4.0 practices, and 63% haven't even reached the planning stage.
Are you a manufacturer wondering how Quality 4.0 can enhance your business? Let's find out!
Quality 4.0: How did it start?
The first industrial revolution happened during the late 1700s and early 1800s. Steam, water, and the power they generated helped crude machinery gain an edge over simple craftwork. This helped scale up production, move humongous locomotives, and make life easier for humankind in many ways. The Quality 1.0 revolution emphasized measurement and inspection and maximizing productivity. We wanted to do things faster, and volume was emphasized over quality.
By the end of the 1800s (1890-1940), equipped with a better understanding of magnetism and the discovery of electricity, engineers designed and built mass-production machinery. In the second industrial revolution, iron ore production increased drastically, enabling machines to be mass-produced. Economies flourished, with goods being manufactured and transported faster than ever before. Quality 2.0 revolution encompassed more of the same, i.e., maximizing productivity with adherence to minimally accepted quality standards.
The third industrial revolution (1940-1995) was much closer to the earlier revolution because the world had just gone through a massive war and was entering another one. At the end of World War II, analog computing started giving shape to digital computing, first with mainframes and then with client-server computing and personal computers. It was followed by the emergence of the internet and early e-commerce sites. The quality 3.0 revolution focused on customer satisfaction, and quality became a business imperative. The revolution saw standardization activities (ISO 9001) and the emergence of organization assessments such as the Baldrige Criteria.
By the mid-1990s, we were on our way to a new ongoing Industrial Revolution. We see integrated cyber-physical interfaces automating end-to-end systems and processes. Machine learning and artificial intelligence help industries run entire simulations on digital twins, all this with hundreds of data points followed by analysis. This is where we see the Quality 4.0 revolution in all its glory.
There are companies in different stages of digitalization. Some still use paper-based methods. Some collect data that is either not useable or don't know how to use their data, and then a few companies understand the need for change. This last group of companies is now sitting at the forefront of the Quality 4.0 transformation. We have had the pleasure of working with some of these pioneers.
Quality 4.0 principles: How to implement them?
Quality professionals help organizations create a link between quality excellence and their ability to perform in disruption using quality principles. Let's understand these principles:
People
Quality 4.0 transformation is much more than just technology. Qualified professionals and experienced companies can successfully navigate organizations through digital disruption to achieve excellence in this ever-evolving field.
Process
Existing processes are re-evaluated ground up, and the next generation of workers are educated to implement these strategies. This is vital for quality improvement and business operations, and sustainability targets at a strategic level.
Technology
Technology has grown exponentially (Moore's law), and organizations must keep up. The flip side is that technology also acts as a great leveler. New entrants with fewer manufacturing lines can leverage Quality 4.0 transformation and consistently create much better end products, thereby taking the brand value up and customer complaints down.
Quality 4.0 tools: Which tools to leverage?
Deploying digital strategy isn't easy, and every industry has its share of challenges. Organizations must leverage Quality 4.0 tools correctly to alleviate these issues during their digital transformation journey.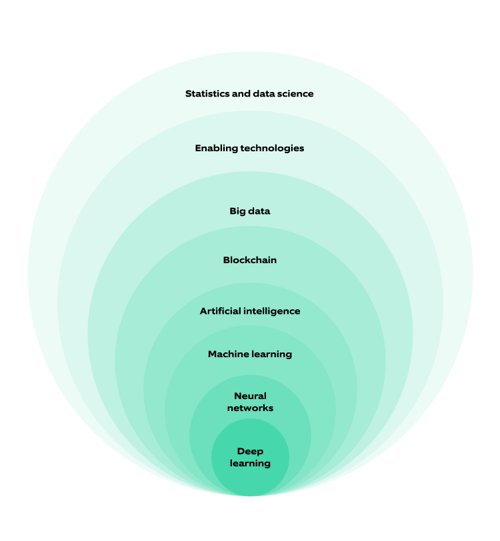 Artificial intelligence: computer vision, chatbots, personal assistants, and robotics for making complex decisions
Big data: more accessible data sources, tools for managing and analyzing large data sets without using supercomputers
Blockchain: for increasing transparency and auditability of transactions (for assets and information).
Deep learning: complex pattern recognition, time series forecasting, creating sound and art, adjusting images based on heuristics
Enabling technologies: affordable sensors and actuators, cloud computing, augmented reality (AR), virtual reality (VR), data streaming, 5G networks, IoT
Machine learning: recommendation systems, fraud detection, classifying objects into groups, forecasting
Data science: bringing together heterogeneous data sets for making predictions, performing classifications, finding patterns in large data sets, and reducing large sets of observations to the most significant predictors
Quality 4.0: What are the value propositions?
The goals and objectives of an organization should be crystal clear. When we work with clients, we understand their pain points and provide curated solutions. Quality 4.0 value propositions majorly fall into the following categories:
Augment human intelligence
Create transparent, trackable, and auditable metrics
Improve analytical and predictive capability
Effective and consistent quality of decision-making
Establish processes for continuous improvement and new business models
Learn to cultivate self-awareness and other skills
Nagarro and Quality 4.0
We understand that transformation comes with a lot of resistance. But there is no growth without change. This is true for both humans and machines, as seen in the many industrial revolution journeys.
From setting customized quality check reminders for shopfloor workers to drilled-down detailed reports for upper management, we help our clients throughout their transformation journey. This helps reduce waste like overfill and giveaway, improve quality through compliance, and drastically help increase turnover while at the same time making audits much easier.
The way forward
Advancements in technologies like data analytics, process control, cloud computing, augmented reality, virtual reality, digital twin, AI, and ML give today's manufacturers the capabilities which none of their predecessors had. They have data covering all manufacturing processes like quality adherence, operations, identifying low-hanging fruits, logistics, etc. But the sheer quantity of raw data comes with inherent problems of analyzing it in a meaningful way without wasting time, money, and resources.
Quality professionals are needed to make sense of this chaos by becoming data wranglers and not just data analysts. It is crucial to define the potential outputs they create by determining how and when to use this data while keeping pace with the latest technological advancements.