Has COVID-19 delivered a knockout punch to an already struggling publishing industry? Well, not really, if you look at the trends of the recent past. Ever since the internet became a rage, the industry had been struggling, especially in the last few years, from the onslaught of digital content; publishers had no choice but to adapt themselves to this change. The pandemic did not alter this axiom; it has only accelerated it, promising a CAGR of 11.4% by 2028.
In fact, COVID-19 has enforced a radical disruption in our content consumption pattern. We are consuming copious amounts of content, and the medium is more online now (as compared to offline versions of books, magazines, or newspapers). On the other hand, creators have grabbed this silver lining in the dark clouds and are creating unabated content of all hues and colors.
So, what then are the learnings for the publishing industry in this 'new normal'? Let us find out.
Consumer behavior is here to stay
With the crisis slowly becoming manageable, the restrictions will be lifted sooner or later. But it's safe to say that preference of consumers in terms of content types and medium is spelled out loud and clear.
If we take an example of content consumption during pre-COVID-19, Generation Z or Millennials were the internet-era advocates. They clearly prefer digital technology for consuming content anytime, anywhere, and on multiple devices. With reduced newspaper circulations, closed bookstores, and limited availability of print editions – Gen X and baby boomers too got aligned to this. Even generation alpha is not left untouched, with schools taking remote classes and playgrounds being replaced by online media or books!
The many years of plummeting ad revenues, along with COVID-19 challenges, indicate testing times for the print industry, making it ponder whether this will be the new normal. Many publishing houses had to suspend their print editions or slash the page count either temporarily or indefinitely. The widening gap between revenues and overheads has made companies rethink their strategies to thrive in this dissimilar landscape.
Integration of IT in publishing
Spoilt for choices today, readers now expect a seamless experience, engaging content, and personalized journalism with minimal distractions (advertisements). Though the industry's backbone is still and will always be quality information and the brilliant minds behind it, IT integration is imperative for transforming and optimizing operations and re-creating experiences.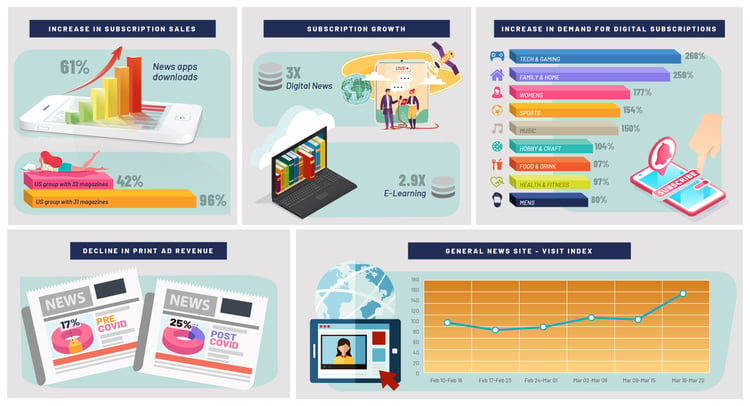 COVID-19's impact on the publishing industry
(Sources: Increase in subscription sales, Subscription growth, Increase in demand for digital subscriptions, Decline in print ad revenue, General news site visit index)
Enhancing customer experience with data is a must
As mentioned in our previous blog on four emerging trends and challenges shaping the future of the media industry, consumers have many options to access content, and intelligent systems make everything streamlined. The copious amounts of consumer data help create a personalized experience. Recommendation engines solve the problem of flipping through countless pages for perplexed readers and save time by facilitating quicker decision-making. With consumption at its peak, a broader audience can be achieved through the Customer 360 view, which helps understand each reader better and provides a personalized experience.
The recommendation engines built on different parameters are trained regularly to provide real-time customizations, which ensures that results are not obsolete, and even across different time intervals, the recommendations remain relevant and liked by the reader. A good recommendation system gives a better purview of demand and supply, which helps in planning and devising strategies that catch the pulse of the audience.
Also, with huge volumes of content at play, service providers with a good recommendation system naturally have the upper hand and engage more readers.
There's a need to re-strategize
The pandemic has meant that shops are closed, printing is down, and the advertising industry is also losing out on its margins. Facebook has described its advertising business as 'weakening'. Amazon has reduced its Google Shopping ads. As MediaVillage analyst Jack Myers predicted, "we will see magazines stop publishing, become thinner, become special issue-orientated with a high subscriber price or a high single-issue price."
The financial burden of keeping people engaged has shifted from advertisers to the stakeholders. It is now time to get the right subscription strategy in place. With ads not generating enough revenue, content with experience has emerged as a viable option. Another alternative is to have a hybrid model with low-cost ads and low subscription costs. Contextual ads are now key differentiators to generate traction. An ad engine utilizing data on ad views, the number of clicks, and the number of purchases made through these ads can provide enough valuable insights. Most of the UK's consumer spending is in categories that reflect who we are and where we feel we belong - lifestyle signifiers, passions, and social activities. The identity economy is motivated by influencer-driven content, as 1 billion influencers worldwide have more than a million sponsored posts.
The way forward
Readers nowadays appreciate a wide range of data, visualization, moving images, audio, and interactive text. Therefore, this time of crisis can be used to drive engagement, identify non-users – attract and connect with them, and engage, nurture, and retain the existing readers. There is a marked difference between organizations that practice engaged journalism and those that do not. Organizations that have put efforts into building relationships with their audience have more opportunities.
The publishing industry, in particular, should take full advantage of the many benefits that new-edge technologies provide. For example, to cater to a huge user base, cloud services are a reliable option to build a robust system promptly with quicker time-to-market. We also need to integrate multiple platforms to manage digital assets, workflow, and content seamlessly; and provide users with engaging and unified touchpoints.
As the renowned poet and novelist Ben Okri says, "It may well be that it is not only self-isolation and science that saves us. We may also be saved by laughter, by catharsis, by the optimism of being able to see beyond these times, with stories, with community, with songs." Having said that, to sail through these waves of disruption and stand tall, publishing companies should create an ability to not only survive the change but also thrive and excel in it.
Want to stay ahead of the curve? Explore Nagarro's offerings in Media and Publishing. For queries, please reach out to media.practice@nagarro.com.