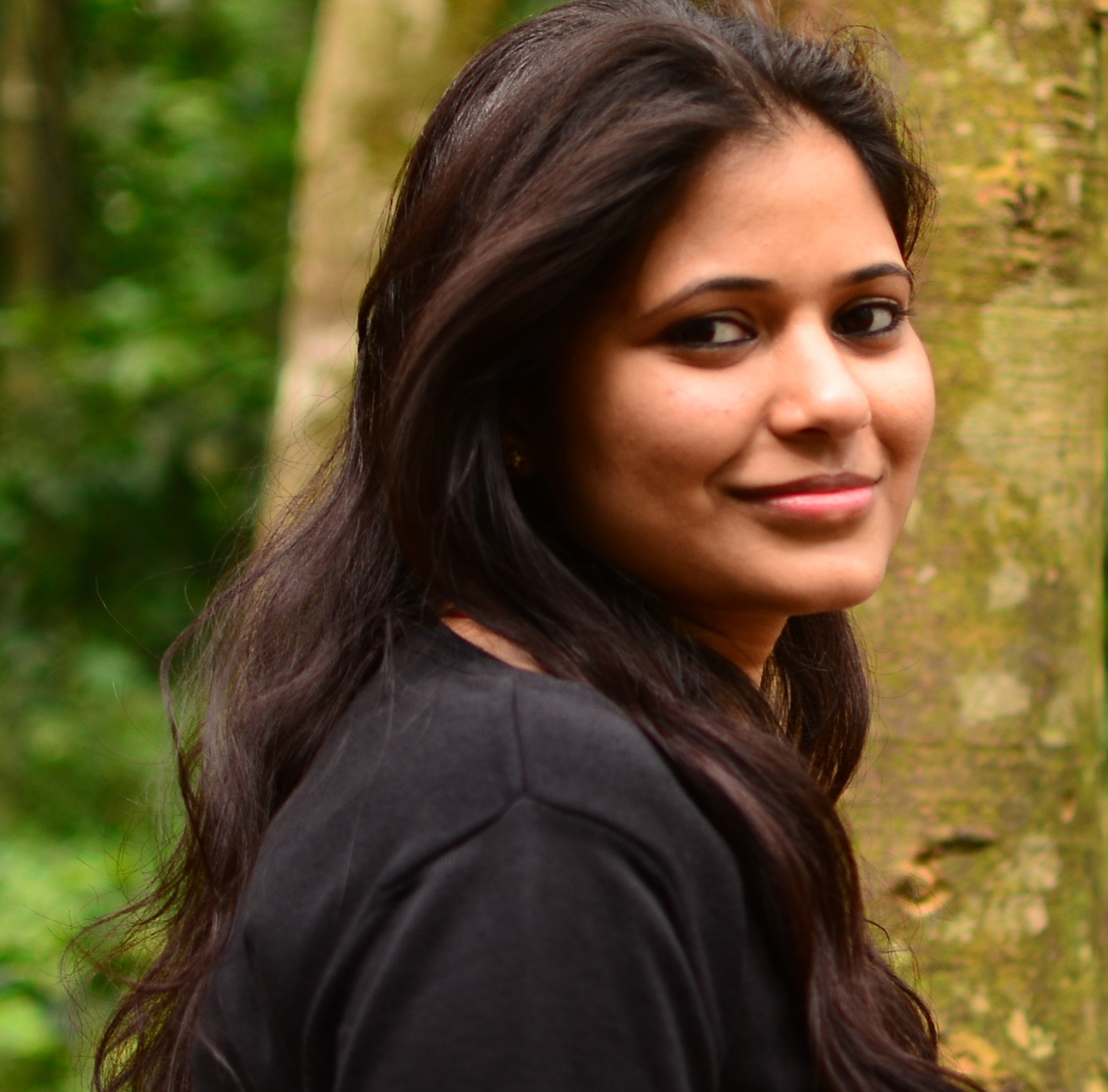 One question often crosses my mind - Why is a business not successful even after:
Implementing agile
Incorporating new technologies
Using certified processes
Sounds familiar? Some reasons could be that:
IT is disconnected from business and vision
Leadership is tracking activities instead of results
Project funding is technically broken
The company feels IT is only resolving issues and not delivering more
With technological advancement happening at breakneck speed, customer demands are no longer static and keep changing as technology evolves. Today's challenges are faced at scale; we need to continuously push the boundaries and adjust on the fly. We must explore how to turn project-focused planning and delivery into a product-centric approach. This will enable an incremental approach that will fund and improve the speed of delivery.
What is the adoption rate?
As per a Gartner study, 85% of organizations have either already adopted or will adopt a product-centric application delivery model by 2022.
By 2024, over three-quarters of digital business leaders will benefit from product management practices.
Almost 80% of IT organizations will undergo radical restructuring and changes in organizational vision as they embrace product-centric operating models.
Adopting a product-centric application model doesn't happen out of the blue or just randomly. It is a logical progression and the adoption of agile development methodologies and DevOps.
It's clearly a trend, with a solid foundation.
Why is it important?
Large-scale transformations fail because it is difficult to change the mindset, ways of working, and culture across thousands of people working in an organization.
Enterprises can take multiple years to transform completely from being project-based to product-based. For any enterprise to undergo a successful transformation, it must have a vision and strategy in place, outlining:
the transformation approach,
the reason(s) for the transformation,
the effects of the transformation – such as the issues the transformation will resolve (speed to market, IT spend, digital disruption, etc).
It is vital to track and measure the success of any transformation. These measures to track and govern the transformation are focused on:
The process of delivering technology
The delivered value and outcome
Product mindset over project mindset – Chalk and cheese
In a product-centric operating model, prioritization can change significantly. A project-based model typically results in businesses defining their requirements upfront, often at the start of the year before the funding. The engineering organizations look at the project requirements and estimate the level of effort required.
As the adaptive approach is becoming the norm for software development, applying a project management principle to ensure predictability can be challenging.
In an agile environment, changes must be deployed faster in any production environment. Interaction with product managers and product owners (as advocates for the customer) helps understand the business needs and incorporate their feedback into product vision and roadmaps.
The key idea behind moving from a project to a product-based model is to measure your success based on business outcomes instead of delivering pre-defined scope and profitability rather than costs.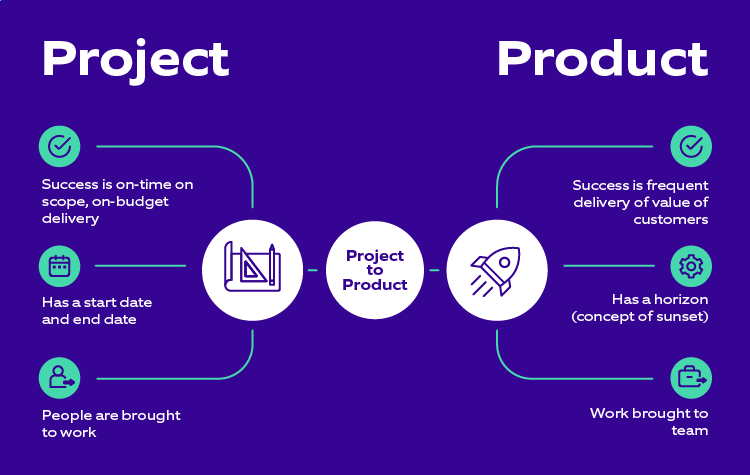 Creating the "big picture" can help in:
motivating teams
explaining the importance of transformation and what we can achieve to enable better decision-making.
Deciding the transformation approach
How do you transition from cross-functional, autonomous, and mission-oriented teams to a product-centric model?
When we think about any transformation, it can be difficult to consider all the factors. The mantra to fight the inertia of moving from a project-based to a product-centric delivery model can be explained in one word: Change.
There are common focus areas for categorizing those changes to help grasp the complexities and difficulties of change. These areas may be independent or may have inter-related dependencies:
Outline the problems with engagement and alignment across the organization
Focus on the organizational size and structure, and new team roles
Address the changes in the organization funding model to support the product-centric operating model
Implement transformation across a diverse set of tools, software, and infrastructure components (used to deliver software in the organization)
Encompass the concepts of value stream business architecture and how organizations are taking progressive architectural decisions to deliver value faster
Focus on how to encourage culture and engage leadership to ensure a successful transformation
For a transformation to be successful, it is important to imprint it into the company's DNA. So, we need to start from the top: Senior management and leadership teams must ensure that they embody a customer-centric leadership style.
The transformation implementation strategy will help establish the goals, approach, and rollout for transformation.
What are the stages of product transformation?
A product transformation approach has multiple stages. Transformational efforts are invasive and require different approaches and guidance across various stages of existence.
There is no one-size-fits-all solution because each solution depends on the organization's structure, culture, timelines, experience.
Any product transformation can broadly be classified into 3 stages: Incubate, scale, and optimize.

Incubate

: It is the initial stage of any product transformation. The general idea is that transformations should start small to demonstrate results, then build momentum. This stage involves experimenting and finding other like-minded thought leaders to move the organization forward. This stage may or may not apply to all the domains in every organization.
Scale: This is the stage where most of the transformation occurs. Product transformation is typically driven across the enterprise. Incubation helps build an excellent foundation for change, convincing the right people and showing enough value to keep the transformation moving forward. Scale stage is when the ramp-up begins, and the entire enterprise is mobilized and pushed to transform.
Optimize: In simple words, this stage is about testing and learning. In this stage, an enterprise learns from the previous step, refines the transformation through these measured learnings, and works on continuous improvisation. As enterprises move to this stage, they expand from focusing on delivery to incorporating product discovery into their practices.
At every product lifecycle stage, product owners need to identify dependencies and deliverables and map this product. Within any product lifecycle, map the "feature roadmap" if the product is to be released in multiple features over a period.
Periodically, you should "sense-check" or align your roadmap and product life cycle with your organizational goals. If they do not follow business needs, you must re-work and align accordingly. In the worst case, you might even have to drop the product altogether.
Restructure your DevOps team and align your current CI/CD process and delivery pipelines in line with the product lifecycle. The DevOps teams will be responsible for the "commencement to termination management" of that product.
After the products and teams are in place, define 'Product Vision'. Once we have insights into the product, we must understand how the product can be deployed, upgraded, patched, managed, enhanced (incorporate feedback), and eventually retired. This means that there should be close collaboration across various teams - business units, developers, and, operations, i.e., DevOps.
This vision will help determine the reason for existence and the long-term goal that we are trying to achieve.
In a nutshell
Every organization's journey from "project to product" is unique, and no two journeys can be measured the same. Product-centric delivery paves a new way of organizing people and continuously delivering value, emphasizing the outcome rather than the output.
In a traditional project model, teams are organized temporarily to achieve specific project requirements and later disband.
Ownership, accountability, and empowerment are the heart of the product model.
Moving from a traditional approach to a product approach is relatively new but important to changing requirements.
It might not be possible to encounter all the factors when moving to a product-centric approach. As you progress on the transformation journey, you will learn to tackle any gaps or roadblocks that can derail this transformation. Decisions need to be made regarding how to address these gaps and roadblocks to determine if you should continue or drop the product altogether.
Customers who get addicted to your product once would never consider leaving your brand, provided your product has high-quality strategies that offer continuous value.
A product-centric model is ideal for integrating digital technologies and scales. It offers a high chance of growth and profitability as it aligns the business strategy to software development and execution while empowering the teams to decide what is best for their product.
Want to enhance the value of your products by delivering on business outcomes? We can help – explore our offerings and get in touch with us!