The concept of private cellular networks is nothing new. 4G and Wi-Fi technologies have driven the private network implementation globally across various industries such as mining, oil & gas, utility grids, military bases, and emergency services.
The last few years have increasingly seen more industries focusing on digital transformation, and the pandemic has been an additional catalyst in this transformation. This has led to new use cases and applications requiring extremely high connectivity, ultra-low latency, and the need to support thousands of devices. And this is where enterprises have started looking at deploying 5G-enabled private networks.
To quote GSMA, the definition of a private cellular network is as follows:
'A private cellular network is where network infrastructure is used exclusively by devices authorized by the end-user organization. Typically, this infrastructure is deployed in one or more locations owned or occupied by the end-user organization.'
If you look closely, we can apply this exact definition to many technologies beyond cellular, such as Wi-Fi, industrial ethernet, fiber, etc., primarily driven by enterprise business needs and other constraints.
This article talks about the benefits of a private cellular network, its use cases across industries, and how telcos can seize the day. Let's find out!
1.1 The key benefits of a private cellular network
1.2 How significant is the private cellular network market opportunity?
In the next few years, the number of private network deployments shall go up to thousands, especially as spectrums and networks become more open and 'democratized' with a rapidly growing ecosystem of integrators, vendors, and industry-specific solutions providers. According to Omdia, the private cellular market, worth USD 1.5 Bn in 2020, is expected to rise to USD 5.2 Bn by 2025. It is projected to display sustainable growth at a CAGR of 28%.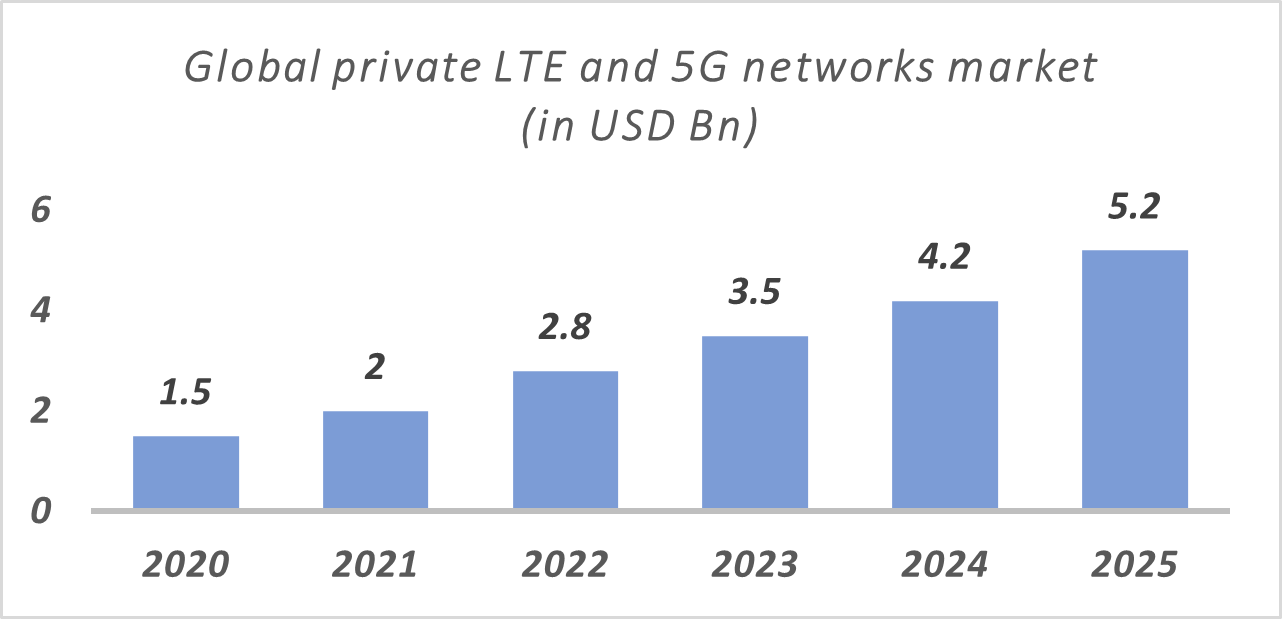 Source: BearingPoint and Omdia 2021 report
Given that most deployments are either POVs or in trial phases, the revenue expectations may vary. However, multiple analyst studies indicate that the private network market size will exceed USD 5 Bn by 2025.
1.3 Where are most of the private network demands coming from?
As per a recent study by Heavy Reading, Industry 4.0 is led by manufacturing followed by Warehouse and Logistics industry is where most of the opportunities and demands are coming from for private network deployments.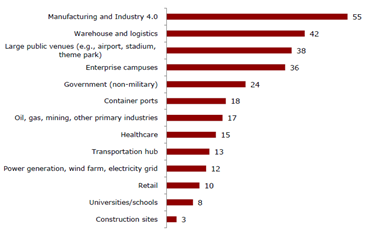 Source: Heavy reading and n = 103
1.4 What are the key use cases focused upon across industries?
Broadly, the different use cases for private cellular networks can be classified under three categories: URLLC (Ultra-reliable low latency communications), mMTC (massive machine-type communications), and eMBB (enhanced mobile broadband).
The key private network use cases across the top three verticals are: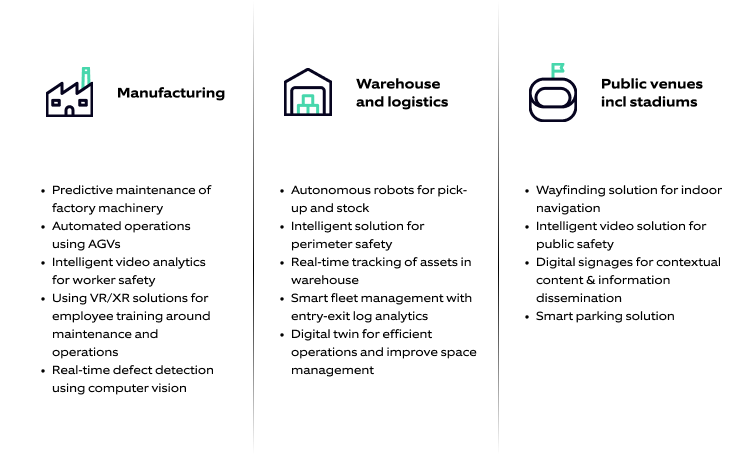 *Indicative use cases list
1.5 Does a private cellular network imply '5G' only?
Though 5G because of its increased focus and traction is becoming increasingly synonymous with the private cellular network, it does not provide a comprehensive and correct view.
Here are some numbers from an August 2021 report by the Global mobile Suppliers Association (GSA), tracking 350+ private network deployments (trial, pilot deployments, commercial launches):
LTE is used in 64% of them
while 5G is being deployed (under consideration) in 44%,
and 8% are using both LTE and 5G.
Similarly, a study by STL partners conveyed that Wi-Fi and ethernet are the dominant forms of connectivity technologies across most industries. This is not a surprise since private networks have existed for over a decade now.
The study also highlights that though hybrid deployments will be the preferred norm, the next few years will witness a surge in 5G and LTE-enabled private networks. This will happen as enterprises start to deploy advanced use cases and 5G continues to evolve with new 3GPP releases.
2. Who are the leading deployment players?
The private network deployment players can be placed in four categories:
CSP or Telco-led deployments such as Verizon, Rakuten, Vodafone, etc.
OEMs or CSP secondary supplier-led deployments such as Nokia, Ericsson, etc.
Enterprise-led deployments such as John Deere, BMW, Bosch, and more.
Alternate service providers (SPs) such as Celona, Vilicom, Edzcom, etc.
In December 2021, Amazon launched its fully-managed AWS private 5G solution, based on 4G LTE/5G technology. Though it is too early to comment, AWS foraying into this space will only result in Google and Microsoft accelerating their efforts to introduce competing solutions.
An analysis of private network global deployments over the last two years reveals some interesting insights: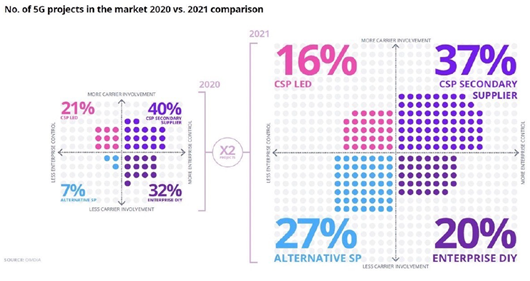 Source: Omdia 2021 research
The share of telco/CSP-led projects came down from 21% to 16%, even as the number of enterprise 5G projects doubled over the previous year.
OEMs, notably Nokia and Ericsson, have been leading the pack in private network deployments globally by successfully creating a strong partner ecosystem. Nokia has 350+ private enterprise deployments worldwide.
An interesting aspect of the study was a marked decline of 40% in the Enterprise DIY (Do-it-yourself) category. This does not come as a surprise since enterprises have been facing challenges in putting together the necessary in-house skills and technological competencies to implement private 5G solutions.
A key output of the study is the rise of 'Alternate SP' (service provider) companies or 'private network' specialists that have occupied the lead partner role in 27% of the enterprise 5G projects. This figure represents significant growth from the previous year.
2.1 Rise of the alternate SPs
The last few years have seen the rise of non-traditional companies offering end-to-end private network solutions. Some notable ones include Druid Software, Edzcom (now acquired by Cellnex), Celona, Casa Systems, and Vilicom (now acquired by BAI). The key drivers for this growth are:
The inability of telcos/CSPs to seize the private enterprise market opportunity
Liberalized approach to spectrum allocation and usage by regulatory bodies globally, across licensed and shared bands
The key enablers for these companies to successfully tap this market include:

2.2 Analyzing selected alternate SPs
Celona offers end-to-end enterprise connectivity by leveraging the CBRS spectrum in the US. Its core offering is the Celona platform powered by the cloud with an AI-enabled orchestrator and a lifecycle automation solution for private mobile networks.
Edzcom (formerly Ukkoverkot) is a Finnish-based leading provider of customizable 4G/5G private wireless solutions across ports, mining, logistics, and manufacturing. Cellnex acquired it in mid-2020.
Asterix is a US-based operator focused on delivering private LTE solutions to the energy, transport, and logistics industries. It recently created a secure broadband allocation within the 900 MHz segment with the FCC.
Vilicom provides end-to-end 4G and 5G solutions for customers across the healthcare, real estate, retail, and energy sectors. Its GIGAWAVE solution is compliant with 3GPP and ORAN standards.
Source: Company websites
3. Is the private enterprise opportunity getting squeezed for the telcos?
Though CSP/telcos recognize the revenue opportunity of the enterprise market, they have struggled to capitalize on it. Both external and internal factors have contributed to this.
1. External factors
Enterprises are not always convinced that telcos have sufficient experience and capabilities to deliver on private network promises.
Many large enterprises globally have acquired a spectrum to set up their own private networks.
5G standards are still evolving. Many capabilities, such as network slicing and ultra-low latency use cases, are still a work in progress.
Strong competition to telcos from various other companies
2. Internal factors
Requires a fundamental shift for telcos to move from being only a 'connectivity' player
Have not put sufficient focus to develop the required vertical expertise
Insufficient in-house expertise on key technology enablers such as AI/ML, MEC, DevOps, cloud-native application development, etc.
3.1 What advantages do telcos have?
Despite the challenges, telcos have a lot going for them. They score favorably on the following key aspects:

3.2 The way forward for telcos
Telcos gradually realized that the enterprise 5G market is an ecosystem play. Any attempt by any player to go all alone and do everything by oneself would result in limited success. They also recognize that they would be the 'secondary' player for many deployments and will be relegated to the role of a connectivity provider. But this would also enable them a foothold within the enterprise, with many possible opportunities in the future.
Key areas telcos should focus on:
Create partnerships by bringing together the key ecosystem partners comprising device vendors, OEMs (incl. RAN and Core), system integrators, public cloud players, application development providers, etc.
Focus on developing deep vertical expertise across select industries to increase their relevance for enterprise customers. For example, Deutsche Telekom focuses on manufacturing, whereas Verizon focuses on logistics and sports.
Develop solution capabilities comprising network design and architecture, edge computing solutions, security solutions, and 'management' of enterprise networks.
Work closely with enterprises and other key partners to create POVs and demonstrations before pilot and commercial deployments in a 5G environment.
Considering telcos have been sluggish in this area, they need to be agile and move at the speed of enterprise demands.
Globally, many of the leading incumbent telcos, such as Verizon, AT&T, Deutsche Telekom, Vodafone, Telefonica, etc., have revisited their enterprise-focused strategy and started adopting a more inclusive partnership-driven approach.
Here are some examples:
Verizon has launched its private 5G network (On-site 5G) in partnership with AWS for large enterprises and public sector companies, including college campuses, warehouses, industrial facilities, etc.
AT&T has collaborated with Google Cloud to offer 5G edge computing solutions for industries such as manufacturing, retail, healthcare, etc. Similarly, Deutsche Telekom has partnered with Ericsson for private 5G campus network solutions. DT would be responsible for planning, deployment, and operations, with Ericsson providing the 5G SA technology.
4. How is Nagarro enabling telco partners?
Nagarro works with many globally leading telcos in three key areas - technology consulting, developing 'Proof of Value' (POVs) for the industry-specific use cases, and enabling their digital transformation.
Our deep industry expertise and leveraging of cutting-edge technologies enable our telco clients to create meaningful 'business outcomes' for their enterprise customers. We focus on augmenting our partner ecosystem in network deployment and IT-OT integration.
Currently, we are working with the leading telcos in Europe and Japan on their private enterprise initiatives. We further strengthen our capabilities by fostering partnerships with the leading 5G open-source community ecosystem to develop and demonstrate POVs in 5G test-bed environments.
Are you looking to leverage the benefits of a private cellular network and transform your business operations? Speak to our telecom experts now!