The pharma industry is pivoting from reactive support to a proactive patient experience model today. This is especially true in this post-COVID world. Anecdotal evidence suggests patient services are improving patient retention and decreasing the switch between therapies.
Many patient service portfolios are now available in the market. But they face significant challenges in implementation. What should you look for when selecting the optimal portfolio? How can they deliver maximum patient benefits as well as help in achieving high return on investment? Let us find out!
Why patient services?
Patient services/support programs (PSPs) enable pharmaceutical companies to wrap services around their leading-edge therapies. These programs provide several benefits, including:
Superior patient outcomes
Marketplace differentiation
Stronger relationships between patient and healthcare professionals (HCPs)
Patient services programs allow pharma companies to build platforms that provide scalable treatment at a lower operational cost.
Augment therapeutic pathways to improve patient outcomes
The growing pressure on healthcare systems to be affordable means that pharma companies need to demonstrate a value proposition to payers beyond just clinical efficacy. In the United States' Affordable Care Act, patient outcomes and patient satisfaction are now key metrics in a new value-based system. A well-designed patient services program can improve patient outcomes in several ways.
Many medical therapies with unpleasant side effects can influence patients to discontinue their treatment too soon. Patient services assist patients through the onboarding and initial treatment period, improve long-term adherence, and reduce the number of patients who discontinue treatment early. Digital technologies, such as smart devices and data modeling have opened new avenues in improving patient adherence. A study on multiple sclerosis patient adherence concluded that PSPs significantly increased the probability of patients staying on a therapeutic regime.
Drive differentiation and build trust between healthcare providers and patients
Innovative digital technologies are paving the way for newer avenues and enabling more holistic patient service programs. A recent Deloitte study showed a shift from a transactional focus (e.g., enrolment, training, etc.) to a more collaborative and integrated approach. This integrated approach is apparent in programs such as tailored interventions, behavior modification, and care network support. Digital technologies provide flexibility and allow pharma companies to design and develop tailored and targeted services. Pharma companies increasingly involve HCPs in creating these programs. By involving providers, pharma companies increase awareness and meet the needs and expectations of HCPs and patients.
A recent Accenture-led patient services survey on pharma companies and patients concluded:
76% of patients believe pharmaceutical companies have a responsibility to provide services that complement their products.
19% of patients are aware of a pharmaceutical company's services.
85% of pharma companies are increasing their investment in patient-centric capabilities.
40% of healthcare professionals are aware of patient services offered by pharma companies.
What are the various types of patient services?
Patient services might seem simple but includes a wide range of areas. Patient service programs can broadly be classified into three categories, based on offering type:
Caregiver access
Healthcare financing
Self-care or patient compliance

The following caregiver access services ensure appropriate healthcare to patients:

The following healthcare financing services offer low-cost medication and services to patients: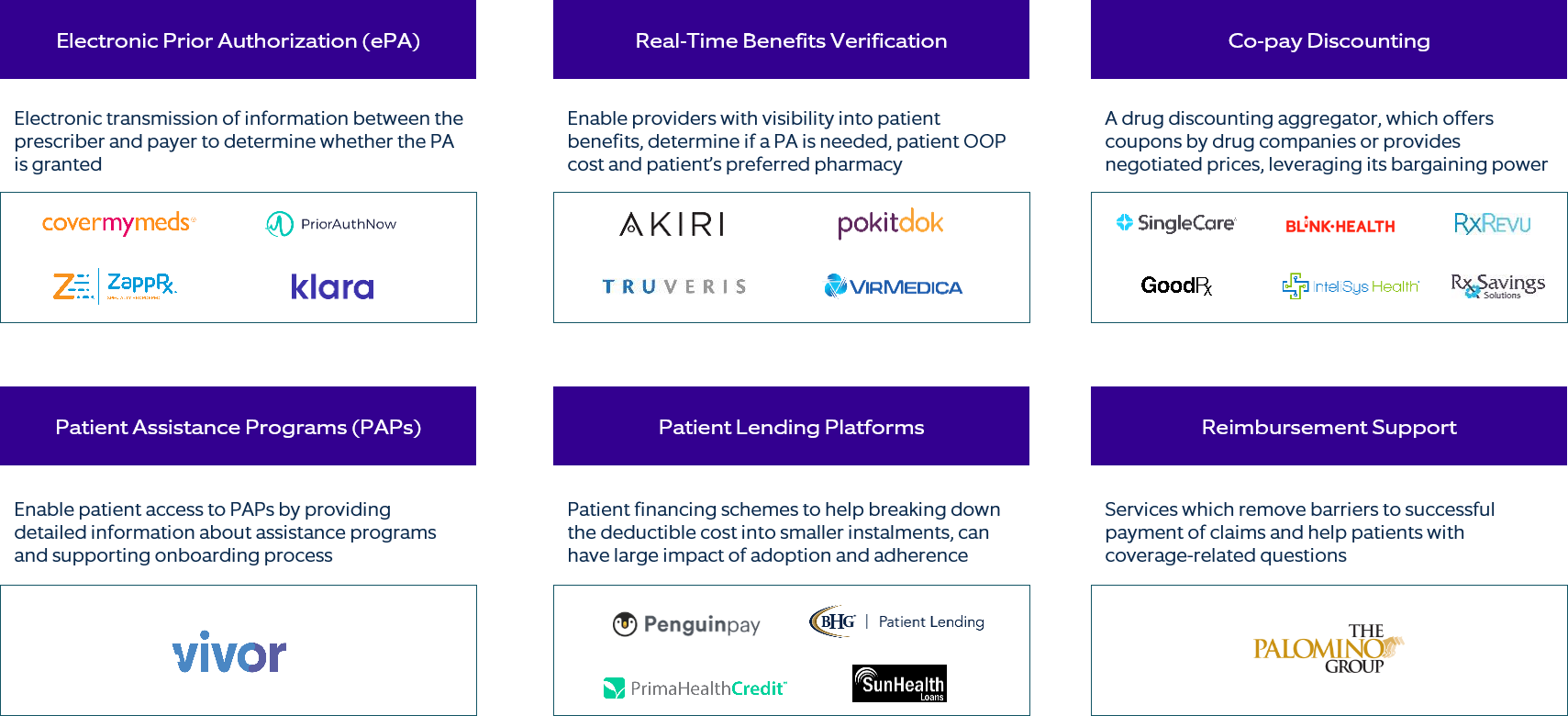 The following self-care and compliance-related services help in improving treatment adherence and adoption:

Why use the portfolio approach for patient services?
All these patient services are interrelated. The capabilities required to develop these services can be synergistic. Patients and pharma companies are looking for more comprehensive solutions. They need to reduce the number of touchpoints but still offer a wide range of services.
The goal of portfolio prioritization is to select an optimal solution that can fulfil the needs of both patients and pharma companies.
How to prioritize patient service portfolios for investment?
Selecting an optimal patient service portfolio that delivers maximum patient benefits and a good return on investment is difficult. It requires in-depth assessment. We have designed a prioritization framework to rate each portfolio on multiple parameters, including ease of execution, investment in infrastructure, innovation potential, and degree of impact.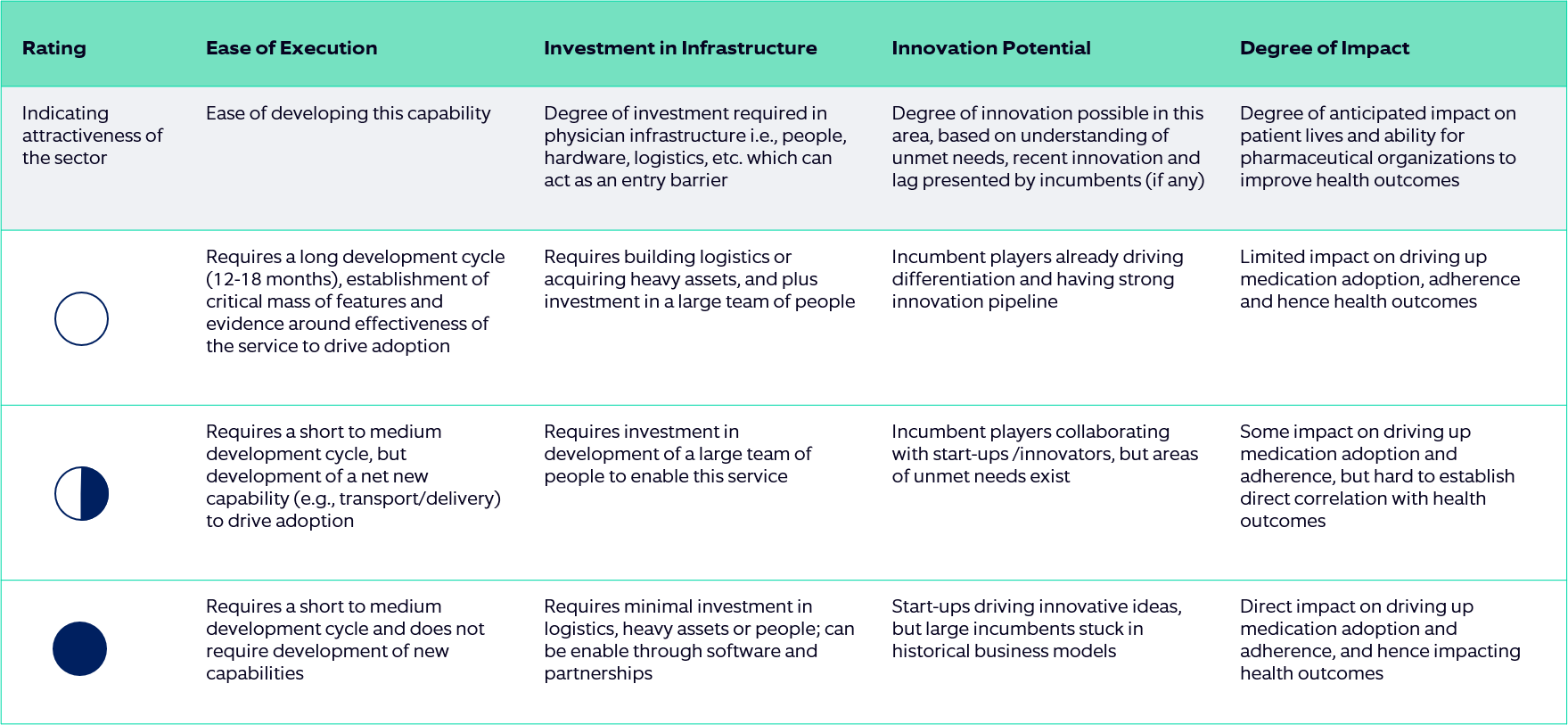 How to rate various patient service areas?
We rate each of the patient service portfolios on a scale of 5, 3, and 1 across four parameters: ease of execution, investment in infrastructure, innovation potential, and degree of impact.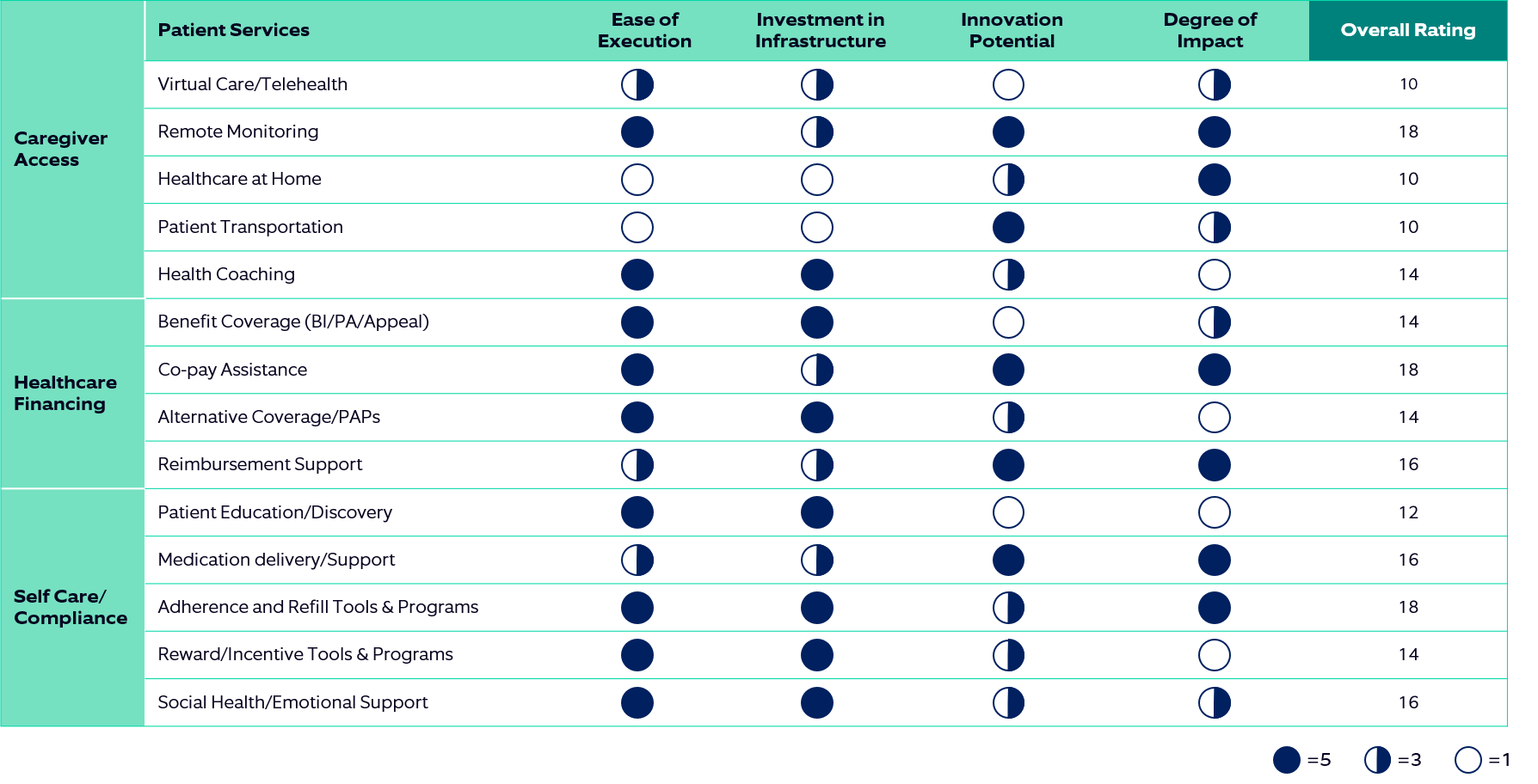 How to start?
Let us take a client project as an example. Based on the client's internal capabilities, overall strategic objectives, and portfolio, remote monitoring, co-pay assistance, and adherence and refill tools and programs emerged as the best starting points to develop a patient service portfolio.
Remote monitoring programs generally involve shorter development cycles. Our client will require investment in building a large team to support these services. A remote monitoring portfolio will provide an opportunity for our client to offer unique solutions, such as personalized disease monitoring. This portfolio can drive medication adherence and adoption, which in turn, directly impacts patient outcomes.
For co-pay assistance programs, our clients will not need to develop new capabilities. They will need investment to set up a dedicated team to drive negotiations and pharma and patient engagements. Co-pay assistance programs will help our clients lower their healthcare costs and drive adherence and/adoption of high-cost medications among patients.
Patient adherence and refill tools and programs involve shorter development cycles and require minimal investment in heavy assets, logistics, and people. These programs or tools generally include pill organizers, digital dispensers, reminder charts, adherence apps, and educational videos that do not require sophisticated technology. They can be executed in partnership with healthcare providers or with software vendors. A well-developed program or refill tool will help our client to improve medication adherence rates and improve patient outcomes.
While we advocate a portfolio approach, starting with a few sets of modules always helps. Based on prior experience, we recommend following these principles to develop an effective patient service solution:
Develop a comprehensive solution framework that can enable different patient services and integrate with the existing ones, allowing traceability and governance across programs.
Develop data standards and governance specific to patient services, which will allow interoperability of data for operational and monitoring purposes.
Invest in data capture and analytical frameworks to enable continuous measurement of ROI. Explore interlinking with claims data to ensure cost and ROI evaluation is more robust.
Invest in governance framework and KPIs that enable tracking of the true cost of patient services at a company, disease, and patient levels.
Invest in automating legacy patient services that have operated in traditional ways for very long (e.g., telemedicine-driven counseling).
Interested in learning more about the opportunities that patient services bring? Check out our report and recommendations for creating an effective patient services solution and schedule a free workshop with us.