After facing a crisis of declining consumer trust for the last several years, the worldwide banking industry is finally rebounding with growing consumer confidence, according to the 2014 Global Consumer Banking Survey. Released February 2014 by Ernst and Young, the survey reports 33% of customers show improved confidence with the global banking industry, up from 22% in June 2012. Competitive banks have taken great strides to engage their customers more fully and across different channels. In the past few years, customer focus has increasingly led to banking innovations with stronger customer appeal, such as these:
Leveraging sophisticated data mining and analytics to offer personalized offers based on past purchase behavior;
Using social media to solve customer service issues;
Developing mobile apps with features like remote deposit capture and alerts, to improve "anytime, anywhere" banking accessibility.
While these improvements to the customer experience have been welcomed, I was wondering – are they not fast becoming the "new normal", which any bank must start providing in order to stay in the game? If you are a banking IT leader, it's natural to ponder: How can your IT department consistently deliver innovations that will give your bank a true edge with the customer, dominating the market?
We at Nagarro believe the strategy for winning IT innovations in the retail banking industry is rapidly changing, evolving to a more sophisticated and finely-tuned understanding of true "customer focus". As we sifted through and analyzed several customer-oriented technology innovations achieved by leading banks in the past 2-3 years, across our customer base as well as beyond, a few stood out. These were disruptors. They led the marketplace and had something in common – what we call, the "triple alignment" of customer-focus. These leaders demonstrated that what differentiates a winning technology innovation from the rest involves offering the right product or servicefor the customer's given lifecycle stage, through the right channel. By getting all three correct, they were able to substantially increase the odds of success in their favor, creating and capturing "business moments", as Gartner calls them, in this digital age.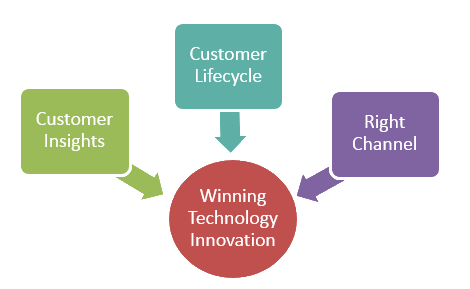 Nagarro's Triple-Alignment Model for Customer Focus in Technology
Banks and financial services firms like Rabobank (in the Netherlands), USAA, PayPal, American Express, and MasterCard have produced some of these tech winners, striking the right chord with their customers through their triple-aligned customer orientation. To illustrate this model of triple alignment, here's an example from our financial services technology practice at Nagarro:
One of our clients is a leading Australian insurance KPO, with an insurance claims process we helped to improve. After gathering CUSTOMER INSIGHT from transaction data and insurance claims, we helped the KPO develop THE RIGHT INNOVAITON…a CRM-supported mobile claim management system. The system is "gamified", so that customers interacting with online claims during the "USAGE AND EXPERIENCE" STAGE of the customer lifecycle can see the unique "fitness level" they've achieved with their claim, as they proceed step-by-step towards a final authorization status. By incentivizing customers to move to the RIGHT CHANNEL – online processing – the bank made the experience more satisfying for its customers, as well as less costly for the bank's operations.
If you'd like to read more about how banks can apply this "triple-alignment" customer focus model to their own innovation strategies, take a look at our white paper titled "Market Leading Banking IT Strategy Redefines Customer Focus". It includes concrete tips for how to achieve success within your own IT organization, and also provides several examples from other leading innovators, as well.
What emerging paradigms are you seeing in the banking IT space that will lead banks to improve their innovation success rate?