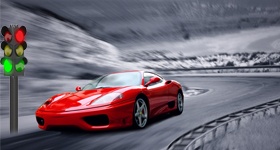 When I was a kid, I loved to play "Red Light, Green Light". Freeze in place while the "light" is red, and run as fast as you can while the "light" is green, so you can advance to the goal and win the game.

Now that I'm working in corporate environments with Nagarro, I really appreciate the delight of smooth and speedy execution, with limited time out for "red light stops". It's not surprising that our experience working with SharePoint Apps reminds me of this childhood game, because there are so many opportunities for zooming ahead, and relatively few areas for "red light" slow-downs. Helping our clients reach their goals quickly and effectively is a rewarding journey for all concerned. Let me share a few examples from our experience at Nagarro, to help you finesse your deployment, and chart the smoothest path.
First, the upside with SharePoint Apps is really impressive. You get awesome integration opportunities for true enterprise platforms, and because of fast & flexible development potential, your company can save lots of time and money as an added benefit. Not having to worry about SharePoint server resource contention and sprawl is another benefit of using SharePoint apps. We were creating a corporate collaboration site for a Nagarro client, and recommended SharePoint Apps because the apps are lightweight, self-contained, and reusable. By re-using apps across multiple SharePoint farms hosted on cloud and on-premise and leveraging UI expertise from other technologies, we were able to considerably reduce the development duration, effort and cost. What's more, the collaboration sites could also be easily integrated with lines of business (LOB) and other enterprise systems, such as ERP or payroll, etc. It was a winning proposition in every way.
Second, the "downside" with SharePoint Apps is really limited. We need to be aware of the few areas where SharePoint Apps may NOT be advised, such as scenarios where we expect apps to change the requirement rather than adding any value. We were working with a European manufacturing company that was considering SharePoint Apps for their on-premise installation. Their SharePoint farm wasn't cloud-ready, and they did not anticipate moving to the cloud over the long-term. They wanted to adopt the SharePoint look and feel but did not want to be redirected to a separate domain or expose the user interface via an iframe. So in this case, Nagarro advised them against building Apps for SharePoint. We were concerned that building apps might add complications that users would dislike and would not support the company's objectives.
Most of the time, however, building SharePoint Apps is a major enhancement to existing SharePoint installations, and packs a powerful punch of improved functionality, including conversion to true enterprise platforms, with a minimum of effort.
If you'd like to learn more about the extensive benefits, and limited shortcomings, of using SharePoint Apps, check out the white paper Nagarro has prepared: "Have You Overlooked the Obvious? 12 Ways to Win Major Value With SharePoint Apps". Included in this paper are suggestions for when to put this approach into action, and when SharePoint Apps might not be the best choice. Also included are tips on assessing whether to build custom apps for your organization and how to improve your ROI calculations.
What have your experiences been with SharePoint Apps? Do they fit the Red Light/Green Light analogy?