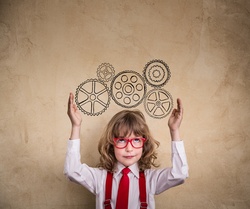 "Innovation is not a single action but a total process of interrelated sub processes. It is not just the conception of a new idea, nor the invention of a new device, nor the development of a new market. The process is all these things acting in an integrated fashion." Paul Trott
The last few years have been all about finding new ways to do business. Creating growth in an extremely challenging global business environment is the top most priority of all CXOs. In this context, the most important piece within the puzzle is Innovation. Over the years, innovation has slowly become an integral part of the enterprise's digital/transformation strategy.
In 2008 McKinsey research revealed, "more than

70%

of senior executives in a survey we recently conducted say that innovation will be at least one of the top three drivers of growth for their companies in the next three to five years."
A PwC Pulse Survey in 2013 of 246 CEOs in North and South America, Europe, Asia Pacific, and the Middle East reveals that

97%

of CEOs see innovation as a top priority for their business.
The key to success for most enterprises which are connecting to their customers is - creating a visible brand lift and new services/offerings. Every enterprise needs to bring focus on being innovative. So, the biggest question is - how does a CXO make the enterprise innovative?
Before we jump into how innovation happens, let me define innovation. Innovation is the process of translating an idea to a product, good, service that adds value to people's lives (customers' lives). I see innovation as a 3 step process, any journey to innovation has to flow through curiosity and creativity.

Curiosity is the desire to learn and do something new.
Creativity begins with asking questions, challenging the status quo.
Innovation is all about finding answers to these questions.
If I have to put it simply, a CXO's job is to create curiosity, encourage creativity and reward innovation. The quality of innovation will depend on the quality of the answers which in turn depends on the quality of the questions. Hence, the first order of business for CXOs is to:
Make sure everyone is asking a lot of questions. If you stop asking questions you stop innovation.
It is important to recognize that all ideas (answers) will not be good ideas. In fact, only a miniscule portion of the ideas will be good and implementation-worthy. Hence it is important to generate a lot of ideas, which means that people need to ask a lot of questions. It also means that majority of ideas may fail and people need to be ready for that. Accepting failure and moving on is integral to being innovative. The important thing is to fail forward - learn from it and move on, rather than fail backwards. Therefore, CXOs need to:
Encourage all ideas – good or bad. Don't be afraid to fail. Err on the side of innovation (not caution).
Being innovative is also about thinking freely and one of the biggest dilemmas in every enterprise is - how do you make people think freely and at the same time ensure they clock 40 hours/week and do their 'day-to-day' duties on time and on budget? For that, the CXO has to build an ecosystem that creates space and time for innovation. Create free time on people's calendars that allows them to be curious, ask questions and then look for answers – innovation follows from there. If that comes at a cost – it will all be worth it at the end. Therefore,
Create time and space for innovation – it costs money to innovate.
If we analyze the recent innovations, one thing that stands out is the level of collaboration. If we see the patent data – we see that most patents are filed by a group of people rather than one individual. Innovation needs to be treated as a team game. Usually there is a direct correlation between people/team collaboration and the level of curiosity/creativity – followed by more innovation. So, CXOs must understand that:
Although innovation starts with 'I', but it takes a team to innovate successfully.
The journey via innovation is not easy by any means. Being agile always helps to be innovative and smaller organizations have an edge when it comes to innovation. As Walt Disney once noted, "We keep moving forward, opening new doors, and doing new things, because we're curious and curiosity keeps leading us down new paths."