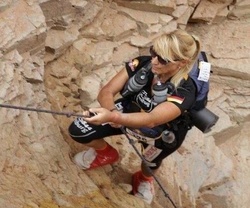 "I have learned that if one advances confidently in the direction of his dreams, and endeavors to live the life he has imagined, he will meet with a success unexpected in common hours." - Henry David Thoreau
I am back from an absolutely 'grand' experience at the Grand to Grand Ultra footrace in the Grand Canyon.
The 'Grand to Grand Ultra' is a 273 km long footrace through and around the astoundingly stunning landscape of the world's most famous canyon in 6 absolutely exhausting stages of 50, 43, 85, 42, 42 km, with an 18 km uphill sprint to the finish line at the 'Grand Staircase' on the last day. The race is one of the very few ultramarathon stage races worldwide to be accepted in the 'Ultra Trail World Tour Series'. This race series is considered the 'Champions League' of international ultramarathons, thus it attracts many professional and elite ultramarathon runners from all over the globe.
The 273 km long route included more than 6,000 meters of steep ascents and as many meters of steep descents, endless paths of ankle-deep sand, high dunes, rock climbs, ropes, river crossings, flash floods, aggressive sun, dust, mud and more – all that in the stunning backdrop of the Grand Canyon. At night, when the temperatures plummeted to around the zero degree mark, we slept in simple tents and ate out of our rucksacks. We woke up every day at 5:30 am to prepare for an 8:00 am start.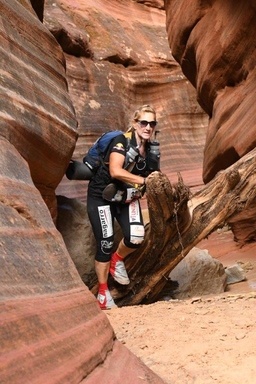 Not a pro, but well-prepared training-wise, I had the perfect equipment for this race where self-sufficiency was the key. I had hundreds of training miles in my legs and had managed to get my rucksack down to 6.5 kilograms - a record low equipment weight for me. As with every self-sufficiency race, we had to carry all our food for 7 days, sleeping bag, mat, a change of clothes, emergency kit, etc. – for the entire duration of the event.
With more professionals and elite athletes than I have ever seen in a field of runners, which consisted of 43 women and 96 men, I accepted from the start that I would finish in the healthy middle of the pack.
I was all the more overwhelmed to cross the finish line as 8th among 43 women, 3rd in my age group amidst fierce competition and 34th overall out of 139in this star-studded field of racers. I finished in the first five of the women´s field and in the top four of the overall field - in just over 49 hours. The long 85 km stage was my greatest athletic achievement to date. I cried tears of joy as I crossed the finish line at 2:00 A.M after 85 of the most exhausting kilometers I´ve ever run, and was told I was in 5th place with only 4 elite runners finishing in front of me. I just couldn´t believe it, all the hard training had more than paid off.