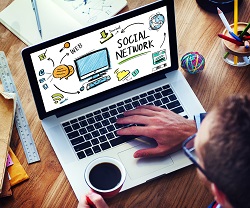 The term "omnichannel" has been a buzzword in the retail industry for several years. Retailers have added more and more channels to their business paving the way for more opportunities to connect with shoppers and follow them along their path to purchase, ensuring a higher probability of a sale irrespective of the channel. But having more channels does not guarantee success. Online, offline, mobile, e-Commerce, m-Commerce, brick and mortar; all these are beginning to blur nowadays and only one thing matters - seamless customer experience.
Building this seamless customer experience - a truly omnichannel experience is possible, but it is a costly enterprise and takes time to implement. This raises an obvious question - "Do you have that much time and money?" In a hyper-competitive and low margin industry, it is hard to get a "Yes" as an answer to this question. Such times call for an omnichannel strategy which takes shorter time-to-market and provides the ability to test and adapt so that retailers are neither leaving money on the table due to ineffective implementations, nor are they losing time and opportunity against competition.
Agility is the key to a successful omnichannel implementation. We call it, #omniagile! Let's see how #omniagile is different from traditional omnichannel implementations and helps avoid loss of business opportunity and resources:
1. Promotes agile development: Omnichannel implementations usually follow a sequential (waterfall) execution strategy which makes it very slow, costly and unproductive. In this strategy, implementation in divided into sequential, large phases and often by the time a phase ends and you are ready to test, business priorities and market needs are completely changed – significant loss of resources (money, time, etc.) and opportunity.

On the contrary, #omniagile development is parallel, fast, flexible and versatile. While there is a still a roadmap for development and implementation that is mapped out along a continuum, execution is separated in parallel, short buckets (1-2 weeks) so that tasks can be updated, changed, or prioritized on the fly. This allows flexibility to do more testing and experimentation, and shift gears at the right time to avoid loss of opportunity and resources.

2. Is flexible to the core: Traditional omnichannel implementations are largely driven by a massive planning phase (detailed research, planning and analysis) executed at the beginning of the project. This system lacks flexibility and makes it difficult for business to adapt to the changing market needs. It is often found that a certain feature that was deemed as important in the initial planning phase is no longer valuable by the time it was implemented. Customer preferences changed leading to a significant loss of development efforts - money, time, resources, etc.

On the contrary, an #omniagile strategy has flexibility at its core. It is not rigid and dependent on upfront planning. It allows business to re-evaluate and re-define the implementation strategy as they progress. This ensures optimum utilization of resources in implementing the most effective features at the right time leading to significant business value.

3. Leads to faster time to market: Omnichannel implementations are fairly large and take a lot of time to come to get completed. Customers don't wait that long – their tolerance to disrupted customer experience is reducing every day. If you do not provide a seamless experience – they will move to your competition, leading to significant revenue losses.

An #omniagile strategy ensures that the implementation is done piece by piece so that there is a frequent and ongoing delivery of customer critical features. This ensures ongoing improvement in customer experience and faster realization of business value from omnichannel implementations.