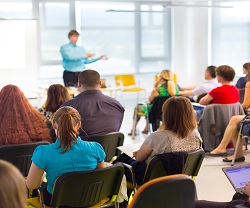 I started off as a technologist, architecting solutions for one of the leading money transfer organizations in the world. Then I transitioned to delivery management in the public sector practice for one of the most vibrant cities in the world. Recently, I have made a transition, which isn't the norm in our industry, and now I lead learning and development for Nagarro. All it took was expressing an interest in working at an organizational level with people and encouraging them to upgrade their skills; and in no time the transition was complete. I am now enthusiastically exploring a new territory, completely empowered to handle an extremely important facet of our growth strategy – organization wide skill upgrade.
Conventionally, in most organizations, transition within functions or verticals is not common, and even if such transitions are possible, moving from sales or delivery roles to people operations is a rare occurrence. At Nagarro, transitions similar to these are not only encouraged but also considered vital to our growth.
Nagarro has been and always will be an organization that takes pride in its people being a key differentiator in a highly commoditized IT services space. One of the many ways in which we have been able to distinguish ourselves is through a constant focus on learning. This focus on skilling and reskilling is not by accident. Our chief mentor and Nagarro co-founder, Manmohan Gupta, was also the founder-partner of a leading educational institution in India, Vidya Mandir Classes. During his stint as head of Nagarro HR, he laid a strong foundation for an effective skilling program within Nagarro. From the beginning, the intent was to not just be a training provider, but to provide multiple platforms for people to upskill themselves and perform better at their jobs as well as in their lives. This thought process and philosophy has been the genesis of Nagarro University – an in-house learning platform that has been evolving and improving constantly and drives all learning and development activities within Nagarro.
No wonder then that one of our taglines reads, "The Brightest Minds". This aspirational feat is pursued by hiring some of the best people and exposing them to cutting edge work while providing them the platforms and tools necessary for continuous learning. On an average, a Nagarro colleague spends over 100 hours on learning new skills annually. This is essential, considering that most of our work is not cookie cutter application development or maintenance; instead it is about solving mission-critical and complex technology and business problems for our clients.
Having been a consumer of learning and development programs in the past, I felt my biggest challenge would be to create new programs and market them aggressively to get people interested. However, I was surprised when I saw a phenomenal response to the programs. Registrations were closed within 30 minutes for every new program that was introduced - be it in soft skills, technology or life skills. With minimal marketing, our online technology content gets thousands of hours of viewership every month, with upwards of 5 hours of viewing per user. Every year, close to 60% of our colleagues raise requests for up-skilling in various areas.
These numbers have not just impressed me but also awakened me and my team to the complexity of the tasks before us. Skill enhancement is an immense responsibility and the reason I haven't lost all my hair and sleep yet is because the university team and colleagues throughout the organization are extremely passionate about imparting knowledge. Our architects, for example, have helped design more than 200 in-house courses, constantly identifying the most prevalent technologies and creating structured pathways of learning for each one of them. Our senior management encourages and actively participates in these efforts through one-on-one or group sessions, helping people understand new technologies, processes, delivery skills and company culture.
While we have an extremely smart set of people within the organization, we don't shy away from soliciting help from external sources where required. External trainings often give us a wider perspective and an external viewpoint is always valuable. We have had product heads, researchers, architects, academicians, HR professionals and senior executives from outside Nagarro work with us to help us augment our learning in diverse areas such as leadership sessions, transformational programs, and technology awareness to agile focused trainings.
The Nagarro University team is now planning to focus on developing personalized learning experiences, using data-driven insights and feedback loops to increase sustained adoption. Additionally, curating and creating content across the entire breadth of the learning spectrum to provide our colleagues a rich and rewarding learning experience is also high on the agenda. We are also working out measures to understand program effectiveness to ensure we keep iterating our programs. Our constant focus on improving our training program is with the intent to make Nagarro University an effective tool for transformation, instead of trainings being simply yet another routine target to achieve.
I am extremely excited about the path we are taking as an organization. Our ability to constantly adapt to the dynamic business and technology needs of our clients is fueled by seamless platforms for learning. This has and always will be our key source of strength.
"Learning never exhausts the mind" said Leonardo da Vinci and as Nagarro blitzes to new heights, we intend to follow every bit of this sage advice.
Or check these related articles