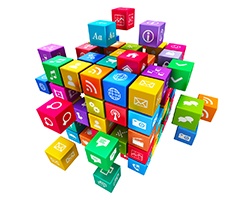 Enterprise app stores seem to be the next big thing in corporate IT. According to Gartner, 25 percent of enterprises will have an enterprise app store for managing corporate-sanctioned apps on PCs and mobile devices by 2017. This trend is being attributed to the explosive rise in mobile devices and the subsequent integration of these devices with enterprise IT. MAM (Mobile Application Management) and BYOD (Bring Your Own Device) seem to be catalyzing this change by providing a company's IT department the ability to manage and secure apps for employees to download. This enables employees to get more real work done on their smartphone & tablets.
This change, however, is not so much about technology or management. It is rather an acknowledgement of users' increasing say in how enterprise IT should be delivered to them and what their experience should be. In short, the essential difference between traditional enterprise IT technology delivery mechanism and the new generation enterprise app stores boils down to end users' experience with it. This experience is not limited to the narrow sense of the word, that is, aesthetics and navigation, but rather considers it holistically.
Let us try and understand this new phenomenon, so as to have an effective enterprise app store journey.
Lessons from Consumer App Stores
It is no secret that much of this newfound power of the user is directly influenced by their experience of the consumer apps and app marketplaces, be it from Apple app store or Google Play. This has not just helped the users explore what is possible, it has also busted the myths that users are 'afraid' of new technologies and are 'resistant to change'. Also, it is not just the younger lot, which is experimenting with the new apps! In short, the mobile devices and consumer app marketplaces have brought in a new era of change, which has extended the consumer's expectations from enterprise IT as well.
The essential lessons that consumer app marketplaces have taught us are:
Give control to the users
Users should be able to install or uninstall an app as and when they want it. The onboarding should not require any training.
Give them the options
Give users multiple applications for any application type, that will give them options to select the one that they like best.
Let them discover


Let the users look for an app when they face a problem. This makes the the app seem as a solution rather than a necessity dictated by IT. This is a state of pull not push.
Let it be social
Let users rate and review apps. Also, allow them to view how other users find the app.
CIOs should clearly acknowledge this change in employee expectations from corporate IT and leverage the opportunity to bring in proactive changes in the way enterprise apps are designed, delivered, and managed by them.
After all, enterprise IT departments should not be seen by the users as a necessary evil but as trusted and friendly partners who help them achieve their professional goals.