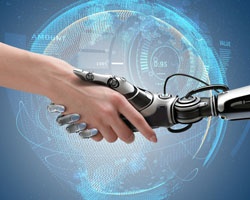 Technology advancement and rapid demand of digital services has created a space for robo advisors or automated advisory services. Robo advisors are web-based advisory services that use algorithms to allocate a client's investments according to his or her investment objectives and risk tolerance. Some of these robo advisors are able to use information from the CRM tools. They require minimal manual intervention and are mostly self-service.
These online tools, typically, ask a few sets of questions about client's financials, goals and risk tolerance level. The answers are run through an analytics system which then recommends various investment choices that best suit a given client. In addition, such tools can provide portfolio performance data, personal goal tracking or expense tracking and, online net worth statements anytime and anywhere. At the same time, these tools can keep clients' data in a safe vault, do data aggregation and, provide market trends and live data. To top it all, these robo advisors charge less fee compared to traditional wealth management firms.
The growing popularity of robo wealth advisor is disrupting traditional wealth management. According to Cerulli Associates Inc., more than one-third of the U.S. financial advisors are planning to retire from the Industry within the next 10 years with 32% of the advisors finding it difficult to find a successor . Recent reports show that, collectively, robo advisors directly managed about $19 billion in the last year. Betterment, the largest and the fastest growing automated investing service, today announced the close of a $60 million round of growth funding . Another well-known research firm, MyPrivatebanking Research, estimates that global Assets under Management (AuM) of the robo advisor services will reach $20 billion by the end of 2015. The global AuM of robo advisors is forecasted to grow to an estimated $450 billion by 2020.
The following section describes five ways in which the traditional wealth advisors and robo wealth advisors differ
| | Wealth Advisors | Robo Wealth Advisor | Winner |
| --- | --- | --- | --- |
| Price | Charge 1.31% average fee | Charge 0.15%-0.35% fee on average | Robo Wealth Advisor |
| Convenience | The investor needs to interact with wealth advisors | The investor can access robo advisors anytime, anywhere. | Robo Wealth Advisor |
| Accountability | A wealth advisor's strength is their ability to translate an investor's dream into a dollar figure, and to create a plan to achieve that. | A robo advisor takes the information from investor and formulates a plan based on a set algorithm. The investor's financial future is rarely focused upon. | Wealth Advisors |
| Effectiveness | Wealth advisors have the perspective and context to adjust investments to investor's need | Robo advisors offer advice based on a predefined algorithm, and may fail in adverse conditions. | Wealth Advisors |
| Consistency and Objectivity | Wealth advisors provide advice based on their own experience and expertise. Therefore, the advice varies drastically from one advisor to another | A robo advisor provide advice via an algorithm. The difference between two robo advisors, thus, will be limited to the variation in their underlying algorithms. | Robo Wealth Advisor |
Though, robo advisors have an edge over the traditional advisors, yet they are not outfitted to provide very detailed financial planning services, which the traditional advisory firms can provide. Their pre-set algorithms sometimes fail to help investors get through periods of market volatility because that is a systematic risk and hard to predict. As this technology evolves further by the day, the wealth advisors have to remain on the cutting edge to survive and remain competitive. For example, Vanguard, a leading wealth management firm, recently introduced Personal Advisor Service, a collaborative investment management advice tool to exploit digital technology and to bring tailored advice from a financial advisor to millions of people at lower prices, that is, an annual fee of only 0.3% of a client's managed assets.
The above discussion makes it clear that robo advisors cannot replace financial advisors, but can help reduce manual effort and bring transparency and, accessibility. It is a sophisticated tool that can be used by the financial advisors to do their job easily in the same manner as physicians uses a stethoscope.