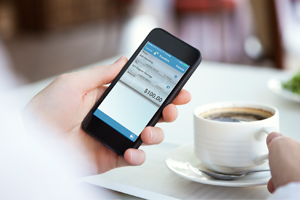 Mobile imaging technology is one of many new innovations improving the customer experience in retail banking. We've all seen how "Remote Deposit Capture" (RDC) is growing in adoption, with mobile photos snapped of checks, then sent via smartphone for deposit.

Now we're seeing the next advancement in "Photo Bill Payment" apps, helping consumers make payments to companies that only issue hard-copy bills and invoices. The idea is straightforward: take a mobile photo of the invoice or bill, and let the technology scan the bill's image to collect critical information, such as name and address of vendor, payment amount, and date due. The mobile app will then pay the bill electronically from the user's account.
Mobile imaging providers like Mitek Systems have invested heavily in these capabilities, supporting banks and credit unions in offering their own photo bill payment services. For the past year City Bank Texas has offered photo bill pay to its customers, and several others have jumped on the bandwagon as well, including US Bank and BBVA Compass.
Why the interest in photo bill pay? And conversely, what are the arguments against its adoption?
PROS: Banks like BBVA Compass, US Bank, and City Bank Texas reason that …
Customers will enjoy the ease of photo bill payment, by-passing the drudgery of entering all that information by hand into an electronic payment system.
The volume of hard-copy bills requiring payment each month is quite large, justifying the effort of supporting photo bill pay systems.
Ultimately, participating banks see mobile photo bill pay as a natural extension of mobile capabilities that modern customers will simply expect
CONS: On the other side of the issue, however, are those who are more skeptical about the significance of photo bill payment, seeing less appeal for photo bill payment than for remote deposit capture.
One argument is the technology for photo bill pay will be more challenging and expensive, with more exceptions to rectify, given that the fields of information on hard copy bills are more randomly organized than on checks.
Secondly, customers may possess less intrinsic motivation regarding a payment mechanism that drains money away from their accounts, as opposed to deposit functionality that builds them up.
Third, naysayers point out that currently only a small number of consumers are utilizing bill pay services, and thus they anticipate only a small number of converts to photo bill pay. They contend the costs of supporting photo bill pay will not be justified by the return on investment.(Source: cutimes.com, 2/19/14
Whatever the outcome of this debate, the facts are clear on this much: The creation of photo bill payment technology has opened up new opportunities for banking customers. Time will tell whether adoption will be lukewarm or widespread. Currently it appears that the tech-savvy generation in their 20s and early 30s are the most ready to start using this service, with the highest engagement rates so far. But with the growing adoption rates of mobile in our daily lives, it may be just a matter of time before it catches up with the rest of the population
This does, however, lead to the question most on the mind of CIOs and IT Directors for retail banking….Is your bank providing the types of financial services that will engage and satisfy today's customers? And in ways that are able to engage the existing customers and attract new ones? Consumers expect more from retail banks than ever before. Now is the time to take stock of your competition, and create enhanced banking services for your own customers, before they look elsewhere.
So, which innovations are you finding will have the most impact for your customers? And which way do you think photo bill payment is destined to go – broad or limited adoption?