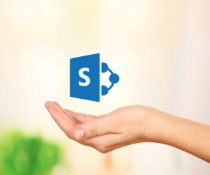 Gartner estimates that more than half of ECM projects fail because inadequate time was spent on planning and vendor selection. While feature sets alone may seem compelling, some solutions fail to deliver what their vendors promise.

Microsoft SharePoint 2013 is one of the leading ECM platforms on the market. Its enterprise-grade capabilities and ease of use drive higher end user engagement and greater business value than many alternatives. As the graphic below indicates, there are several reasons why leading enterprises trust SharePoint 2013 to meet their ECM requirements: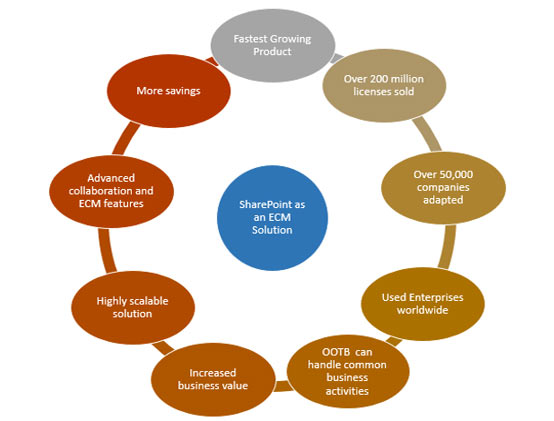 According to IDC, the worldwide market for ECM software grew by 8.7% between 2012 and 2013, to a revenue total of $5.8 billion worldwide. In the same time frame, Microsoft's SharePoint revenues grew 9.9%.
As the table below shows, there are core capabilities that ECM solutions generally provide. SharePoint 2013 adds other features that make it more comprehensive than some other solutions. It also includes personalization, social, and document collaboration features that are specifically designed to improve user engagement.
| Must-Have ECM Features | Additional SharePoint 2013 Enterprise Features | SharePoint 2013 Features that Improve User Engagement |
| --- | --- | --- |
| Must-Have ECM Features | Record management | Personalized pages/profiles |
| Document Persistence | E-Discovery and legal process capabilities | Comments/notes |
| Document Versioning | E-Discovery across mailboxes | Shared documents |
| Document security | Personalized Dashboards | Instant messaging for shared documents discussions |
| Check-in/Check-out of documents | Archiving | |
| Document Sets | Retention Policies | |
| Taxonomy | Retention Policies | |
| Search | In-place record management | |
| Metadata | Electronic Forms | |
| Content auditing | Record Declaration | |
| Content auditing | Disposition of sites | |
| | Share Drive features | |
SharePoint 2013 is a popular choice among enterprises because it requires less effort to use and deploy, costs less to implement and maintain, and provides easier integration with Microsoft enterprise environments than some competitive options
Why Enterprises Move to SharePoint
Many enterprises have been using other ECM solutions for a decade or more. Most of those businesses will not replace their existing system(s) with SharePoint 2013 based on features alone. Instead, they will adopt SharePoint because it delivers greater value for the money, meaning :
It is easy for employees to use.
It is comparatively easy to deploy.
It integrates easily into Microsoft enterprise environments.
It consistently provides fast access to the information users seek.
It provides a more comprehensive set of enterprise capabilities than most other solutions.
It lowers Total Cost of Ownership (TCO), including lower maintenance and licensing costs.
Support is easier because there is a vibrant community of SharePoint consultants.
How to Ensure a Successful SharePoint Implementation
Many organizations make the mistake of purchasing ECM systems based on features rather than on what the business needs to accomplish its goals. This is as true of SharePoint as any other ECM solution.
To ensure that SharePoint 2013 meets the needs of the business and end users (both of which are necessary for a successful implementation) organizations concerned about cost containment and overall solution effectiveness should follow these best practices:
Identify the particular business need and define clear objectives around that.
Remember to interview users who will impact the success of the initiative. (If it is a line-of-business implementation, choose users from that group; if it's an enterprise-wide implementation involve users across the enterprise.).
Consider governance planning that defines what roles the different types of users will play at which stage(s) of the project.
Tailor the platform according to the defined objectives. (In our experience 75% of requirements can be implemented using out-of-the box features.).
Phase the implementation of functionality based on the time it requires to implement. That way, business users can see what has been implemented in demos and you can set their expectations about the rollout generally. You can also use the feedback in each phase to fine-tune the implementation of the next phase. When you phase an implementation, it is easier to achieve and demonstrate milestones, and achieve greater overall project visibility.
Deploy SharePoint with scalability in mind.
Ensure the successful delivery of the solution in production through cooperative ownership (business, line-of-business, and user buy-in).
As Gartner noted, planning is an important element of a successful ECM solution implementation. With SharePoint, it is important to set up the platform in such a way that it can scale and perform and then plan for the ECM-specific features and structure. Like with any ECM system, the planning will include metadata, security, and governance and other issues necessary for a successful enterprise-grade rollout.
Conclusion
If you are thinking about moving to SharePoint 2013 or are migrating from another version of SharePoint to SharePoint 2013, there are a few things you can do to ensure the success of your project. First, understand the business requirements – that is, what the ECM system needs to achieve to help the business become more productive, efficient, and competitive. Second, compare product capabilities with the organization's current and future goals so you are confident the system can support the business as it grows and evolves. Get stakeholders and users involved to ensure that expectations are met and to avoid unnecessary rework. Finally, stage the rollout so you can achieve a series of small successes quickly and take advantage of user feedback as the project unfolds. While all organizations are unique, SharePoint 2013 provides most of the functionality enterprises need out-of-the box. You can save time and money by focusing your efforts on planning, governance, thoughtful implementation, and the few things that need customization and enhancement.
Are you using SharePoint as an ECM system? If so or if not, please leave a comment and share your experience.
Also, if you're interested in learning about how your organization can capitalize on ECM and portal trends using SharePoint, download our free white paper.