Nagarro's SAP team members took part in the SAP TechEd 2013 held in Bangalore, from December 11 – 13, 2013. The three day event hosted by SAP, was attended by over 6000 members and saw participation from over 400 companies.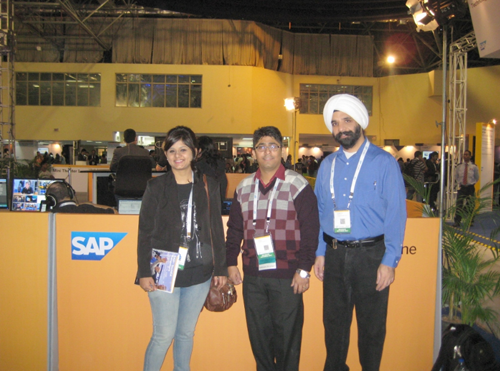 SAP TechEd, one of the largest conferences for SAP customers and a yearly event, is held across four major regions of the world, which includes USA, Europe, China and India. SAP TechEd 2013 at Bangalore began with the keynote address by Vishal Sikka, Member of the Executive SAP Board. Vishal spoke about the importance of innovation and how customers need to adapt to the changing face of technology. Anirban Dey, Managing Director SAP Labs India also presented the vision and where the company is headed in the future. One key take away from both the presentations was the constant need for companies to be able to re-invent themselves, to meet customer demands.
There were over 300 knowledge sharing sessions that were organized on latest cutting edge SAP technologies such as NetWeaver, HANA, Design Studios, Lumira, River & Cloud Integration. Nagarro team got a chance to interact with other SAP customers and learn about various ways that SAP is being leveraged to developed innovative solutions.
To add to the excitement of participants, a fun filled Demo Jam session was also organized where six short listed teams got a chance to showcase their talent and product they have developed. Special guest Sourav Ganguly, former Indian Cricket Captain, addressed the audience and pointed out the importance of focus and passion towards work that helps teams grow and succeed in any organization.