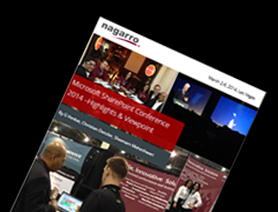 The recently concluded Microsoft SharePoint Conference 2014 was exciting, ground-breaking, and satisfying. It was for the first time that Nagarro was a sponsor and exhibiting at the conference. We received good traffic at our booth and met some very interesting prospects. Nagarro also showcased its SharePoint assessment tool called Share Assess which received a very positive response from the visitors. We also used the event to explore opportunities for partnerships with other vendors in this space.
Participating in several Executive Roundtable Discussions gave us the opportunity to hear leaders from various industry verticals voice their opinion on the new features as well as the challenges facing their existing SharePoint strategy and investments. Integration, Identity Management, User Adoption and Migration to SharePoint 2013 and Office 365 remain the key challenges for most companies.
No major product release was the cornerstone of this year's conference, but Microsoft showed a clear commitment and a broad set of enhancements towards a more open, cloud focused product strategy with its key services – Office 365 and Yammer.
"Work like a network" was the key message from the keynote.
Some of the main announcements are:
Enterprise Social is Yammer: Instead of just creating an app part to surface Yammer's social feed, Microsoft has gone ahead to bake Yammer's social features throughout Office 365 and SharePoint experience.
Collecting information with the Office Graph – Surfacing it with Oslo: Microsoft unveiled the Office Graph which can be considered as an enterprise equivalent of your social graph. They also showcase a Pinterest look-alike app called "Oslo" which leverages Office graph to bring personalized content discovery to users.
Video Portal: Microsoft also announced a new video portal to provide a "YouTube for the Enterprise" as part of Azure Media which closes a missing link in their rich-media content management capabilities.
OneDrive for Business:

Microsoft is not only rebranding its SkyDrive Pro but also beefing it up to compete effectively with Dropbox, Box, Google Drive and the like. OneDrive's tight integration with Outlook, SharePoint and other Office 365 products will mean a seamless experience in uploading and downloading documents for users.
Opening up to the omni-channel reality:

The announcement of a free and open-sourced SDK for Android Apps was a key highlight to open up and support new network based collaboration scenarios and non-Microsoft platforms. Microsoft also announced a new robust APIs for Office 365 to make building solutions with contextual Apps. This enables Office 365 to be a real option, as an enterprise platform with integration needs.
To learn more about the conference highlights and how it would impact companies' SharePoint investments in the near future, you could download the complete summary paper here.