A lot has been said about life after COVID-19. What will 'the new normal' look like, after this pandemic is behind us? It is important to understand that this new normal will be very different from the previous status quo.
With the pandemic setting in, working remotely has been a norm, at least in the IT industry. As per a report, IT Giant TCS has announced a new, distributed working model which would support 75% of its employees working remotely.
A focused interview was conducted with the managers of different organizations who are actively involved in managing remote teams. They were asked to share their experiences of working remotely, and the top two things they'd like to address or change, to ease their work.
The results could be broadly categorized into three categories -
> Care for the client (Changes relevant to the client)
> Care for the team (Changes relevant to the team)
> Care for self (Changes relevant for the managers)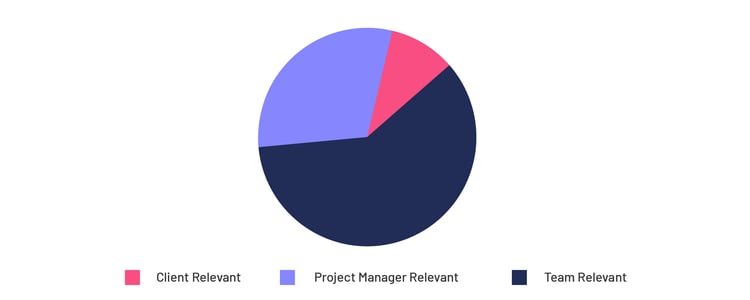 A pie-chart depicting priorities of leaders
After a thorough analysis of the above, some pro-tips were identified as helpful to those falling in the blue (team relevant) and violet (project manager relevant) sectors. Let us have a quick look at them.

Be more receptive
Not just being mentally prepared but also welcoming about working remotely is the need of the hour. Looking at the situation in a bit selfish way might help.
Selfish how you will ask?! Now that most of us are working from home for more than a month, we know that it is, but everything that we thought of during the pre-pandemic times!
Working from home gives us the flexibility to work at our pace (of course, keeping the timelines of the task in mind) and to manage chores/personal work. Accepting this style of working would also help us work out ways to be as productive as possible. Hence, it is benefitting us the most.
But we all know that already. Don't we?!
But imbibing those are still at a surface level. There must be a conscious effort to make it work. A simple yet effective way to make it work is to follow what I call 'The quintuplet A's principle'. Here's what this means: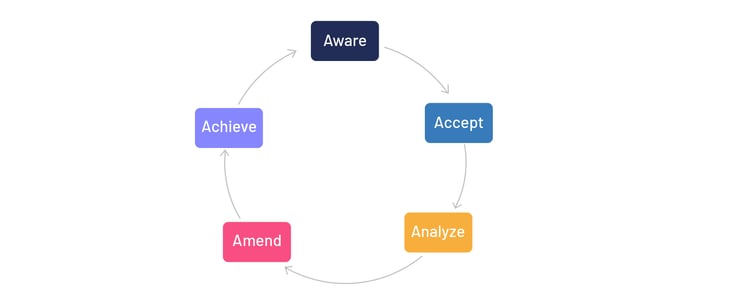 The quintuplet A' s principle
Keep yourself Aware>> Accept this change>> Analyze what can you do to make it easy>> make Amends to make it work>> Achieve the excellence and witness your team acing it up!
Explore new ways of working
Whether you are managing a team of 6 members (or more) or a distributed team, be open to adopting new ways of working and continue any existing ones which work in favor of the team. As a manager, when you give freedom to a team's working style, it builds their confidence in you. The team members also feel confident enough to take risks and might not hesitate to go that extra mile. Organizational behavior scientist Amy Edmondson termed this as 'psychological safety'– a shared belief held by members that the team is safe for interpersonal risk-taking.
Experts are urging to embrace agile. Atlassian agile coach Dan Radigan reckons the distributed teams and remote offices aren't going away. They can be part of a thriving agile culture. In his article, he provides some insightful tips on being agile remotely. He recommends that various tools help bridge gaps within the team.
You can try Microsoft Whiteboard, Teams, Miro, Slack, Calendly (online appointment scheduling tool), etc. A huge repository of these tools is available online, ready to be explored!
Speak out loud
Overcommunicate. "Leaders don't need to just communicate, but to overcommunicate, the new culture, so it becomes intrinsically established within both businesses." - Marty Parker, CEO, Waterstone Human Capital
Amidst managing large enterprise projects or large/small distributed teams, it's normal for things to go haywire at times. Customer anxiety levels are at an all-time high and they want to communicate from all channels. It is critical to ensure that whatever the customer wants to say is audible from most channels. With the ongoing lockdown, customer care centres are shut, meaning that the telephonic logging of tickets, which was one way for the customer to feel he is heard, is shut too. Hence, enabling new mediums is a must.
As a PM, there is a critical need to reduce the ripple effect this may have on the team and the client. The following tips can help -
Acknowledge the tickets at the earliest. Setting up metrics like First Response Time becomes critical at such times to help pacify the customers' high anxiety levels.
As Jamie Edwards, COO & Co-founder of Kayako puts it,
"First reply time is more important than overall reply times because it's an acknowledgement to the customer that their issue is being looked into."
Echo the reality in such cases. Tools like Slack, WhatsApp groups, along with formal email communications, must be encouraged to communicate effectively or broadcast the issues to keep the client aware of the situation.
Broadcasting the issue to the client could be a good strategy in such times so that the client understands that the team is proactively monitoring the issues.
The analysis may take long. The fix for the issue might take longer. In such a situation, prefer stop-gapping! Yes, you heard that right. Find a temporary fix to the solution and inform the client, with an assurance to find a permanent fix within a given ETC (Expected Time of Completion).
Triage and implement. This would only be needed in case you have multiple priority tickets in the queue. It might be a good idea to prioritize the issues.
A common understanding between the client and the team must be established to deploy the code, considering the different time zones involved and the off-business hours.
It is a good idea to keep the customer informed about the daily progress. Communicating with reasons for de-prioritizing or re-prioritizing an issue or deployment will help in making the process streamlined.
Do not hesitate to communicate with the customer. As stated above, in the current setup of remote working, over-communication is almost a must-do.

Tips for handling tickets
It would be best if, as a manager, you can establish a framework for SOS situations that would help the above process run effortlessly.
Do not forget to have fun
Everyone should also get to have fun, as it would also help make your work easier, as a manager.
When done in the right way, bonding within the teammates is the easiest. Top tech firms are trying out different ways to make their employees get involved within the team to perform such activities.
Here are some quick tips:
Have calls with no agendas
Have calls with agenda – where the agenda is anything but work!
Maybe go a bit overboard and try having a DDS - Destressing Drinking Session!
As they say, "When people are not having fun, they seldom produce good work!"
All said and done, we do know that it could get a tad bit taxing to adapt to this new normal. But the sooner we respond to this change, the better it is! It's all in the mind - as George Bernard Shaw put it aptly, "Those who cannot change their minds cannot change!"
Let's strive to make this work for us, we've got this!