The COVID-19 pandemic has compelled people to manage their finances better. To capitalize on this trend, banks and financial institutions are providing customers with new tools. But what are the essential elements that make a personal financial application effective?
According to an Economic Times survey, COVID-19 has made consumers cautious about their spending pattern, making them more likely to track their expenses. The study found that around 76% of the respondents in India (62% worldwide) said that the financial effect of the pandemic has left them with no choice but to track their expenditure.
The COVID-19 lockdown and social distancing practices have crippled most industries, leaving many people unemployed. This has led to people realizing the virtues of prudent financial management. While the pandemic-sparked recession has caused financial hardships in the short term, it should also spur changes in consumer behavior (especially in personal finance) in the long term. Financial services that understand this imminent shift and present their audiences with the right ideas will be able to emerge stronger from this crisis by establishing a strong connection with their customers.
This is why, it is quite helpful and relevant to understand personal finance management in greater detail.
Importance of personal finance management
At an individual level, financial planning means well thought-out budgeting as a way to regulate your money towards meeting your life objectives such as buying a house, saving for retirement, children's education, etc.
The importance of personal finance management is reflected in all areas of personal and professional life. Every individual (regardless of financial capacity) must understand personal finance management to capitalize on the assets and achieve all future goals.
A Financial Wellness Survey by PwC suggests that the top financial concern:
for Baby Boomers (52%) is not being able to take voluntary retirement
for Gen X (55%) and Millennials (62%) is not having enough emergency savings for unexpected expenses
Further, the survey shows that:
49% of the respondents find it difficult to meet monthly household expenses on time
59% said that financial or money matters cause them the most stress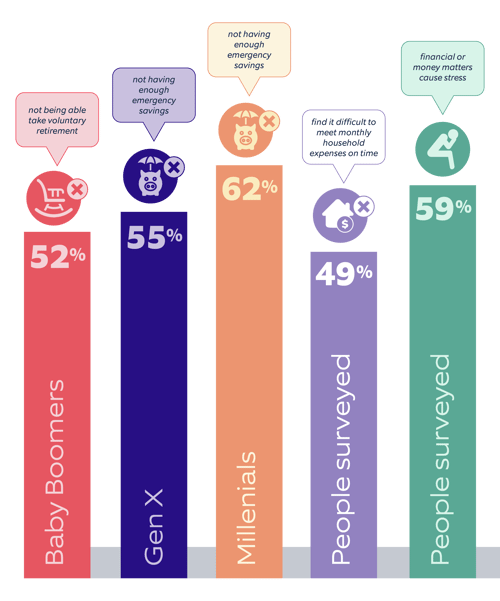 Results of the Financial Wellness Survey by PwC
Personal finance management app
As is implicit, a personal finance management application is a tool to manage finances better. It integrates the financial information of a client and segregates this data to deliver an insightful result for better financial planning. This app can take different financial data as input information and can be help with bank records management, budget management, investment tracking, portfolio management, etc.
The need for a personal finance management application
A personal finance management application helps in:
Managing finances by tracking income and expenses
Planning a budget and keep track of savings
Making payments for various types of services
Making money through savings and investments
Increasing cash flow through tax planning, prudent spending, and careful budgeting
Ensuring family financial security
Checking credit score
According to Allied market research, the worldwide personal finance software market size was valued at $1,024.35 million in 2019. By 2027, it is projected to reach $1,576.86 million, growing at a CAGR of 5.7% from 2020 to 2027.
As per an investigation by Attest, the larger part of populace under 30 in the UK uses personal finance applications. Most people use these apps either in 10 days or possibly once a week every month.
Types of personal finance management software
1. Manual-entry personal accounting software
These are the simplest apps for tracking expenses and income and require manual entry of the spending data. Manual-entry apps have some useful features such as expense categories, expense analyzer, and planning.
Advantages:
More secure (as bank cards are not connected to these applications)
Simple (and therefore, less expensive) personal finance app development cycle
More command over the data (transactions)
Disadvantages:
Human errors (among other things, a person may be too lazy to enter the data manually)
Significant time costs
No data synchronization
2. Linked personal finance software
These apps are more advanced, and users need to connect their bank cards to their profiles. The app automatically adds and analyzes every transaction.
Advantages:
Ease of use - an application does not force the user to perform unnecessary actions
High efficiency
Automatic transaction updates
Disadvantages:
When we are dealing with money, security becomes a primary concern
The task to build a complex/linked personal finance app is relatively complicated and expensive
Key features of a linked personal finance application
Features primarily affect the cost of an application. Here are the key features that most people expect from a personal finance app:
Account aggregation – Personal finance applications should include all banking accounts, debit cards, credit cards, loans, etc. to ensure that it becomes a one-stop app for financial management solutions. As it deals with sensitive information, the application must have more protective layers to ensure data security.
Alerts and notifications – This feature alerts the users to make payments on time and saves them from any penalties that might be incurred due to any non-compliance or non-payment.
Categories for expenses – Expenditure categories help users to understand and organize their spending in a better way. These built-in categories facilitate budget planning by categorizing expenses under various sections like "food", "travel", etc.
Real-time updates – Real-time updates help users track their spending. Personal financial apps can automatically add new transactions and update account balance in real-time, thus avoiding the need for manual entry.
Tracking expenses – Expense tracking is at the core of any personal money management application. It helps users to monitor their expenses and keep them under control. While manual entry applications rely more on users to make the updates, linked applications can automatically add all transactions and parse messages from banks.
Credit score – Including the credit score as a feature is essential when it comes to crucial purchase decisions such as buying a house or taking a huge loan. The credit score also becomes a crucial factor when it comes to making any other major spending decisions.
Budget planning – Adding a budget planning feature can help win more users and can make the app distinguish itself from many others. Users can set per day and per month financial budgets, which can help them to save cash and plan big purchases. Daily, weekly, monthly, and yearly reports (with graphics) are a big plus for users who are on the lookout for a helpful and intuitive personal money management app.
Reports and statistics – This feature provides exhaustive financial statistics and detailed analytical reports for a specified period. With financial applications, clients can analyze the amount spent on various stores (or by their family members).
Multi-currency and region support – It is good to have a feature for online currency conversion and region support in the app for frequent travelers.
Import & export data – This feature helps users import or export their financial data, if they want to switch apps without losing any data.
Synchronization – This feature helps users keep their finances up-to-date by syncing across desktop, web, and mobile.
Artificial intelligence – To align with user expenses, personal finance apps can use artificial intelligence. AI analyzes large volumes of data and converts them into meaningful insights. AI algorithms enable advanced features like smart savings.
Additional financial features for the app:
Shared expense tracking for couples
Account reconciliation
Multiple savings
Ability to make payments on templates
Regular payment calendar
Backup on Google Drive or Dropbox
Elements that make a personal finance management app effective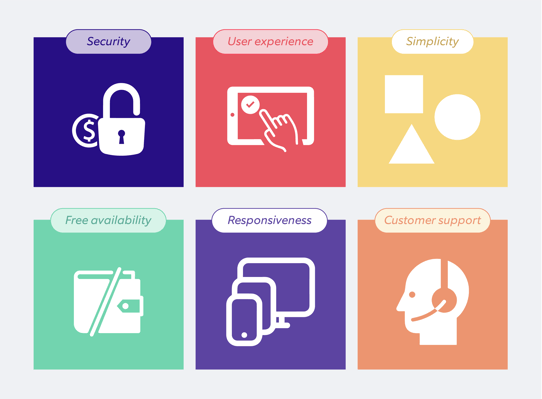 Security – Security is the most crucial element of any personal finance application. Users must feel assured that their shared information is protected and safe, through proper online security measures.
User experience – The app interface must be user-friendly. A UI/UX expert can be looped in to make a monetary application that attracts clients with its design. UI/UX trends are changing, and with time, the app design should also change.
Simplicity – Keeping things simple is the crux when creating a personal finance app. As a rule of thumb, 3 clicks (or taps) should be sufficient to lead the client to the results (such as if the client wants to check the credit score).
Cost-free availability – Making an application available for free catches the eye of the users and encourages them to try it out. Pay and use feature can be added later.
Responsiveness – Since a personal finance application comprises several integrations, the response time should be quick enough for the user to not lose interest in using the app.
Customer support – Users always appreciate the availability of round-the-clock customer support that can help them solve any issues that they might face at any time.
Final thoughts
In a nutshell, each person needs to understand the significance of financial planning and the advantages of a personal finance application to ensure a financially secure life.
The COVID-19 pandemic has given an impetus to online and mobile banking among end-users, thus providing high growth potential for the personal finance software market. Many banks and fintech industries have presented various attractive banking approaches to assist consumers to take on personal finance software, thereby creating several opportunities for market expansion.