What has been the most challenging task for you during this Corona outbreak?
For me, it has undoubtedly been about working from home full-time, with my two kids around. With the outbreak of COVID-19, people around the world are locked up in their homes. And working parents, like me, are trying to strike a fine balance between their work and extremely bored kids. As any parent would vouch, taking care of children is a non-stop, round-the clock business and it's a constant juggle between keeping kids engaged and ourselves productive.
Some of us are dealing with infants, some with toddlers, some with two or three kids. As working parents in today's times, we are the modern-day fighters and survivors, who win a war everyday against time and multi-tasking activities. Which is why, thanks to our experiences, no one can beat us – parents – in generating innovative ideas! With this blog post, we bring to you a few parenting stories, shared by some of our colleagues from all across the globe – of course, along with the hacks that have helped them stay sane and find a balance between their professional and personal lives.
My house is a warzone!
Anuroop Paul, Business Consultant, India (Dad of a 4-year-old kid)
Let me describe a typical workday: Imagine a situation, where you have a call scheduled in the next 10 minutes and your kid wants more of papa-time. Should I be glad and make mama a little jealous or should I implore her to please take care of the munchkin as I have to take that urgent meeting? Then again, what if mama is working too and she is already in a call? Oh yes, I can settle the kid with the iPad and the preferred channel on YouTube Kids.I, as a working father, had never thought that I would so gladly look forward to a day when working from home would be replaceable with a day at your office desk. It is true! It seems that the possibilities are endless and just when you seem to challenge fate, it can spring up the wildest of surprises.
Alright, that buys me some time. With just five minutes left for the call to start, I scramble to get the charger and sit in a location without any disturbance or noise, and with a sufficiently strong Wi-Fi signal. Oh, did I forget to mention that my house is a warzone? That there are mines in the form of sharp toys, and water bottles with no lids on (because my kid has recently learned the ancient technique of rotation and loves to unscrew stuff). So, I secure a place and am finally seated – only to figure out that one of the mines has gone off! But, it's the call of duty and since we can't quit the warzone, I stay put.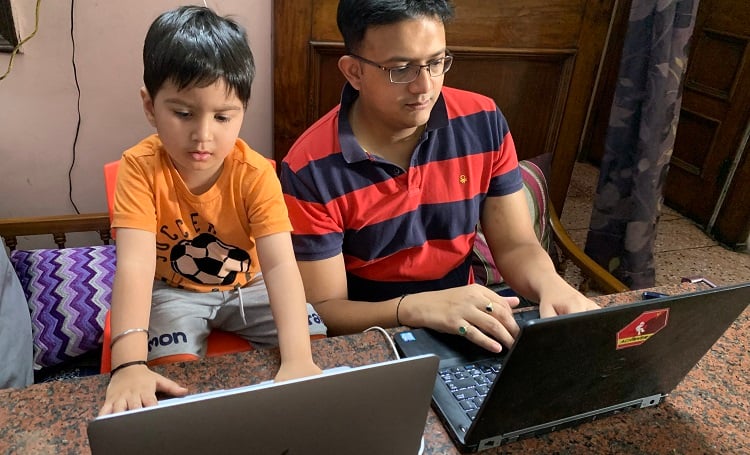 Mama gets off her call, comes in and reprimands that I am spoiling the kid's eyes. To which, I answer with hand gestures, as I am already speaking in the virtual meeting. After about an hour, the call ends. It's time now to negotiate with mama about who'll take care of the little one as she has another meeting in an hour and mine begins half an hour after hers.
This goes on till 6 pm (end of our working hours) and finally, the kid is relieved of gadgets and gets some parental pampering with the interest that once he is asleep, mama and papa can switch on their laptops and summarize the day's work before finally hitting the bed. Of course, another war awaits the next day.
Man, I so miss my desk!
Now, I think differently about prioritizing one's network!
Martin Hack, Global Head of Consulting, Germany (Dad of 2 kids)
On normal days, my wife leaves for work at 5 am and I get my boys, aged 12 and 14, ready for school that starts at 8 am. So, my work starts later and goes on during the evening. Funny thing is, I end up working in the kitchen, as my wife now occupies our home-office space.
Coming to how we manage remote working and kids together. Video conferences are a good idea, unless you have two extremely energetic boys playing Fortnite with their friends, and simultaneously watching YouTube plus listening to music on Alexa. Thanks to them, now I think differently about prioritizing one's network!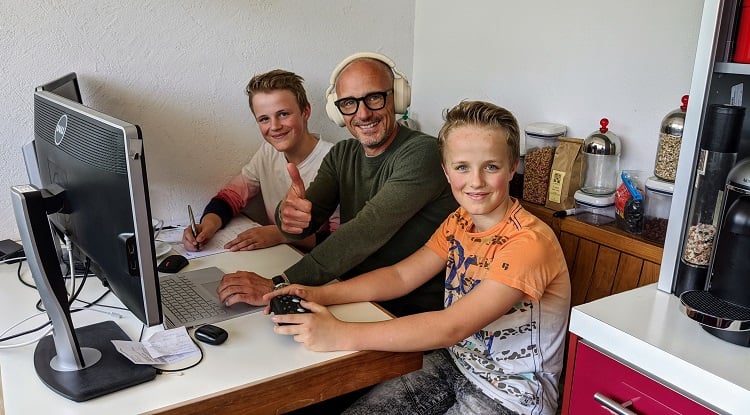 However, in my family, we use the agile approach (whatever the understanding is) to organize things, and everything that is not done goes to the backlog. To stay connected and for some extra family time with the kids, we play games via Skype with their grandparents (and I have to lock my computer then: two monitors can be extremely tempting). I am sure you parents will understand why I do that! 😊
Anyway, the atmosphere is good, and my kids are doing great as we are still allowed to go out (within the household members).
I ask kids to contribute to the household
Subha Dash, Global Accounts Director, Sweden (Mom of 2 kids)
Since the second week of March, the COVID-19 outbreak has taken much of our mind space and because of the Government guidelines, many of us are required to work from home. The web is suddenly abuzz with articles on effective remote working, tips on maximizing productivity for both work and home. At the same time, hundreds of memes are being created and circulated, depicting the perils of working from home.
Some say, it's a very productive phase; they've have been able to do so much more than before. Of course, some others talk about noisy kids in the background, the boundaries fading between an efficient workspace and the living room sofa, etc. Like a hung parliament, both sides have the numbers to support their claims! Some 'in-betweeners' like me are quite vulnerable, who feel overwhelmed and out of focus regarding their own space, the dynamics and demands of their current situation, and about finding and settling into that new rhythm. In a Corona-free world, after all, these months would be the busiest, with a lot of everything - travel, events, plans and goals.

So how am I adapting? Truth be told, even though it had not been easy in the beginning, as the days progressed, I can now proudly say that I am slowly getting the hang of it. Yes, it IS a big change, but all big changes need to be seen as a collection of small details. So here I am, trying to take this on a weekly basis, without thinking too much about the month(s) to come. Being precise, I am keeping things simple by following a few easy rules:
Planning the day: I plan my day, first thing in the morning and try to accomplish important/most of the tasks by lunch time.
Over communicating: Since the structured office atmosphere and casual chats at the coffee machine/lunchroom are definitely missed, we try to have impromptu virtual meetings and coffee breaks.
Stepping out at lunch hour with the kids for some fresh air: Though the kids spend most of the day in their virtual classrooms, they get some time during breaks. That's when they are required to 'contribute to the household' by doing small chores like emptying the dish washer, watering the plants, making a small meal/snack for themselves, etc.
Trying to maintain the work hours: Of course, while there is more flexibility now, with no commuting and it's easier than before working across time zones, I still use my work desk with an open laptop in the regular work hours.
Staying home, staying safe: Last but not the least, making sure that colleagues, friends and family across the globe are staying home, keeping well.
Of course, this too shall pass and when it does, I am sure we would be a stronger Nagarro, a bunch of even more resolute Nagarrians, raring to go. For now, it's time for a virtual Fika with the Nagarro Nordics team while my daughter enjoys her class break with a book on Audible.
Creative ideas should be interchanged with other parents
Susanne Fuchs-Dobler, Senior Consultant, Austria (Mom of 2 kids)
All parents working from home are facing a new and special situation at the moment. I have two children, aged 3 and 6. Our caretaking-network of day care and grandparents is shut down completely. Instead, we are now providing our parents with groceries and are running other errands for them. We have no homeschooling issue yet, but of course, the kids need attention, programs and variation. And a child of 3 years is in a kind of explorer-mode 😉.
We are still in a rather 'chaotic' mode, but day by day, the 'home schedule' gets clearer. From day one on, we start our day with the usual morning routine of breakfast, bathroom, getting dressed. Then, if the weather allows, the kids spend some time outside, often with their dad, and sometimes with me. We are lucky to have the chance to go out a bit; my kids can run around and play for a while. This gives me a window before noon for some calls and Teams sessions before lunch, and then settling the kids, especially the younger one for a nap. Depending on the mood later, I then work again in the afternoon or evening.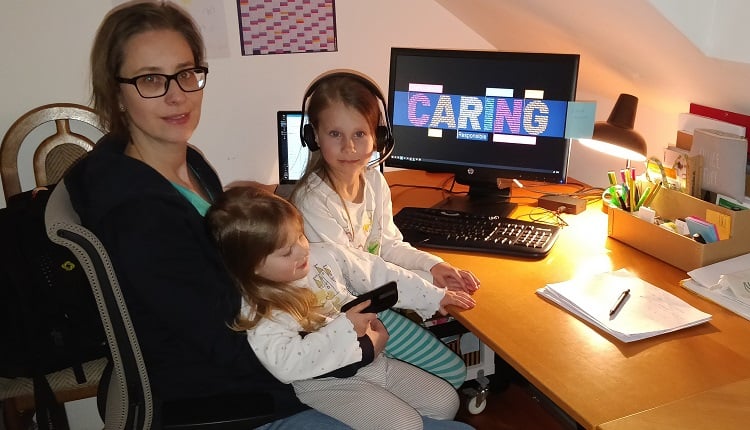 Taking calls is a real challenge. I assume it's an unwritten law throughout the world that as soon as mommy grabs her phone, the children need something urgently precisely then or hurt themselves or quarrel or break something or do all of that! While at the same time, being noisy and persistent. So, making longer calls is next to impossible, with them around. If there is no chance of rescheduling the call, I let them watch a video or film for that duration. That's my secret weapon at the moment, but it might wear off quickly!
Shorter calls and calls with colleagues are easier, since they know my situation and I can connect with them anytime in between.
I have not yet cracked a formula to deal with the situation. What we need:
Staying flexible, and finding a schedule for all family members. (I am still to work on that, but we are getting better)
Understanding partners and patient kids (both are possible from time to time, but cannot be planned in advance)
Enduring the current state and hoping for the best (as this way of being will continue)
Coming up with creative ideas and interchanging with other parents to learn from each other
So, these were some glimpses from the action-packed lives of our working parents. Never a dull moment there! We hope you enjoyed going through each account from all our working parents as much as we enjoyed putting all this together for you.
Gotta go now, my kid has woken up too! 😊
Stay healthy and safe! Stay positive and CARING!