While it's true that the Coronavirus outbreak hurt most industries, the opportunities for recovery for media and entertainment were many. In reality, OTT (Over The Top) platforms have been ruling the media and entertainment industry post-COVID. These platforms include apps for watching videos, listening to music or podcasts, taking online classes, and even attending religious ceremonies and gatherings remotely. If you think about it, you probably access multiple OTT platforms every day.
Here are some quick facts:
As the multi-device, internet-driven ecosystem grows, so do the opportunities for OTT. OTT entails Video on Demand (VOD) and live streaming – premieres, award shows, sports events, concerts, etc. The major OTT players like Netflix, YouTube, Hulu, and Amazon Prime Video have already implemented their monetization strategies. Before we talk about monetization strategies and how technology enables them, it can be helpful to understand the best practices for outsourcing OTT app development.
OTT monetization models
These are the primary OTT monetization models for content providers: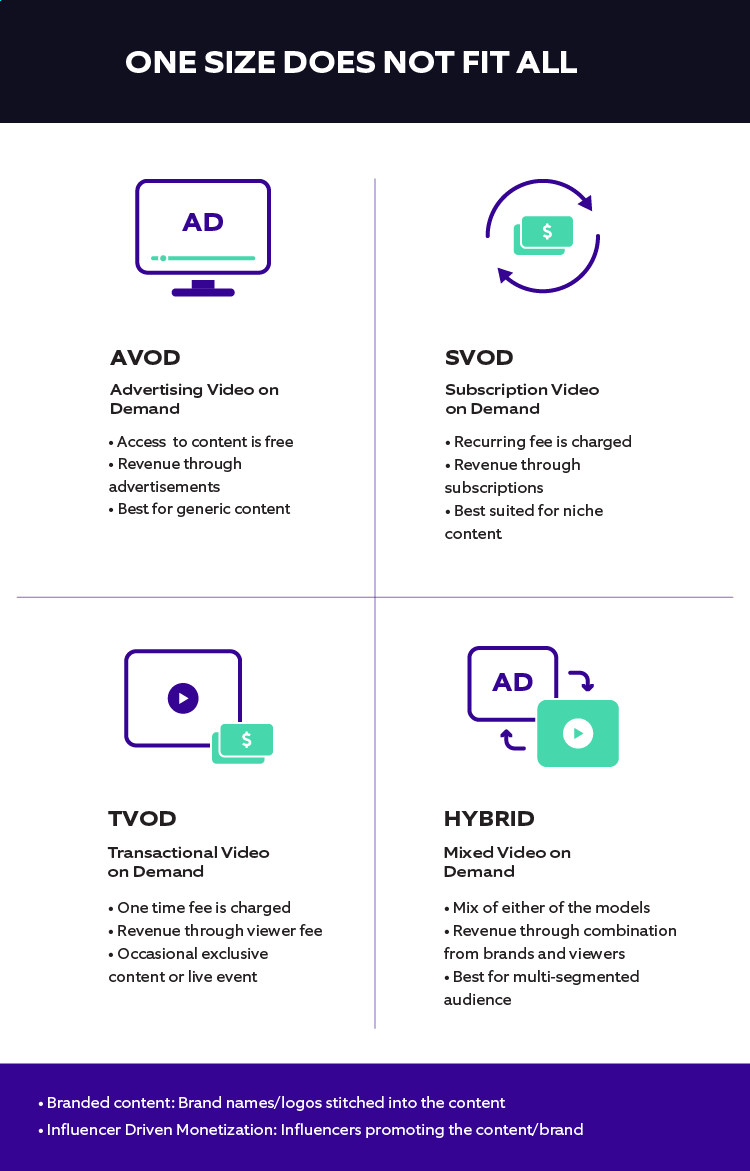 Ad-supported monetization (AVOD)
OTT is now entirely different from what it was five years ago. It serves the viewers and is a lucrative tool for brands, small businesses, and influencers. It provides a platform to advertise better, build a business, and reach a broader audience.
With the AVOD model, viewers can access content for free. OTT players can generate revenue by charging the advertisers to showcase their commercials on the platform.
This model works best when the audience is a mix of different segments and is ready to trade-off with advertisements to save the subscription cost.
The advertisements can be videos, tickers, or sponsor screens for a few seconds.
A recent Deloitte survey shows that 55% of US residents use an ad-supported video streaming service.
The content provider can choose to run the ads at the beginning (pre-roll), during (mid-roll), or at the end of the video (post-roll).
Server-side in-stream ad integration capability enables you to customize playing the ads between the videos of the platform.
This model has been in practice since the times of traditional television. OTT has taken it to another level as advertisers have access to a more relevant audience. Audience profiling is available based on their interests and preferences, advertisers can benefit from higher conversion. If the audience is niche or timing/content is of high interest, content service providers can ask advertisers to pay more. Different viewers get to see different, personalized advertisements while they watch the same content. Since the advertisement ecosystem is automated, ad space's auctioning happens within a fraction of seconds, ensuring that viewers see the best-match ads.
Advertisements can be displayed in two ways on an OTT platform:
Video Advertiser Network: VAN connects OTT players to marketers looking for ad space. This is an easy way to get marketers but OTT does not have control on the advertisements that show up on the platform.
Direct Advertising: OTT service providers must have their own ad server where they will need to bring the advertisers. Another way is to use video editing to show advertisements such as banners, tickers, images. This is mainly an offline connection, with ads being displayed.
Some popular AVOD models are Pluto TV, YouTube (non-premium), and Hotstar (VIP).
Subscription-based model (SVOD)
In this model, subscribers pay a recurring fee to access the content. There are various models where charges can be levied weekly, monthly, quarterly, or yearly. Viewers can choose from different packages based on their preferences.
This model generates steady revenue, and the subscription tiers can be aligned to changes in strategy. It is mostly suited for niche content or for an audience that prefers continuous streaming over advertisements. Subscription might sound like just a recurring charge, at the periphery, but a good subscription management service includes everything - from easy integration and secure payment gateways to multiple currency payments and recurring billing to revenue recognition and merchant account management to analytics and dunning. The subscription management module can be developed in-house but partnering with the right technology provider allows you to focus on the core business and get everything done with a few integrations.
Many OTT providers partner with telecom companies and sell the subscription as a bundle with the pre-paid/post-paid mobile pack. Statista said media subscriptions in 2020 brought in revenues of about INR 631 billion to India's media and entertainment sector.
Netflix, Spotify, Apple TV, and HBO are some examples of popular SVOD models.
Transaction-based model (TVOD)
In this model, viewers pay only for what they wish to see instead of a time-based subscription. They are happier occasionally paying , when they find the content to be interesting or exclusive. EST and DTR are the two common types of transaction-based models.
In Electronic Sell Through (EST), viewers pay once and gain permanent access to that content. Another option is Download to Rent (DTR), where viewers spend a smaller fee to access the content for a limited time. A good payment management system is a must-have in such cases.
Some popular TVOD models are Hulu, Apple iTunes, and Sky Box Office.
Branded content/Influencer driven monetization
Many content writers/producers bundle content so that brand promotion can be easily stitched into it by referring to brands as examples. This is the best fit if OTT platforms do not wish to have an AVOD model but prefer another source of revenue. The audience pays for the content and prefers an ad-free experience. This year, Netflix partnered with Tinder for an Indian dating reality show.
While this model is still evolving, innovation can prove fruitful to all partners. Brands always leverage influencers to promote their products as celebrities already have a large fan following. Influencers also promote shows. Since many influencers have segmented, engaged audiences, marketing the content/brand makes it available to many relevant viewers. The global influencer marketing platform market accounted for $4.8 billion in 2019, $6 billion in 2020 and is predicted to reach $24.1 billion BY 2025.
Hybrid model
This is a mix of the above-mentioned models where some content is free, revenue is earned through advertisements, and the remaining content is chargeable. Many OTT platforms follow this model as it provides a better opportunity to acquire and retain customers.
Live streaming on OTT
Hybrid models are often used for live streams. Many platforms partner with celebrities and let them choose the monetization model for hosting their live events. For example, an OTT platform with an SVOD model can make a live music concert available to its subscribed users as a part of the subscription. Non-subscribed users can be given an option to either purchase the ticket as a transaction-based (TVOD) exchange or watch it later with advertisements (AVOD).
Changing market and opportunities
A Statista report predicts that the OTT media revenue will exceed $210 billion by 2026. The worldwide OTT market size was valued at $121.61 billion in 2019 and is projected to reach $1,039.03 billion by 2027, growing at a CAGR of 29.4% from 2020 to 2027. As the market for user-generated content grows, content providers face tough competition. Having a robust OTT platform with a perfectly implemented monetization strategy gives you an edge over others.
Are you ready to get started? If you are facing challenges in choosing the ideal revenue model, Nagarro can help. Check out our offerings, and speak to our experts!