Moving to the cloud addresses many of your evolving organizational needs. The cloud opens multiple possibilities for enterprises, from increased agility to cost efficiencies and simplified IT systems to seamless service scalability.
Oracle's next-generation Cloud, Oracle Cloud Infrastructure (OCI), runs any application with enhanced performance and security while ensuring low costs. A report from the International Data Corporation (IDC) states that businesses choosing OCI witness many substantial benefits, such as:
53% reduction in the total cost of operations
35% more efficient IT infrastructure staff
138% increase in time spent on innovation or other activities
87% reduction in unplanned downtime.
Successful migration to Oracle Cloud requires a well-crafted cloud migration strategy. But downtime during the migration process can derail your cloud migration journey.
What influences downtime?
Key factors that influence downtime during cloud migration include the following:
Applying data-patch during the migration
Physical and logical online/offline migration
Configurations of all connectivity strategies
Migration methodology
Strong rollback plan
Oracle Zero Downtime migration approach is a simple and automated solution that can help move Oracle Databases into Oracle Cloud Infrastructure seamlessly with minimum impact on the ongoing business operations.
What is Oracle Zero Downtime Migration?
Oracle Zero Downtime Migration (ZDM) is a software solution to migrate your On-Prem or OCI-classic database to Oracle Cloud Database (VM DB, ExaCS, Bare Metal, or the Exadata Cloud) with zero to minimal downtime on production workloads. It is an Oracle-generated automated solution with the latest migration approach for Oracle databases. The zero-downtime migration approach provides a smooth transition to OCI by eliminating disruptions to service availability and removing the risk of business losses due to downtime.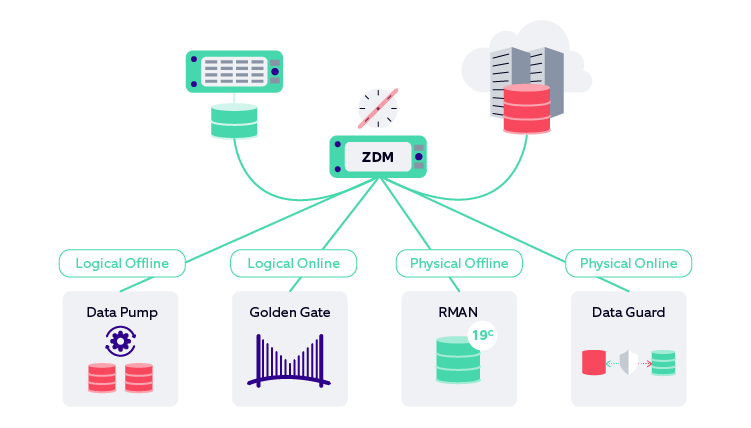 Why Oracle Zero Downtime Migration?
When migrating databases from on-premises to the cloud, Oracle database administrators often have to migrate the production databases to the Oracle cloud. While Oracle offers a wide range of tools, such as Data Guard and GoldenGate, for migrating the database to the cloud, they come with challenges. Successful migration using these tools requires deep knowledge and expertise that only comes with time. Additionally, their implementation is hard to execute at the fleet level. ZDM makes it relatively easy for Oracle database administrators.
Faster implementation: Imagine you have 100 databases and want to migrate them all to the cloud. It will take a long time and complex scripts to automate the migration using Data Guard and GoldenGate.
ZDM leverages the best of pre-existing migration solutions such as Data Guard, GoldenGate, Recovery Manager (RMAN), and Data Pump to address these challenges. ZDM is a time-effective approach.
Secured data: Oracle prioritizes security while designing this cloud migration solution and uses the best technologies to ensure its data centers and cloud solutions are secure. ZDM ensures that all Oracle cloud administrators are authenticated through multiple background checks and that all activities are logged and authorized. Moreover, a centralized security information system is used for registering all events, logins, and access to monitor all activities.
Automated but controlled migration: ZDM allows you to modify the script and perform a controlled switchover from a dynamic running database environment to a database on OCI. It uses RMAN to place the existing/source database backup in Oracle Cloud Infrastructure (OCI) and create a standby database in Oracle Cloud.
Flexible: ZDM supports various Oracle Database versions and configurations depending on the business requirements and needs. It supports migration of source databases, namely – single-instance, Real Application Clusters (RAC) One Node, or RAC hosted on Linux, AIX, and Solaris. Enterprise and standard editions of Oracle databases can be used as source databases. Different target Oracle Database Cloud services are supported by ZDM, including the Autonomous Database – Oracle's premier database cloud service. The configuration script used by ZDM provides the flexibility of running migration in parts or as a whole, enabling advanced assessment during the process. ZDM provides multiple migration methodologies like – Export/Import, RMAN, GoldenGate, and Data Guard.
Maximum Availability Architecture: Maximum availability of the source database and minimum possible downtime are the key things to remember while drafting a migration strategy. ZDM accomplishes this using the Oracle Maximum Availability Architecture (MAA). Oracle MAA principle defines the maximum availability of applications and databases during maintenance, including cloud migration. ZDM follows the same approach for database migration to OCI, causing zero to negligible production impact.
The standby database in the target (OCI) environment is enabled with oracle Data Guard maximum performance protection and asynchronous redo transport mode. This further synchronizes the target database in OCI and switches over to the target OCI database as the primary database.
Key features of Zero Downtime Migration
The Zero Downtime Migration approach is a fully automated and zero-cost method that reduces the complexity of the migration process. Some of its key features are:
Supports offline and online migration
Easy configuration and use
Job pre-check validation
Supports fleet scale
Pause and resume functionality
Workflow customization
Job scheduler enables parallel task completion even in the migration process
Automated target encryption provides a higher level of security
How to implement Zero Downtime Migration successfully?
If you are considering migrating to OCI and looking at minimal downtime during the migration process, Zero Downtime Migration should be your preferred approach. It is an automated approach that significantly increases the success rate of your migration. However, realizing its full potential involves the creation of complex jobs. Organizations may need to partner with Oracle experts who can create these jobs to enable Zero Downtime Migration during the migration-upgrade process with minimum to zero downtime.
Organizations can realize an optimized, secured, and hassle-free migration of their database and applications to Oracle Cloud Infrastructure (OCI) with the help of experienced, including certified architects with hands-on experience in implementing end-to-end migration of EBS and custom applications. Engaging a team with significant exposure to Oracle Cloud services gives you a competitive edge in creating migration strategies and designing the complete business flow architecture on Oracle Cloud.