Article
10 Mar 2022
6 min read
B2B commerce goes omnichannel
Nowadays, the expectation from a B2B buyer is no different from that of a B2C customer. Suppliers are expected to deliver an omnichannel experience to acquire, serve, and retain customers.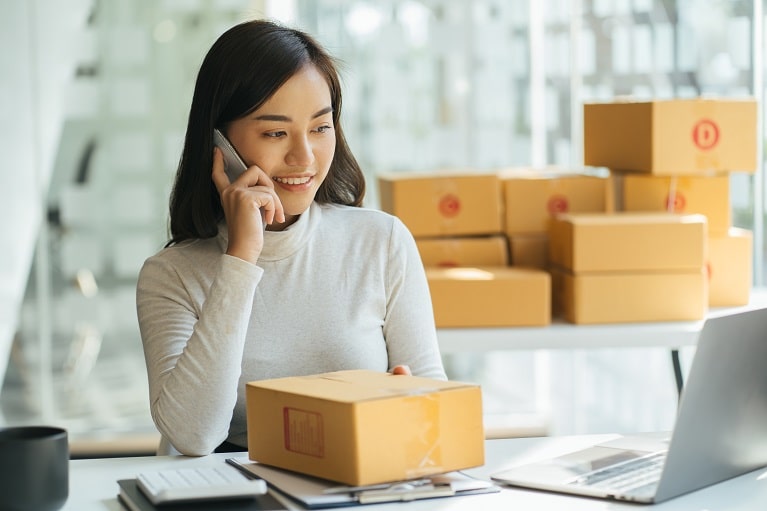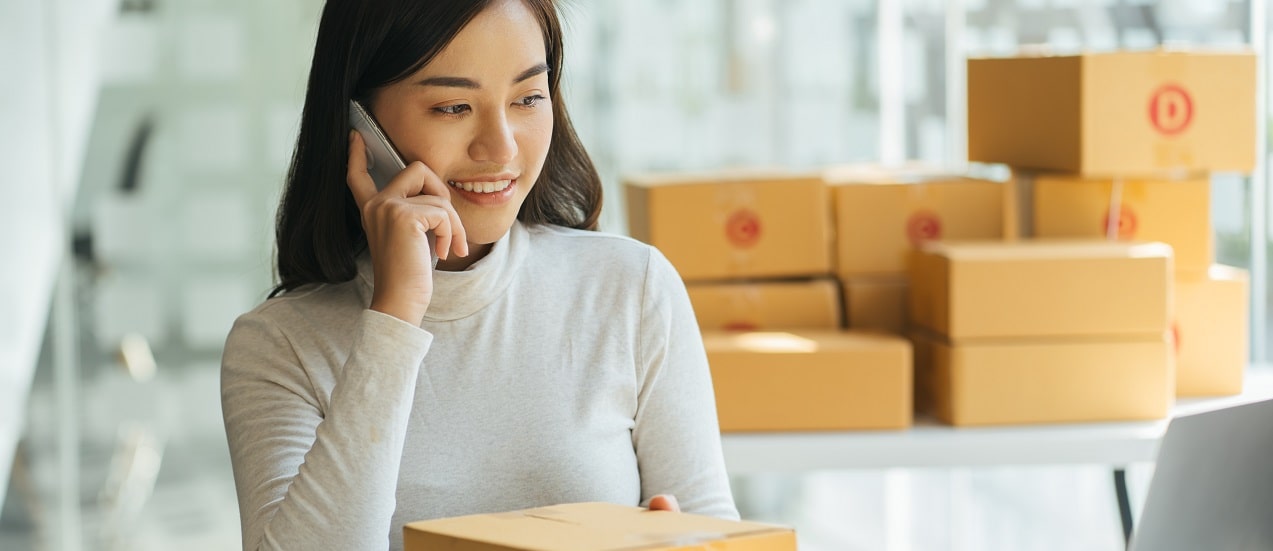 Nowadays, the expectation from a B2B buyer is no different from that of a B2C customer. Suppliers are expected to deliver an omnichannel experience to acquire, serve, and retain customers.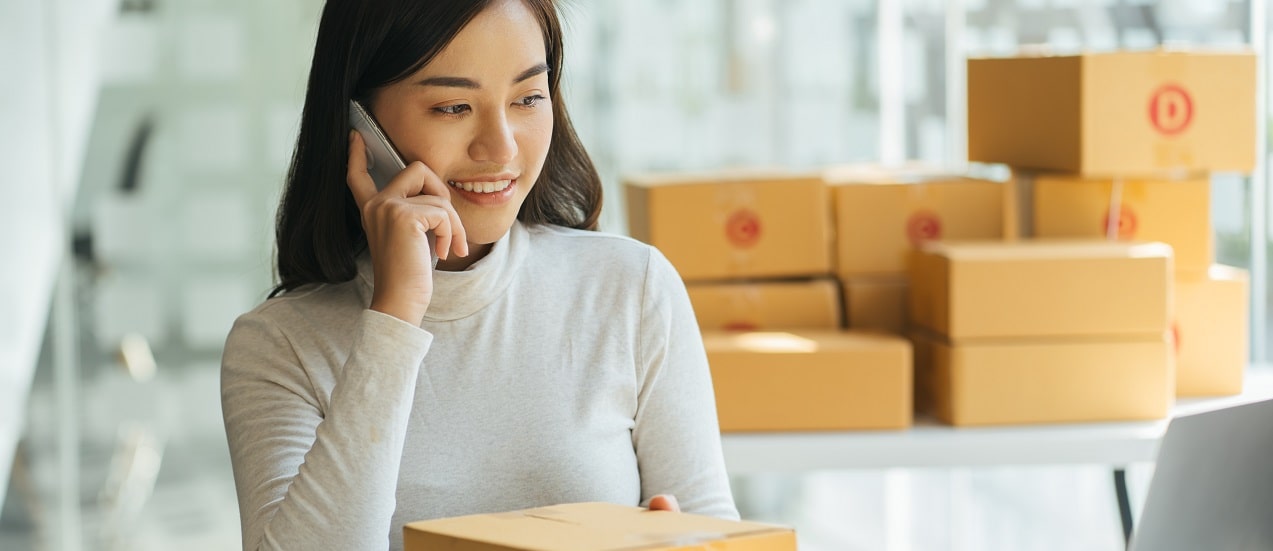 As per McKinsey, 80% of B2B leaders feel that omnichannel is more effective than conventional methods. This sentiment has grown the past year sharply—increasing from 54% (when COVID-19 had just begun to spread) to 83% (in February 2021). The study confirms that the pandemic accelerated omnichannel interaction for B2B eCommerce. Before we outline the complex relationship of B2B and omnichannel, let's first understand what omnichannel is?
What is omnichannel?
Omnichannel means being omnipresent with a unified experience – in other words, being with the shoppers wherever they are and bonding with them. Omnichannel breaks the silos across customer touchpoints like the web, mobile, in-store, social media, email, phone, and live chat experiences.
It is one step ahead of multi-channel and is much more than just adding a "Buy button" to all channels. A B2C shopper's typical experience looks something like this:
The customer searches for a dress and some products on a website but makes no purchase.
On accessing social media, an advertisement appears with a discount coupon for the dress in the cart. The customer adds the coupon but does not checkout.
The customer accesses the mobile app, adds other items to the cart, yet decides not to check out.
Within a few days, the customer receives an abandoned cart email with multiple options to order: shipping to home, buying online & picking in-store, or vice versa.
The customer arrives at the brand store, finds the dress in-store, redeems the coupon, and orders it home.
The above example explains why we need omnichannel.
Omnichannel allows building a relationship with the customer, achieving continuous presence, driving sales and traffic, and integrating digital touchpoints.
Omnichannel sales for B2B commerce
B2B was always believed to be the "Face-to-face" handshaking deal. The COVID-19 crisis brought a sudden B2B commerce shift from in-person to virtual events, customized content production, and publishing. Today's B2B buyers migrate freely between self-service (online-centric) and full-service (offline-centric) purchase models and are increasingly looking for the middle ground between the two extremes.
According to a study, 83% of B2B buyers today prefer cross-channel interactions with brands. This could be over the website, physical stores, phone, and even social media, with consistency and convenience. The presence of a brand's online store is not enough to provide the omnichannel experience that today's professional buyers expect. Rather, it must be equipped with the design, features, and data necessary to provide customers with a seamless and unified buying experience.
Challenges in B2B commerce
Many complications in the B2B commerce environment pose unique challenges:
Big-ticket sales, negotiations, and complex transactions
Transactions in B2B are huge and involve price negotiations and credit terms to sign the contract. Buyers and sellers must consider the relationship history to negotiate rates for a successful purchase. Payment terms must be dynamic, personalized, and channel-agnostic.
In-person sales meetings and handshaking deals
B2B relationships are always believed to be personal and long-lasting. It is about being available at the right time, with the desired information and detailed dynamic content to the customer, asking the right questions, and cracking the deal. It is paramount to convert the prospect, stand apart from competitors, and keep the existing customers motivated. The rapid shift to digital sales at various touchpoints requires the remote experience and digital demos to be more intimate and interconnected to win the trust and confidence of the buyers.
The complex buying process
The buying cycle is long and complicated, involving many decision-makers. The B2B purchasing workflow can consist of people with specific roles and responsibilities. Providing a steady workflow throughout all channels is a challenge.
Product diversities and customization
It is quite demanding to maintain multiple products with consistent content and provide the ability to configure products for every customer requirement at each channel.
Transmission of consistent messages at all touchpoints
Aligning messages and touchpoints for commercial effectiveness is critical. Delivering the right message using the right touchpoint is the pivot to influence customers.
Leveraging omnichannel for B2B commerce
Though traditional interactions with sales reps, complex buying processes, negotiations, etc., will continue to exist, B2B businesses have also innovated. They are moving towards digital technologies and investing heavily in omnichannel strategy to drive engagement and remain competitive.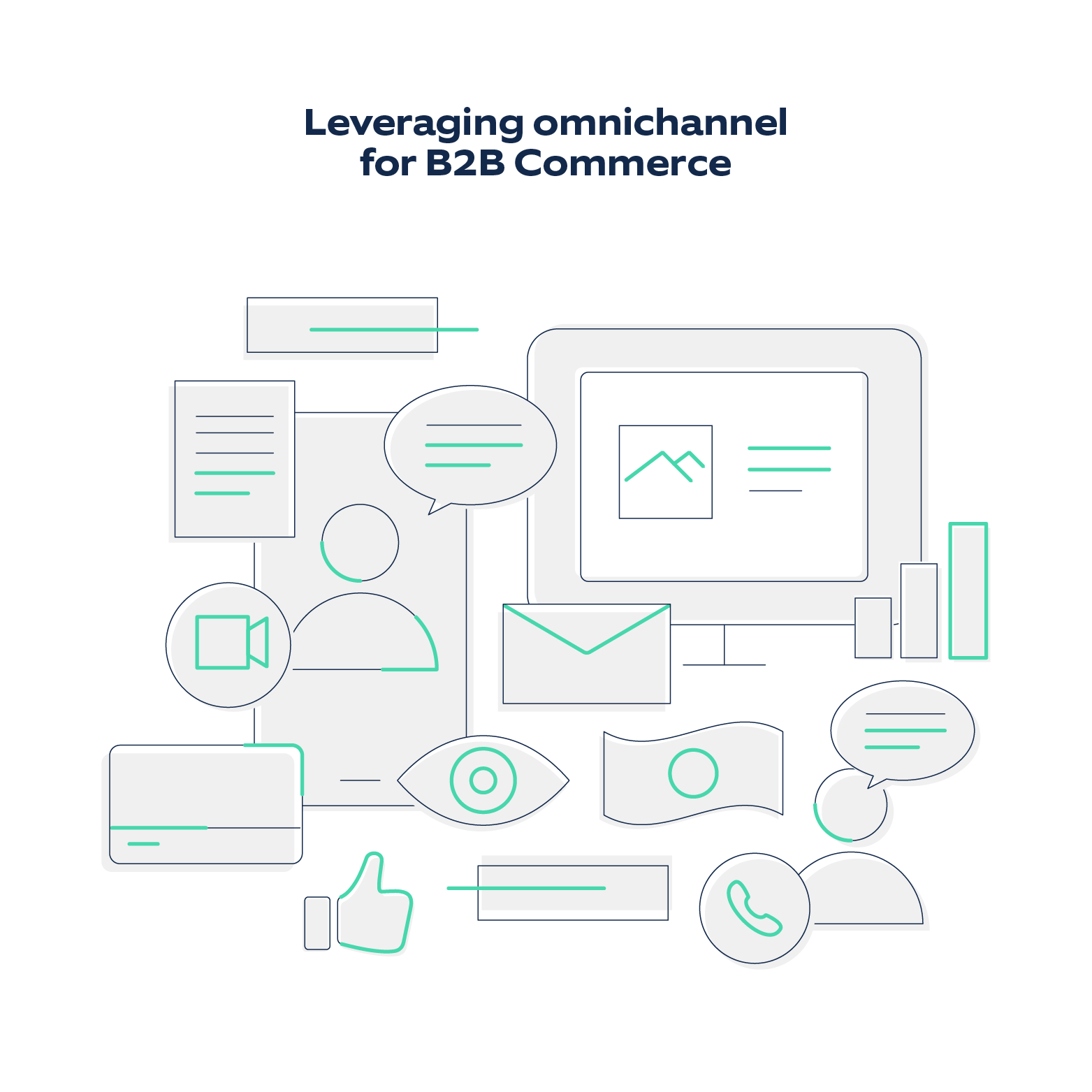 Omnichannel strategy enablement calls for digital and cultural collaborations:
Segmented data
Manage every aspect of customer relationships by focusing on the customer experience that demands integrated data and interconnected processes across all channels, i.e., providing customer history, contract negotiations, payment terms, payments, credit, and reconciliation. 360-degree view of customer activity is the backbone of establishing an omnichannel platform for B2B.
Content syndication
"Content is the fuel for your lead generation efforts" – Dayna Rothman.
B2B buyers are keen on details, interested in solving their problems, and meeting their requirements at the first site visit. A site must curate comprehensive content across touchpoints to provide appropriate information to meet customer requirements to attract a buyer. According to Forrester Research, 52% of B2B buyers are now doing product research with their smartphones to search for products, browse catalog and read reviews than through in-person meetings.
A hybrid sale model
A centralized model that helps sales representatives work remotely and interact with customers via video, phone, apps, and occasional in-person visits, provides proof of concept, and nurtures a relationship across all channels. Cohesive omnichannel agent experience is a must in ensuring long-lasting customer relationships.
Pricing capabilities
Offering dynamic, up-to-date pricing based on order volume and history. But it is most important to streamline the process of payments terms and agreements for an individual. Ensuring hassle-free transactions across ordering channels is the most critical and complex capability that helps any B2B company gain buyer trust and improve competitiveness.
Uniform automated workflows
Automation is the solution to simplify the purchase journey at all touchpoints.
Real-time inventory visibility: Ensure that real-time inventory is visible to customers across channels.
Personalized experiences: Personalization and customization are predominant for repeat purchases in B2B. Personalized catalog, recommendations, discounts, and services will add to an excellent customer experience.
Well-connected logistics system: Have a logistics system that connects all channels and ties back all information to the back-end system to serve omnichannel experience.
The technology
While choosing the right technology depends on the customer's needs, there are some useful considerations:
Headless Commerce - its API-based structure segregates back-end systems to the front-end and allows customized experiences across multiple touchpoints, without modifying the back-end systems.
The microservices modular approach allows updating any part of the omnichannel architecture without impacting the rest of the system.
Centralized commerce management systems for inventory, orders, quotations, customer relations, etc., to ensure synergy at all channels
The reality is that nowadays customers are at various channels, and if you do not serve them, someone else will!
Omnichannel is indispensable to improving competitiveness in B2B commerce, and businesses must adapt to deliver unified, customer-centric digital experiences. McKinsey's research on B2B decision-makers confirms that omnichannel is not simply a trend or just a pandemic workaround—in fact, it is a critically important fixture for global B2B sales.
Gear up and take your next step to B2B omnichannel
Kickstart your omnichannel journey with Nagarro's holistic platform that makes the B2B offline and online order process seamless with a ready-to-use and customizable "Svart B2B Commerce Accelerator". Based on microservice architecture, our scalable B2B headless ecommerce platform provides many features that facilitate a smooth shift to the omnichannel experience and enables growth in B2B sales:
Customized catalog: Access customized product catalogs
User roles and account management: Register and manage individual roles for a single account
Quotation management: Make individual pricing agreements based on history and order volume

Product comparisons

: Assist the buyer in decision-making with a wide variety of products
Support diversified payment methods: Choose multiple payment methods as per convenience
Budget and costing: Assign cost centers to simplify finances
Centralized inventory, order management, and

CRM systems

to ensure synergy across channels
Going omnichannel is crucial in B2B commerce. Want to get started? Explore our offerings and speak to our experts today!