Waking up to a nudge of a wet nose or a slobbery lick on your face is unarguably one of the best ways to begin a day. Who needs an alarm clock when you have a pet?!
If you ask me why I love animals: I will say it's for their big hearts - no judging or complaining, and of course, they are always there for you. They will cuddle you even if you've been wearing the same black t-shirt for weeks together or even when you've come home late after a late-night party. They are godsent, and no matter what, will always add smiles to your life.
Stay pawsome with pets!
Ask any pet parent or animal lover about the best times of their day, and without batting an eyelid, they will mention the time they spend with their fuzzy buddies. Undoubtedly, animals are more loving and compassionate than any human can ever be. Spending time with pets has been proven to lower cortisol (body's primary stress hormone) levels in the blood and in lowering blood pressure levels too. Other proven benefits include less loneliness, lower depression, higher social support, and mood upliftment. And you know what? A pet can take you a step closer to meeting a soulmate! Ahh! Now that I've caught your attention, keep reading to know how 😉?
Have you felt pawsitivity yet?
They say pets are family, and there's absolutely no doubt about it! Pawsome friends come in all shapes and sizes. You can have a dog, cat, rabbit, parakeet, guinea pig, cow, or horse, (but not any cute and cuddly wild animal; have to say that with a heavy heart) as a pet. But, not everyone can have a pet at home, given the demands of an urban lifestyle. So here at Nagarro, we organize pet-focused events to add some pawsitive and playful moments to our routines.
At Nagarro, our priority is to encourage and nurture our people, helping our colleagues maintain a healthy work-life balance. When it comes to breaking our routines with some fun activities, we think straight from the heart. And for that, we come up with fun events and contests for our colleagues. But without digressing anywhere else, let's stick only to talking about our interactions with our cute pets - the ultimate antidote to a stressful day.
The pet parade - dog walks into the office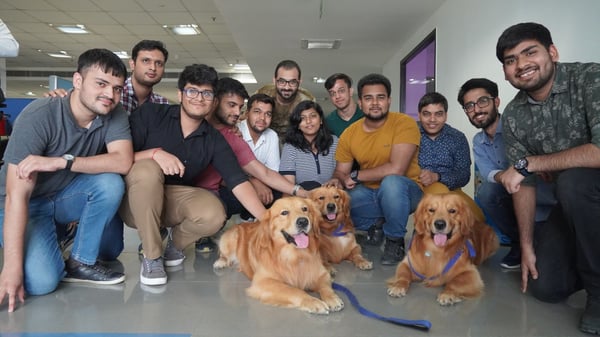 It is inevitable for all of us to experience stress from time to time, which is why the idea behind this initiative was to leverage the stress-relieving effect of human-dog interaction. Finding the perfect mantra for a work-life balance is imperative and such sessions help release daily stress and bring about positive vibes!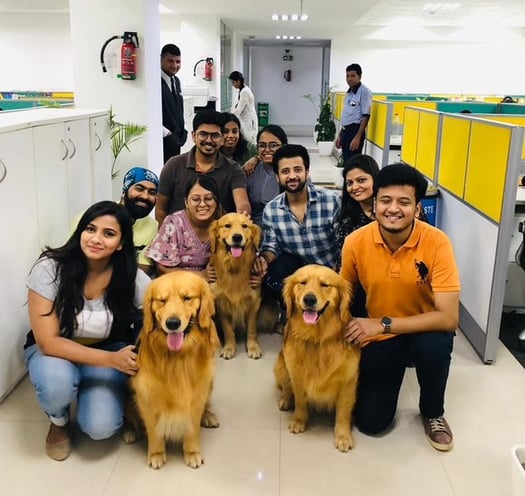 In our week-long drive, our three furry friends- Oreo, Hatchi, and Effy walked into Nagarro offices in India and were an instant hit with everyone. Our ruff week was soon brimming with laughter and positivity. As people gave a lot of belly rubs and hugs to our fuzzy friends, new connections were also established between colleagues while playing or clicking pictures. Be it beating our Monday blues or biding us a happy weekend, these pooches were undoubtedly a big stressbuster.
Our very own "Pawfect Picture Contest"
Everyone loves clicking pictures with their pets, and the only thing they love even more, is sharing them. This explains why our last contest – The Pawfect Picture was such a hit. Every pet owner thinks that their pet is the cutest; which is why, they love participating in cutest pet contests! The idea behind the contest was to showcase the love of Nagarrians for their pets.
To participate in the contest, Nagarrians were asked to send photos of their little furry friends with one memory they cherish with their pet the most. Held over the course of fifteen days, The Pawfect Picture contest jazzed up our corporate handles with cute and mushy puppy pictures.
Here is what some of our colleagues shared about the contest:
A more happy, less grumpy feeling - Well, that's Pawsitive healing!
Hanging out with animals is one sure magic button to positive and healthy living - these furkids can make everything fun, exciting, and healthy. But there is another benefit to owning (or being seen with) pets - they are date magnets😉! Yes! Here's a survey to prove it. There isn't any doubt about the fact that pets are natural conversation starters. So, here's some free advice for all my single fellow Nagarrians- it's time to move beyond the matchmaking apps and own a pet as pets are great for making connections.