According to GSMA's real-time intelligence data, the number of people using mobile devices worldwide has crossed 5.24 billion. To include this digital native population, nonprofits need to significantly improve their online presence.
We are living in unprecedented times. A global pandemic has pulled the rug from under businesses and entire governments, thus exposing chinks in their armors. It seems that no one is immune to the current financial crunch. Even startups that propped up with billion-dollar fundings from VCs are now asking for assistance from governments.
Today, nonprofits find themselves in a very precarious position. Uncertainty about when normalcy will be restored means that donors are now thinking twice before making a donation.
In these trying times, mobile solutions can come to the aid of non-profit organizations.
In 2010, when Haiti was demolished by an earthquake that killed and displaced 3 million people, donations poured in from an unexpected source – mobile phones. The Red Cross and the US State Department launched a donate-by-text program wherein anyone could send $10 at a time by texting 'HAITI' to a shortcode. The individual donations, which were then charged to the respective phone bills, together amounted to millions of dollars.
Nonprofits often operate on a tight budget and are thus, hesitant to adopt the latest technology solutions which are often beyond their budget. According to a 2018 survey by NetChange on 'technology use by nonprofits', only 11% of all nonprofits viewed their organization's digitalization approach as 'highly effective'. In an article for the Stanford Social Innovation Review, the authors noted that "most nonprofits are struggling mightily with how to structure their digital programs."
Out of 80 advocacy-oriented nonprofits surveyed for the study, 43% of them reported having no staff to drive engagements while 64% reported that their budget was insufficient to meet their engagement goals.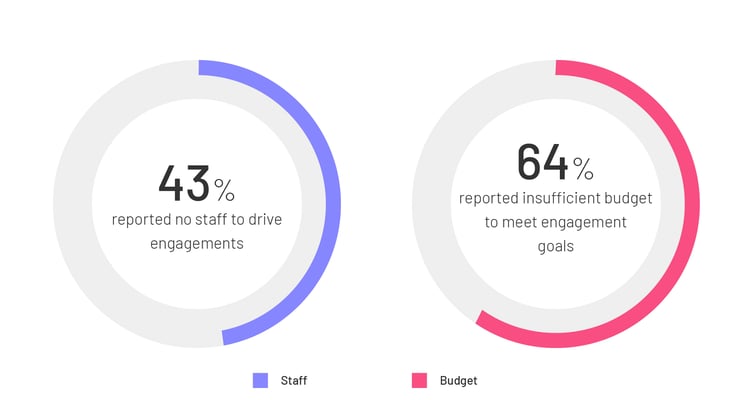 Survey results showing the state of digital teams and programs in nonprofits
Despite that, improved digital literacy and affordable smartphones have changed the status quo. These factors have pushed nonprofits to prioritize adopting various digital and mobile solutions for effective communication and fundraising requirements.
How can nobility harness the power of mobility?
A centralized mobility strategy is not just an option for nonprofits anymore – it is a must-have. According to a survey by The Chronicle of Philanthropy, the percentage of donors through mobile devices has increased by up to 80% since 2013. While most of the donors falling in the younger generation are expectedly more comfortable donating via mobile phones, older donors have also upped their mobile game.

Here are some ways nonprofits can make use of mobile technology:
1. Transparent communication with donors
The onboarding process of an app can collect donor information and assist with a more natural donor segmentation. Since these organizations are in constant communication with their donors, segmentation is crucial to understand what messages to craft for which demographic.
Apart from increasing awareness about donation drives and other initiatives, nonprofits can leverage mobile solutions to increase transparency in their operations as well. By showing donors how their funds are being utilized and the progress of any development works undertaken, trust between nonprofits and donors can be strengthened.
UN's ShareTheMeal app was launched in 2015 with the unique idea of merging the age-old tradition of crowdfunding with disruptive technology. It was also the ideal way to engage a generation of digital natives, while scaling up the process of food donation. The aim was to raise $25 million to meet the food requirements of Syrian children rendered stateless by the political turmoil. In a matter of three years, more than 2.5 million meals were shared by 1.1 million donors.
Leveraging disruptive technologies enables nonprofits to not only widen their reach and scale up their process but also be transparent with their data collection and communication with their donors.
2. Effective fundraising
Since apps can facilitate smooth transactions, implementing them increases the chances of multiple or recurring donations for nonprofits. Mobile transfers are designed to have as few bottlenecks as possible, a convenience that is crucial to encourage donations.
Apps like Prizeo, Pledgeling, and Fundly are designed to actively facilitate fundraising with a whole new demographic. Celebrity Chef, Jamie Oliver's cause, Jamie Oliver Food Foundation, was able to raise a six-digit figure in a matter of days through Prizeo.
Currently, social impact organizations like Blackbaud are pioneering fundraising efforts online through their JustGiving platform (website & mobile app). The NHS Charities Together appeal on the platform to support their COVID-19 relief efforts raised over £7m.
On a smaller scale, the Leyton Orient Football Club launched the incredible Ultimate Quaran-Team FIFA Tournament, pitting football fans against each other on FIFA, raising over $70,000 for English Football League clubs and mental health charity MIND. One of their stated goals is "funding the all-important COVID-19 Solidarity Response Fundraiser by WHO."
With the noble intention of giving back to the local communities, corporates are jumping on to the charity bandwagon. But here's the deal: corporations prefer to engage with nonprofits who incorporate technology in every stage of their work.
Integrating mobility solutions into fundraising campaigns harnesses the power of the internet and easy payment technologies to reach out to an untapped audience.
3. Connecting field volunteers
Mobile technology brings together volunteers and those who need help on one platform, with the nonprofits playing the part of facilitators.
Be My Eyes, a Danish nonprofit app, brings together blind and visually challenged people and sighted volunteers. It enables the former to lead an independent life by receiving virtual assistance from the latter in real-time. The app filled a real need; so much so, that by mid-2018, 1.40 million sighted volunteers were assisting 82,000 visually challenged people.
Nonprofits can leverage mobile technology to scale up the process of identifying volunteers on a global level.
It gets personal with mobile applications
Mobile apps (or online donation pages or portals), make it easier for members to make donations. By removing unnecessary steps and distilling them down to a few quick swipes and clicks, nonprofits have managed to streamline the donation process.
1Heart1Tree is an environmental foundation that allows users to donate instantly towards afforestation using mediums such as the internet and a mobile application. As a gesture of appreciation, the donor's name will be displayed on a virtual forest projected on monuments like the Eiffel Tower. Since it started in 2015, more than 1.4 million people have participated in the project. As of today, 100,298 trees have been planted with donors stemming from over 150 countries.
How can nonprofits implement a mobile strategy?
A mobile solution effectively streamlines the functions of a nonprofit by bringing in multiple aspects on a single platform. There is also the added advantage of easy access to data at any given time, which provides complete visibility of people and processes.

Centralized data management: A mobile app gives the power of instant data gathering and storage to a volunteer or a field agent. Most apps can be customized to make data management online and offline, an option that is important in remote areas with limited or no connectivity. While this is the story on the frontend, program managers can gather the collected data for analysis through a centralized dashboard on the backend.
Traceability of products: For nonprofits dedicated to humanitarian efforts, products like food, clothing, and medicines are constantly on the move. GPS-enabled mobile solutions can accurately track the movement and location of a product in real-time, especially in politically unstable states and nations. This is equally important for agro-based nonprofits, which track and monitor organic products.
Effective people management: Managing volunteers and field agents becomes easier through a mobile solution as it provides their real-time availability. Resource allocation is made simpler, an area that customized apps can automate to minimize human intervention.
Unified platform: A mobile dashboard acts as a unified platform to manage the functions of nonprofits, providing a bird's eye view of the effectiveness of their strategies and goals. This means that decision-makers can review the collected data and the health of any program remotely.
Convenience coupled with criticality
If nonprofits expect to engage with their stakeholders and target audience effectively, optimizing their mobile strategy is a critical requirement. With the right amount of planning and effort, nonprofits can improve their donor experience and their processes. Owing to the exponential growth in mobile phone usage, the entire world is expected to be interconnected in the next 5 years. Leveraging this development can positively transform the efforts of nonprofits. Creating a large network of donors, field agents, and volunteers dramatically increases the outreach towards beneficiaries and their visibility, which is ultimately the goal of every nonprofit.