Paula will be 8 soon. Yay, she's super excited! But her parents are a little confused: what should be the birthday gift?
Can it be something out of a fairytale book, that Paula has only dreamt of but never experienced?
Fast forward to her birthday. Paula's gift has become her new friend now: someone who makes sure she's safe when she explores the hills and vineyards and what not, someone who connects her with her friends in real time, someone who seems to know everything and guide her. Wow, that's indeed a genie of a present! 😊
Paula has started a journal to jot down her new experiences! Must say, the mind of a child is filled with the little joys of life! Don't you agree? See for yourself:
Well, Paula's e-bike experience is something we have imagined, but technically, it is part of a broader initiative at Nagarro: The Connected Worker, where the vision is to find state-of-the-art technological solutions to different challenges. Dare we say, Nagarro is raring to go with many such ideas to create stories that are harbingers of a better tomorrow😊
Of course, for quite some time, businesses were connecting workers with new tools and technologies for increased efficiency and transparency. The current global pandemic has only intensified that trend: companies may have fewer workers available – in the field or in the factory – to perform various tasks, and onsite experts may be limited due to travel restrictions.
At Nagarro, we have implemented Connected Worker solutions for multiple clients across different industries and geos. Our collective experience has helped us develop tools that employ Smart Glasses, mobile apps and additional smart collaboration features with the help of Assisted Reality, like here and another one here.
Therefore, it was only a logical next step to imagine re-engineering bicycles, an 18th century creation and still used in modern times, to cater to the needs of today's times. We can leverage AI capabilities to provide additional safety measures, speed control, smarter navigation, seamless connectivity, enhanced comfortable learning and reliable energy supply.
All said and done, circling back to Paula now, our hero. Do you want to read snippets from her journal and experience what technology has given her? Click on the image below.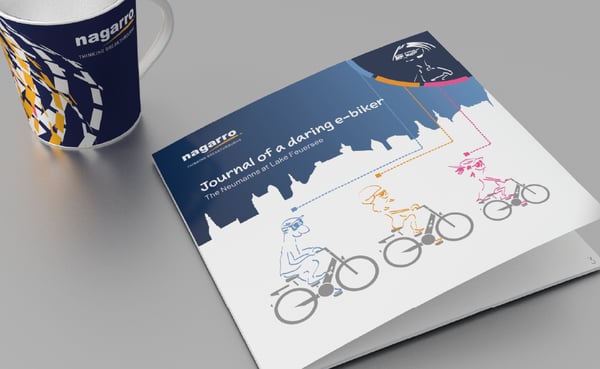 And if you also have a story that you'd like to see come alive technologically, we'll be happy to help. Just connect with us 😊